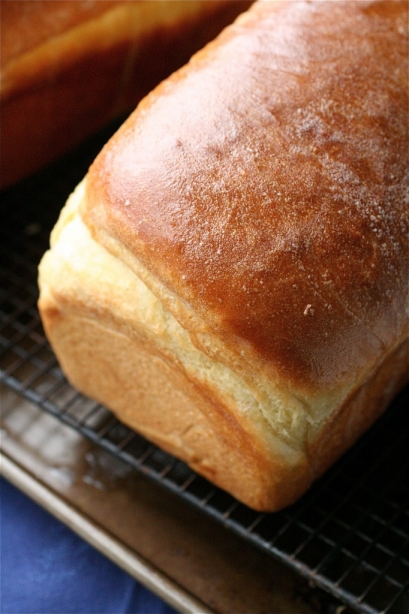 One of my favorite scents in the whole world is the aroma of baking bread.  It has this uncanny way of stopping me in my tracks and making me feel good, no matter what is going on.  When I was a kid, my mom used to make this recipe, and my sister and I would look forward to cinnamon toast with hot chocolate before bedtime as a special treat.
This bread is unbelievable.  It comes from the handwritten old index cards of Rosebud Curbey, my grandmother.  You may remember her cinnamon rolls from when I had just started the blog.  I don't know where she found this recipe, or if she invented it herself, but it has been passed down from year to year in our household as a family tradition.  Even a novice breadmaker, as I am, can somehow seem to pull this recipe off with no major obstacles.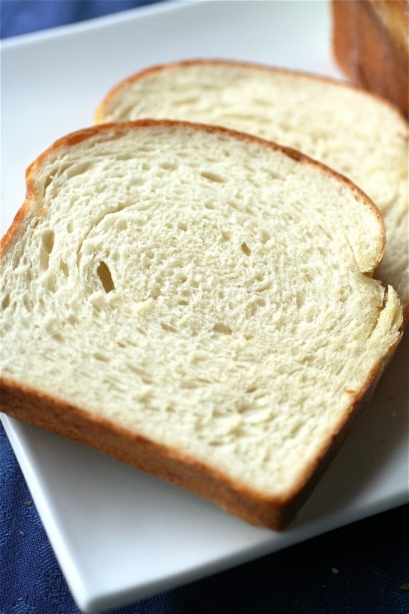 When I make this recipe, I always make two loaves.  Why?  Because it is devoured immediately.  This bread is excellent for toasting, for sandwiches, or even for things like French toast.  If I don't use it, I freeze it for another time.  It rises beautifully, and it browns a nice golden color (*****although, make sure to cover the bread with foil about halfway through your baking time to avoid burning the tops).  The best part?  Well, besides punching down the dough after the first rise (my mom and I both love that part, for some reason….), the best part is brushing those golden tops with melted butter when the loaves come out of the oven.
So, from my family to yours, here is another nostalgic recipe that I want to share with you.
Rosebud's Butter-Topped White Bread
Servings: 2 loaves (feel free to halve this recipe for just one loaf)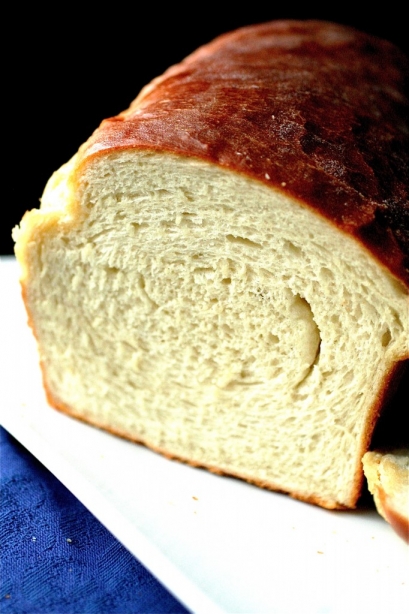 Ingredients
4 and 1/2 teaspoons dry active yeast (or the equivalent of two packets)
3/4 cup warm water
1/4 cup granulated sugar
1 tablespoon salt
3 tablespoons unsalted butter, room temperature and cut into pieces
2 and 2/3 cup additional warm water
9-10 cups all-purpose flour (*I swear by King Arthur brand…also sidenote…I am moving 5 minutes from their factory soon….woohoo!)
4 tablespoons (1/2 stick) unsalted butter, melted, for brushing the tops of the loaves
Additional butter/cooking spray, for greasing your rising bowl and loaf pans

Instructions
1. In the bowl of your standing mixer fitted with the paddle attachment, dissolve the yeast in 3/4 cup of warm water, about 5 minutes.
2. Add the sugar, salt, butter, additional 2 and 2/3 cup warm water, and mix gently to combine.
3.  Slowly add 5 cups of the flour, mixing on low speed until smooth.
4. With the mixer on its lowest speed (you don't want flour everywhere…as I have discovered), slowly add the remaining flour until the dough is smooth.
5. Switch to your dough hook attachment and knead the dough for 10 minutes. ***Now, if you have a smaller mixer, I would recommend kneading the dough in two portions so as not to burn your motor out-this is a lot of dough.  Alternatively, like my grandmother used to do, you can knead all of the dough by hand.
6.  While the dough is kneading, lightly grease a large bowl with butter or cooking spray, as well as two loaf pans (I used 9″).
7.  Once the dough is ready, place the dough in the greased bowl and turn over to completely coat the dough with butter/cooking spray.  Cover, and set in a warm place to rise for 1 hour.
8. After an hour, punch down the dough (yes!) and divide it into two portions.
9. Working with one portion at a time, roll (with a rolling pin) the dough out into roughly 12″ x 12″ squares, making sure that the thickness of the dough is uniform throughout.
10.  Slowly and tightly roll up each square, sealing the edges firmly.
11.  Tuck the ends of the roll tightly under the bread and place into your prepared loaf pans.  Repeat with the second loaf.  Cover the loaves, set in a warm place, and let rise until doubled, about another hour.
12.  Place one rack on the lowest position in the oven and preheat the oven to 425 degrees.
13. Bake the loaves for 15 minutes, then cover each loaf with aluminum foil to prevent the tops from browning too much.
14.  Once covered with foil, bake for an additional 15 minutes.
15. Remove the loaves from the oven, place on a wire rack to cool, and lightly brush the loaves with the melted butter.
Enjoy!!

Source:  My grandmother, Rosebud Curbey