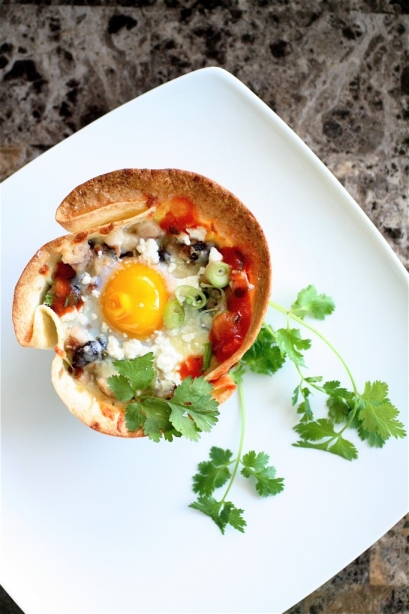 And this recipe pretty much sums up things that I have in my fridge or pantry at all times:  eggs, beans, random tortillas, leftover cheese, and salsa.
I'm challenging myself to be creative right now: how many things can I use up from the fridge or pantry in the next two weeks and actually have decent things to eat?  I'm going through bags of flour (homemade bread, anyone?), endless PB & J's (from the obnoxiously huge container of peanut butter that I somehow thought I would need), and more rice concoctions than I could ever imagine.  It's going well. 😉
This past weekend I decided to make myself an awesome breakfast (after a hiking trip that ended prematurely due to swarms of black flies…seriously), and as I stared into the fridge, I realized that it was not only possible, but it was going to be one of the best breakfasts that I had had in a long time.  Huevos rancheros are pretty awesome, but to have them in their own individual tortilla cups would be even better (and use up those nearly stale tortillas that I had stashed away in the cheese drawer).
Throw in whatever you have on hand.  I actually had some dried beans on hand that I wanted to use, so I took a little extra time to cook them down before making this.  If you have dried beans on hand and you have more foresight than myself, soak them overnight before cooking for the best results.
A forewarning:  the tortillas WILL crisp up and brown significantly with about 8-10 minutes left in the baking process.  Have some aluminum foil on hand to cover the ramekins with about 8-10 minutes left-the eggs will continue to cook, but the tortillas won't turn into soot.  Enjoy!
P.S.  Since the archives and the "subscribe" button have both been out of service (who knows why…still can't figure it out…), I've created a flickr account where you can see my entire gallery (with links back to the recipes!) and subscribe.  Check it out:
http://www.flickr.com/photos/thecurvycarrot/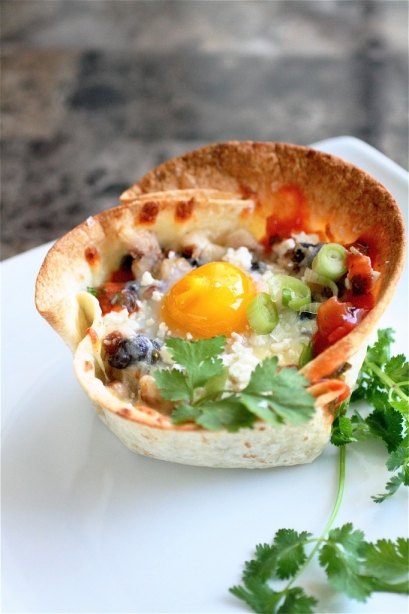 Huevos Rancheros in Tortilla Cups
Servings: 4
Ingredients
2-3 tablespoons olive oil, divided
Four 6″ flour tortillas
Sea salt
One 15-ounce can of black beans, drained and rinsed (or use your own)
1 and 1/2 cups pinto beans (or a 15-ounce can), drained and rinsed
1/2 teaspoon cumin
1-2 tablespoons fresh cilantro, chopped (or to taste)
4 large eggs
3/4-1 cup Monterey Jack cheese, shredded
For garnish:  fresh salsa, Queso Fresco, green onions, etc.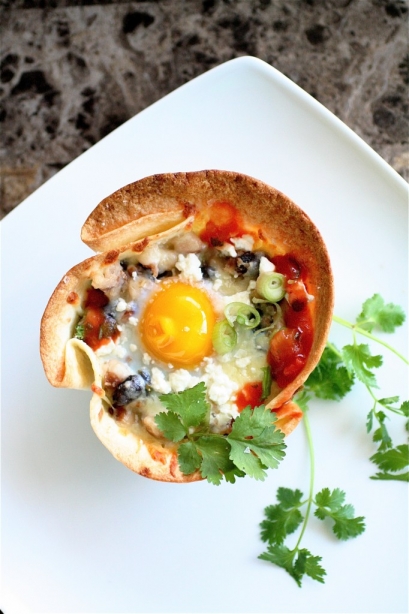 Instructions
1. Preheat the oven to 350 degrees.
2. Lightly brush the inner surfaces of four ramekins with olive oil.
3. Gently press each tortilla into each ramekin, folding over the sides slightly if necessary (it may help to warm the tortillas in the microwave first).
4. With a silicone brush, lightly brush the surfaces of the tortilla with the olive oil and sprinkle with a pinch of sea salt.
5. In a large bowl, combine the beans, cumin, 1/2 tablespoon olive oil, and the cilantro, making sure to slightly mash the beans together.
6. Spoon a generous amount (about 2/3 cup) of the bean mixture into each tortilla cup.
7. Carefully crack an egg into the center of each tortilla cup.
8. Lightly sprinkle the egg surface with cheese.
9. Bake for 27-30 minutes, or until the whites of each egg are set.  **Don't forget to cover the ramekins with a sheet of foil if the tortillas start to brown too much.  Serve immediately.
Source:  Adapted from Bon Appetit, via Epicurious.