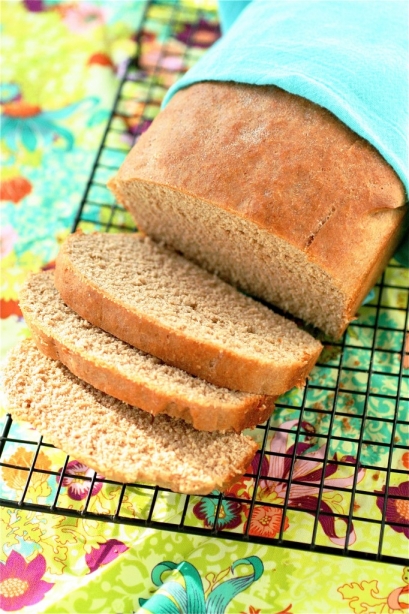 The past few weeks, I have been thinking a lot about family.  Last week, especially. Last week we lost my Great Aunt Jack (short for Jacklyn) very suddenly.  She was the sister of my baker-extraordinaire grandmother, Rosebud.  You might remember Rosebud's Butter-Topped White Bread, Cinnamon Rolls, or her Sticky Buns.  Baking has always been something that my mother's side of the family has shared, so in tribute to Aunt Jack this past weekend, I decided to make my grandmother's Whole Wheat Bread.  I know that this hasn't been an incredibly easy week for my mom's side of the family, so this is my contribution to the celebration of my grandmother's, and now my Great Aunt's, lives.
My grandmother's whole wheat bread is almost heavenly.  I only made one loaf this weekend (I realized I only packed one bread pan with me during my move out here), but I am posting the full recipe here, which makes two loaves.  It definitely has a heavier consistency than her white bread, but it still has a lightness about it that is a little hard to explain.  I don't eat bread all that often, but I've been enjoying sandwiches all week on this bread (My dog, Scout, has been getting a little piece of it each day as a treat this week, too!).  Since it's completely free of preservatives, it will harden up within a day or two, so I recommend keeping it covered tightly at room temperature to prevent it from becoming stale prematurely.  If you keep it covered this way, it should last for about 5-6 days (and it's freezer-friendly, too).  I also splurged a little and brushed it with butter when it came out of the oven, so it has a bit of that buttery taste to it.  Feel free to skip this step if you want.
I hope you enjoy this bread.  It's made with a lot of love.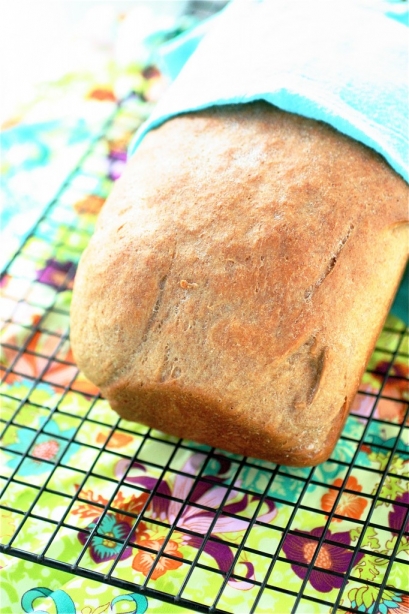 Rosebud's Whole Wheat Bread
Servings: 2 loaves
Ingredients
1/4 cup warm water
4 and 1/2 teaspoons active dry yeast
2 and 1/2 cups warm water
2 teaspoons salt
1/2 stick unsalted butter, melted
1/4 cup sugar
1 tablespoon honey
6 cups whole wheat flour
1 and 1/2 cups all-purpose flour
1/2 stick unsalted butter, divided, to brush onto warm bread, if desired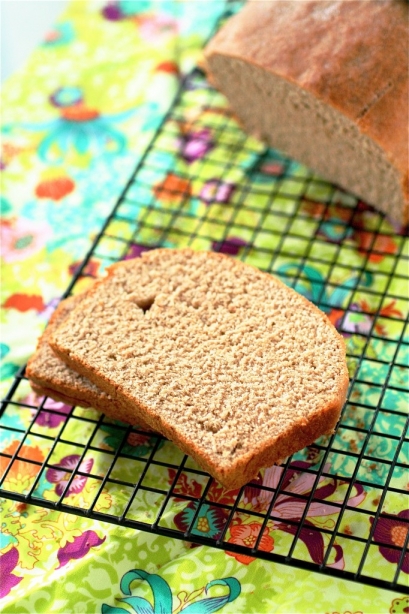 Instructions
1. In a small bowl, combine the 1/4 cup warm water and the yeast, stirring slightly to dissolve.  Set aside for 5 minutes.
2. Meanwhile, in the bowl of your standing mixer fitted with the paddle attachment, combine the 2 and 1/2 cups of warm water, salt, melted butter, sugar, and honey.  Mix until combined.
3. Add the yeast mixture to stand mixer and stir to combine.
4. With the mixer speed on low, add 2 cups of whole wheat flour and the all-purpose flour until just combined.
5. Switch to the dough hook, and with the mixer speed on low, add the remaining whole wheat flour.
6. Knead the dough until elastic, about 10 minutes or so.
7. Remove the dough from the mixer and shape it into a ball.
8. Place the dough into a well-oiled bowl and gently roll the dough around to coat completely with oil.
9. Cover the bowl with a light cloth and set aside in a warm place to rise until doubled, about 1 hour.
10. After the dough has doubled in size, punch it down and gently roll it out onto a lightly floured surface.
11. Divide the dough into two loaves and place each into a lightly greased (or oiled) bread pan.
12. Cover the bread pans with the cloth and return them to a warm place to rise again until doubled, about another hour.
13. Preheat the oven to 375 degrees.
14. Bake the bread until lightly golden, about 25 minutes or so.
15. Remove the bread from the oven and brush with the butter.  Let cool for about 10 minutes, and then invert the loaves onto a wire rack to cool completely.

Source:  Rosebud Curbey, my grandmother.