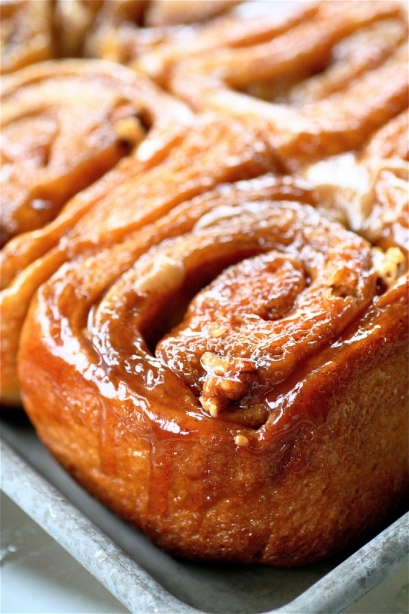 It's been awhile since I have posted another one of my late grandmother's homemade recipes.  Last time I posted her butter-topped white bread and her cinnamon rolls, so I figured this time I would share her sticky buns.
I don't know how she did it.  Raising six children, running a home, and still having enough time to make almost all the meals from scratch, including these sticky buns, seems almost impossible to me.  My mom and her sisters have great childhood memories of helping Grandma make all these wonderful sweet breads.  And, again (like her other recipes), they certainly do not disappoint.
These rolls (being a yeast bread) do take a little time to prepare due to the kneading and rising processes.  But they are simple to make and quite straightforward-even to someone like me who still has some issues with trying to make sweets look pretty.  The sticky bun glaze is almost like a caramel sauce, and the rolls basically "self-baste" during the baking process.  We traditionally use walnuts in the rolls themselves, but feel free to use almonds or pecans.  Once the rolls come out of the oven, serve them immediately (they are pretty heavenly while still warm), or simply reheat them for a few seconds in the microwave before eating to melt the glaze a little.
I can't wait for you to smell these baking.  It might be one of my favorite baking aromas in the whole world.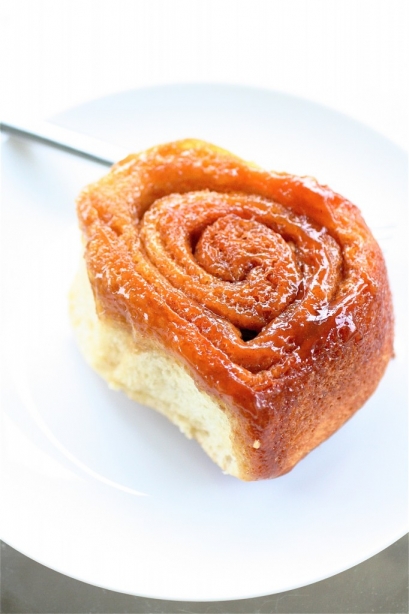 Rosebud's Sticky Buns
Servings: approximately 12 buns
Ingredients
For the sweet dough:
1 cup hot milk (I used skim milk, microwaved for about 45 seconds)-do not boil.
1/4 cup unsalted butter
1/2 cup granulated sugar
1 teaspoon salt
1/4 cup warm water (105-115 degrees)
2 packages active dry yeast (4 and 1/2 teaspoons)
2 eggs, slightly beaten
5 cups all-purpose flour
For the cinnamon-swirl:
2 tablespoons unsalted butter, melted
3/4 cups walnuts, finely chopped
1/2 cup granulated sugar
1 and 1/2 teaspoons cinnamon
For the sticky glaze:
1 cup packed light brown sugar
1/2 cup (1 stick) unsalted butter, melted
2 tablespoons light corn syrup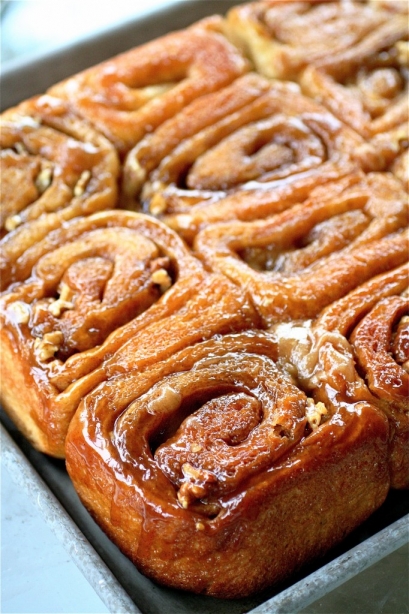 Instructions
1. For the sweet dough:  In the bowl of your standing mixer fitted with the hook attachment, combine the milk, butter, sugar and salt.  Set aside to let cool to lukewarm.
2. Meanwhile, in a separate small bowl, combine the warm water and yeast, stir to dissolve and let sit for about 5 minutes.
3. With the mixer speed on low, add the yeast/water mixture to the milk/butter mixture and stir to combine.
4. Add the eggs and 3 cups of the flour, mixing until combined (the mixture will look a little shaggy).
5. Add the remaining 2 cups of flour and knead the dough until elastic and smooth on low speed, about 10 minutes.
6. Once kneaded, shape the dough into a ball and place in a lightly oiled bowl.  Cover and let the dough rise until doubled, about 1 hour.
7. Once risen, punch down the dough and roll it out onto a lightly floured surface in a 12 x 17-inch rectangle.
8. For the cinnamon-swirl: In a small bowl, combine the cinnamon and sugar.
9. Brush the melted butter onto the dough, making sure to cover the entire surface.
10. Lightly and evenly sprinkle the cinnamon-sugar mixture onto the dough.
11.  Sprinkle the walnuts evenly onto the dough.
12. Carefully roll the dough into a cylinder, making sure to keep the roll tight, set aside for a few minutes.
13. Meanwhile, lightly grease or butter a 9 x 13-inch baking pan.
14. For the sticky glaze: Combine the melted butter, brown sugar, and corn syrup in a small bowl, and mix until smooth.
15.  Pour the glaze onto the prepared baking pan and smooth with a spatula.
16. Cut the rolled sweet dough into 1-inch thick sections, and place face-down into the glazed pan, spacing the rolls about 1/2-inch apart.
17. Cover the rolls and let rise again until doubled in size, about 1 more hour.
18. Meanwhile, preheat the oven to 375 degrees.
19.  Once risen, bake the sticky buns for about 25-30 minutes, covering the buns with foil as needed to prevent over-browning.  ***I usually cover them with foil with about 5-6 minutes left in the baking process to get that golden brown color.
20.  Remove the sticky buns from the oven and let sit for about 5 minutes.
21.  After 5 minutes, invert the sticky buns onto a rimmed baking sheet, and serve immediately.

Source:  my grandmother's recipe