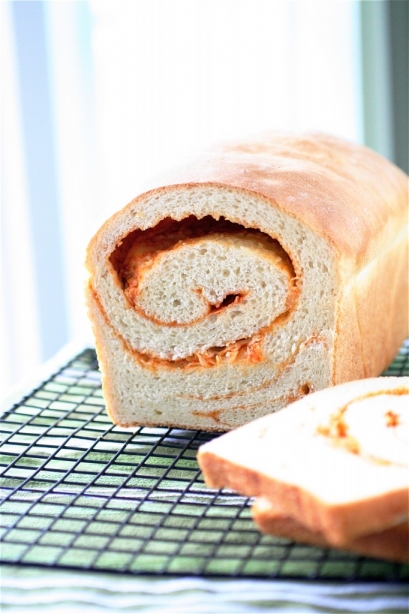 Sriracha.  Otherwise known as "that spicy rooster sauce."  Are you familiar?  You can find it in a lot of late night diners and the hot sauce aisle of your local grocery store.  If you are not familiar with it, no, it's not really made of roosters (or any animals, for that matter), but there just so happens to be a cartoon rooster on the packaging.  It's a spicy, almost earthy sauce that is pretty tasty on a lot of different foods (believe me, I use it on a lot of stuff).  A little goes a long way, and it's a great sauce to have on hand for those days when you need to add a little boost to your meal.
I saw a different version of this recipe and was immediately sold.  I'm not a huge bread person.  I rarely eat things like sandwiches, but this bread would be amazing with almost any kind of savory sandwich.  Or grilled cheese.  Or even warm, on its own, with some plain old butter.
I went back to my family tree here and used my grandmother's recipe for plain old white bread here.  It's one of the best bread recipes in the whole world, and the varieties of renditions of this bread are endless (up next…cinnamon swirl).  Making the bread itself is relatively easy, and the swirl part is simple.  Just flatten out the dough, spread some Sriracha on it, sprinkle on some cheese, and roll up the dough tightly, tucking under the ends (all of this before the second rise).  And do you see those air spaces where the cheese is?  When I took the bread out of the oven, I let it cool slightly before I could resist slicing myself a piece.  I let it cool completely before taking the pictures, but, please understand, where those spaces are now where warm pockets of ooey gooey cheddar cheese.  Awwww, yeah.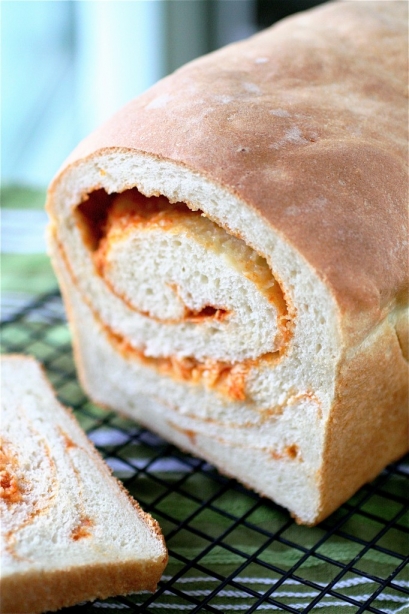 Cheddar Sriracha Swirl Bread
Servings: 1 loaf (The original recipe calls for two loaves, but I only have one bread pan.  What I have posted here is for one loaf, which is why the ingredient amounts might seem a little strange.)
Ingredients
2 and 1/4 teaspoons active dry yeast
1/4 cup plus 1/8 cup warm water
1/8 cup granulated sugar
1/2 tablespoon salt
1 and 1/2 tablespoons unsalted butter, at room temperature
1 and 1/3 cups warm water
4 and 1/2 cups all-purpose flour
1/4 cup Sriracha sauce
1 cup cheddar cheese, shredded
Instructions
1. In the bowl of your standing mixer fitted with the paddle attachment, combine the yeast and 1/4 cup plus 1/8 cup of warm water.  Let stand for 5 minutes until slightly foamy.
2. With the mixer on low speed, add the sugar, salt butter, 1 and 1/3 cups warm water, and the flour (one cup at a time), until thoroughly mixed.
3. Switch to the dough hook attachment, and gently (on low speed!) knead the dough until it pulls away from the sides of the bowl, about 10 minutes.
4. Place the dough in a well-oiled bowl, cover with a tea cloth, and let sit in a warm place until doubled in size, about 1 hour.
5. Once risen, punch down the dough and gently knead it on a lightly floured and clean surface.
6. Using a rolling pin (or your hands), gently roll or flatten the dough out into a 12-inch by 12-inch square.
7. Evenly spread the Sriracha sauce over the dough with a silicone brush.
8. Sprinkle the cheddar cheese evenly over the sauce.
9. Starting with one end, tightly roll the dough over itself until it forms a cylindrical shape, pinching the ends together so that no sauce leaks out.
10.  Tuck the ends of the dough under and pinch the seams well.
11. Place the dough in a well-greased bread pan (I used a 9-inch pan), cover with a tea cloth, and let sit in a warm place until doubled again in size, about another hour.
12. Meanwhile, preheat the oven to 425 degrees.
13. Once risen, bake the bread, uncovered, for 15 minutes.
14. Remove the bread from the oven and lightly tent with aluminum foil to prevent overbrowning.
15. Bake the covered bread for another 15 minutes.  Brush with melted butter (if desired-I skipped this step, and it was fine).  Let cool.
Source:  Rosebud's Butter-Topped White Bread and inspired by The Sriracha Cookbook: 50 "Rooster Sauce" Recipes That Pack a Punch via Epicurious.