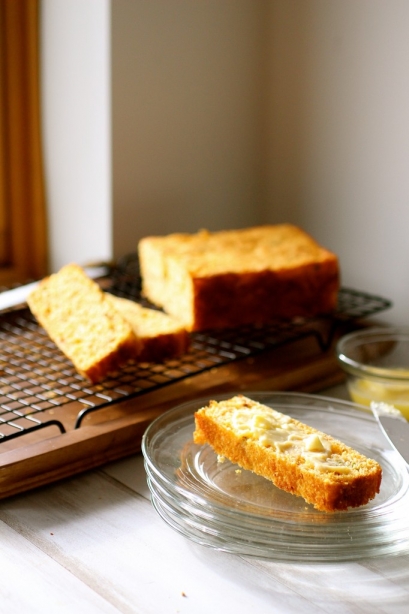 I find cornbread an often overlooked and understated quick bread companion to most meals (at least in my book).  Then I make recipes like this one and realize that I'm missing out on a lot.
I'm trying not to be a carb-a-holic.  I avoid pasta if at all possible, don't eat a lot of breads/rolls, and I realized I'm not really baking as much as I used to (although I was dying to make some of this last weekend).  I'm not gluten-free, I'm not gluten-intolerant, or any of those things.  I just mostly don't buy bread products because I never end up using it all. (This is coming from someone who recently cleaned out her freezer and realized that she had a frozen loaf of bread in there that she had been occasionally and rarely eating from…that was over a year old.  Probably not a good idea.  No?  I don't know how long that kind of stuff stays good in the freezer.  Anyways, I got rid of it.  Also it had small ice crystals all over it, too, from me not appropriately storing it the last time I used it. Oh well.)  This also explains why sometimes I go nuts at restaurant when they do serve bread before dinner.
Anyways, this recipe is a great twist on your standard slightly sweet, slightly savory traditional cornbread.  I found that the chipotle chiles added a bit of a smoky flavor here (it wasn't hardly spicy at all, in my opinion, so if you want more spice, add more.  And, as a sidenote: I used canned chipotle peppers in adobo sauce for this recipe. Which was probably why it wasn't that spicy.) You could even throw in some more little bits of veggies-some chopped spinach or garlic, too, since this bread batter is fairly forgiving as far as accomodating add-ins.  I used a mild cheddar cheese here and was a bit disappointed with the flavor, so use a sharp cheddar (or even a pepper Jack) if you want a slightly more intense cheese flavor.
Serve it with some butter and this chili.  And you'll warm right up.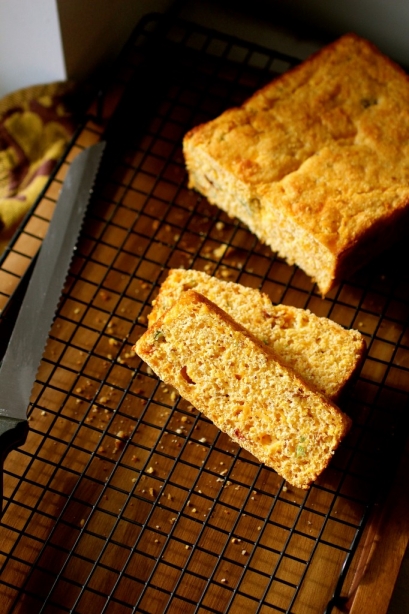 Chipotle Cheddar Cornbread
Servings: 1 loaf
Ingredients
3/4 cup cornmeal (I used a medium-grind cornmeal, which was nice.)
1 cup all-purpose flour
3 teaspoons baking powder
1/2 teaspoon salt
1/4 cup sugar
1 egg
1 cup milk (I used skim.)
2 tablespoons unsalted butter, melted
2 tablespoons chopped chipotle chilies (I used canned chipotle peppers in adobo sauce because I forgot to buy real peppers at the store.  I think that's what gave the cornbread a nice, smoky flavor and less spice-which I actually prefer.  Use what you like best here.)
2-3 green onions, sliced
1/2 cup cheddar cheese, grated
Instructions
1. Preheat your oven to 425 degrees.
2. Generously spray a 9-by-5-inch loaf pan with cooking spray.3. In a large bowl, combine the cornmeal, flour, baking powder, salt and sugar, stirring to combine.
4. In another bowl (use a medium-sized bowl), whisk together the egg and milk.
5. Add the melted butter,  chilies, green onions and cheese, stirring until just combined.
6. Add the wet ingredients to the dry ingredients and stir until just combined.
7. Pour the batter into the prepared pan and bake until a tester inserted into the center  comes out clean, about 18 to 20 minutes.