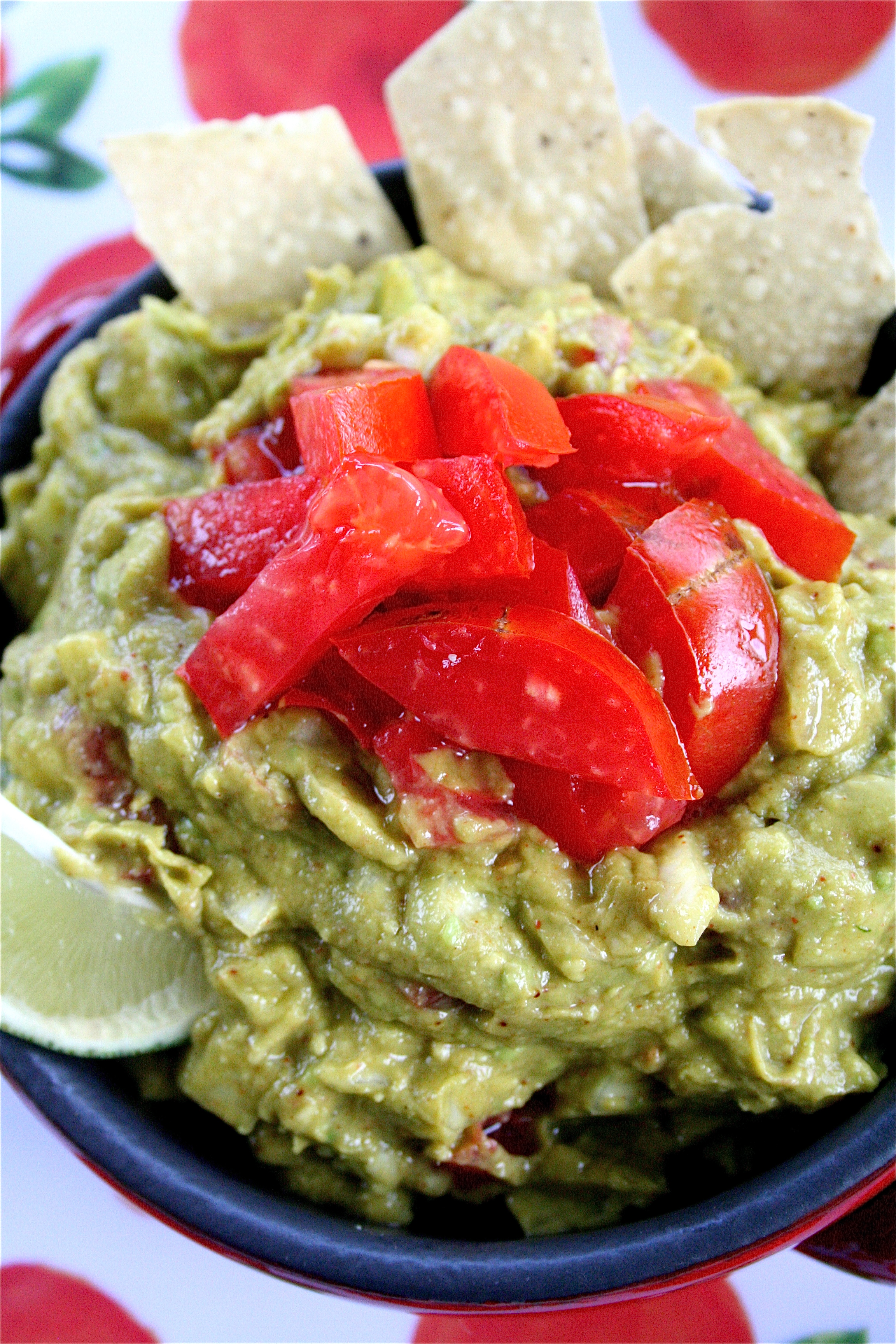 I could not get through the summer without posting a guacamole recipe.  Just like my Deviled Eggs, this is a recipe that I modify each time I make it.  I don't ever write it down (this time I did, however), and I just taste it as I go.  I love the freedom of cooking this way, and hopefully I can move on to much bigger endeavors with more experience in this regard.  The beauty of this recipe is that the entire batch cost less than $3 to make.  I used fresh, juicy tomatoes right from the garden.
Sidenote: has anyone else noticed how much of a difference there is in a home-grown, fresh tomato than one that is bought at the grocery store?  This tomato came right off the vine, gave a little when I cut into it, and the vibrant red color made me sigh a little.  Happy Summer!
Anyways, I finally wrote down a little recipe for my homemade guacamole.  I served it with tortilla chips, a little bit of lime, and some cheese and onion enchiladas.  I hope you enjoy it.
Curvy Guacamole
Serves: ???? depends on how much chips you have
INGREDIENTS
2 ripe avocados
2 cloves garlic, minced
1/2 to 3/4 cup chopped yellow onion (dependent on how much you like onion)
1 large ripe tomato, chopped (I used about 3/4 cup)
1/8 teaspoon cayenne pepper
1/2 teaspoon chili powder
1/2 teaspoon garlic salt
1 teaspoon seasoned salt
1.  Place minced garlic into a large bowl.
2. Peel and remove pits from avocados.  Add avocado meat to the bowl with the garlic and mash together until desired consistency.
3. Add chopped onions to avocado/garlic mixture and mix with spoon.
4. Add tomatoes and mix gently with spoon.
5.  Add remaining spices/salts and stir well.
Now, go find your margarita and enjoy!