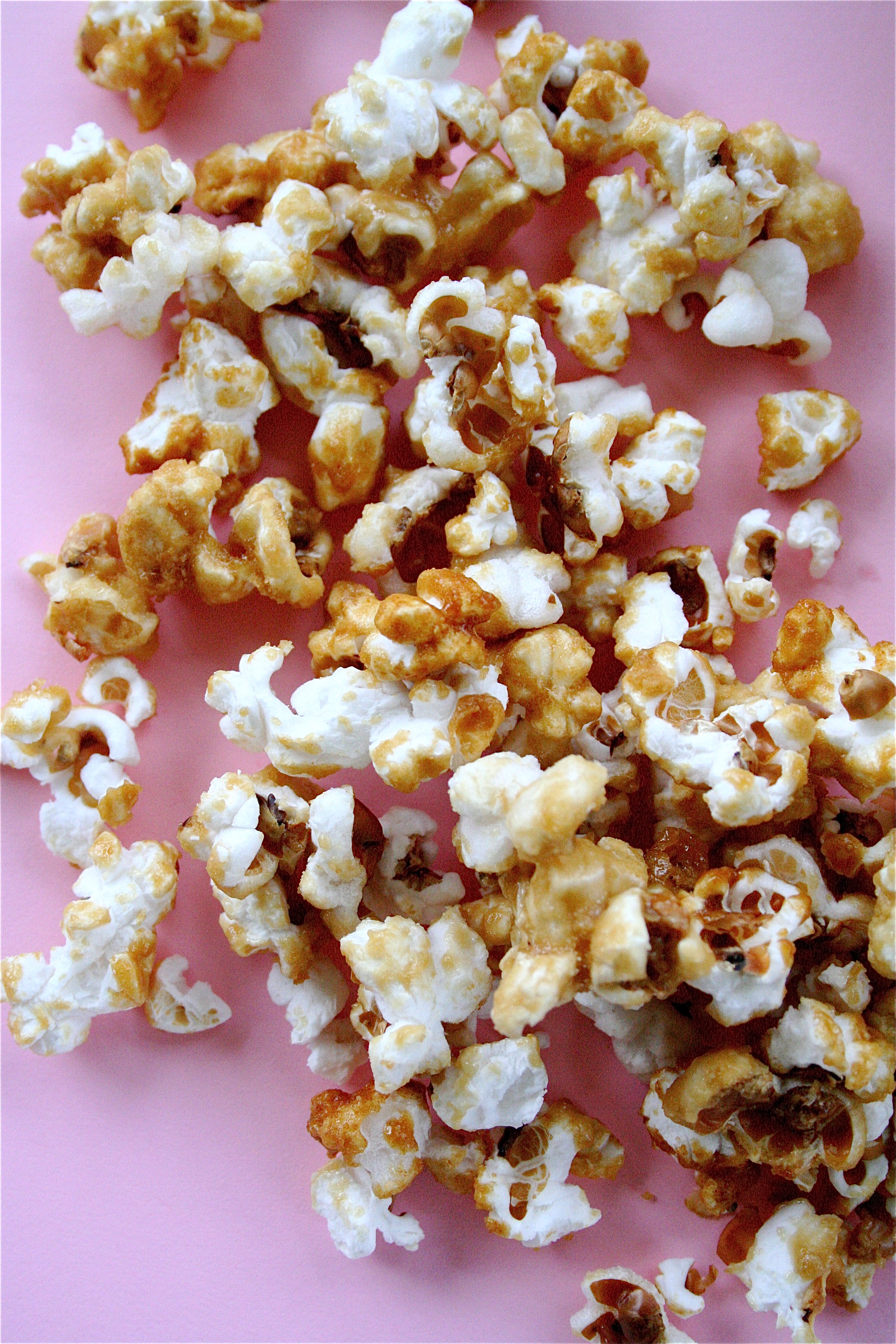 This is a recipe that was passed along to my mom a very long time ago.  The fact that she has this recipe written on about 4 different index cards in her recipe card box shows how much my family has loved this recipe through the years.
I thought that this would make a cute party favor for guests at a party that I recently co-hosted with my friend, Kelli.  I actually made the caramel corn the weekend before, knowing that the rest of the party menu would need my attention as the date approached.   I simply packaged the caramel corn into clear treat bags (found at any baking section in basically any craft, supermarket, or party supply store) and tied with cute pink polka dot ribbon.  They were an instant hit with the guests!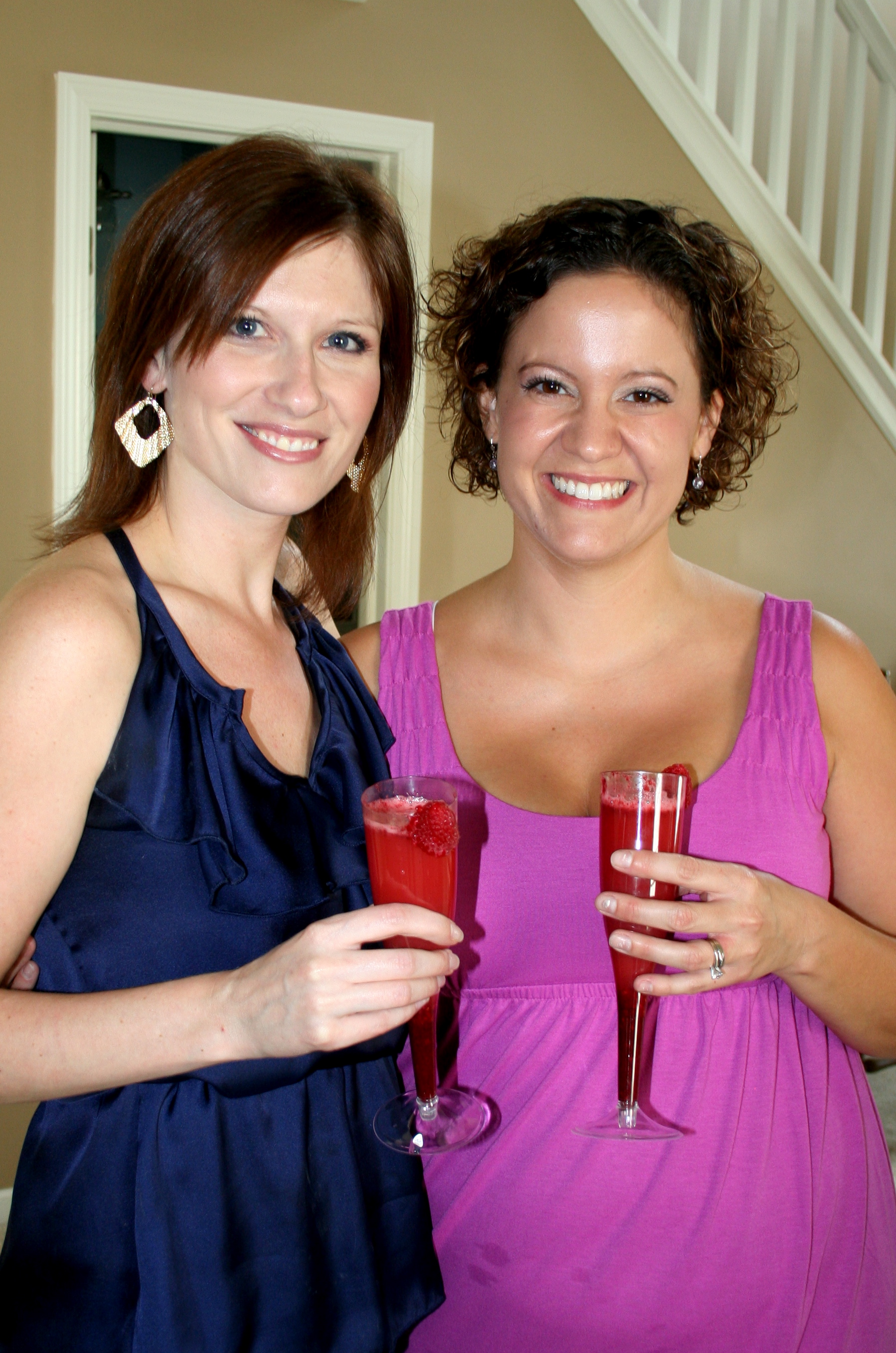 The picture above is me and Kelli.  I have known Kel now for over 10 years…and we've been through broken knees, silly boys, late nights in the dorms, fake rituals complete with costumes and secret handshakes, weddings and break-ups, new pets, and spring breaks together.  We've gotten to be extremely close over the past year and a half, though.  She lives less than 10 minutes away from me now, and we will sometimes just get together (our dogs are boyfriend/girlfriend), eat some dinner, and watch a movie and have girl time.  I'm so proud of Kelli for all that she has accomplished in her life, but what I am most proud about is that she is not afraid to be who she is-no matter who you are.  She's passionate about literature, gardening, animals, being completely 100% silly, and….is the head of the Japanime Club at the high school where she teaches.  I love that last part.  I am very excited for what Kelli's future holds…and I am blessed to be a part of it.  P.S.  When you have a rotten day because your heart is broken, Kelli will not only offer you baked spaghetti and some girl time, but will call you and listen to you cry for an hour and then offer the most simple and realistic advice.  (Thanks dude for the talk last night. :)) Kel, you are a true blue friend.
You may have noticed that I've been on an appetizer/dessert roll on the blog.  Everything that I have featured was food that I made for a jewelry party that Kel and I hosted.  I've been dabbling in the catering/cookie order area for a while now, but I hadn't yet had the opportunity to create food for my own party.  I was on a time crunch to get everything plated and on the table, but, in the end, it all worked out, and I had a blast putting everything together.  Thanks to Kelli, Sam, and Georgia for helping out.
Here's the final spread: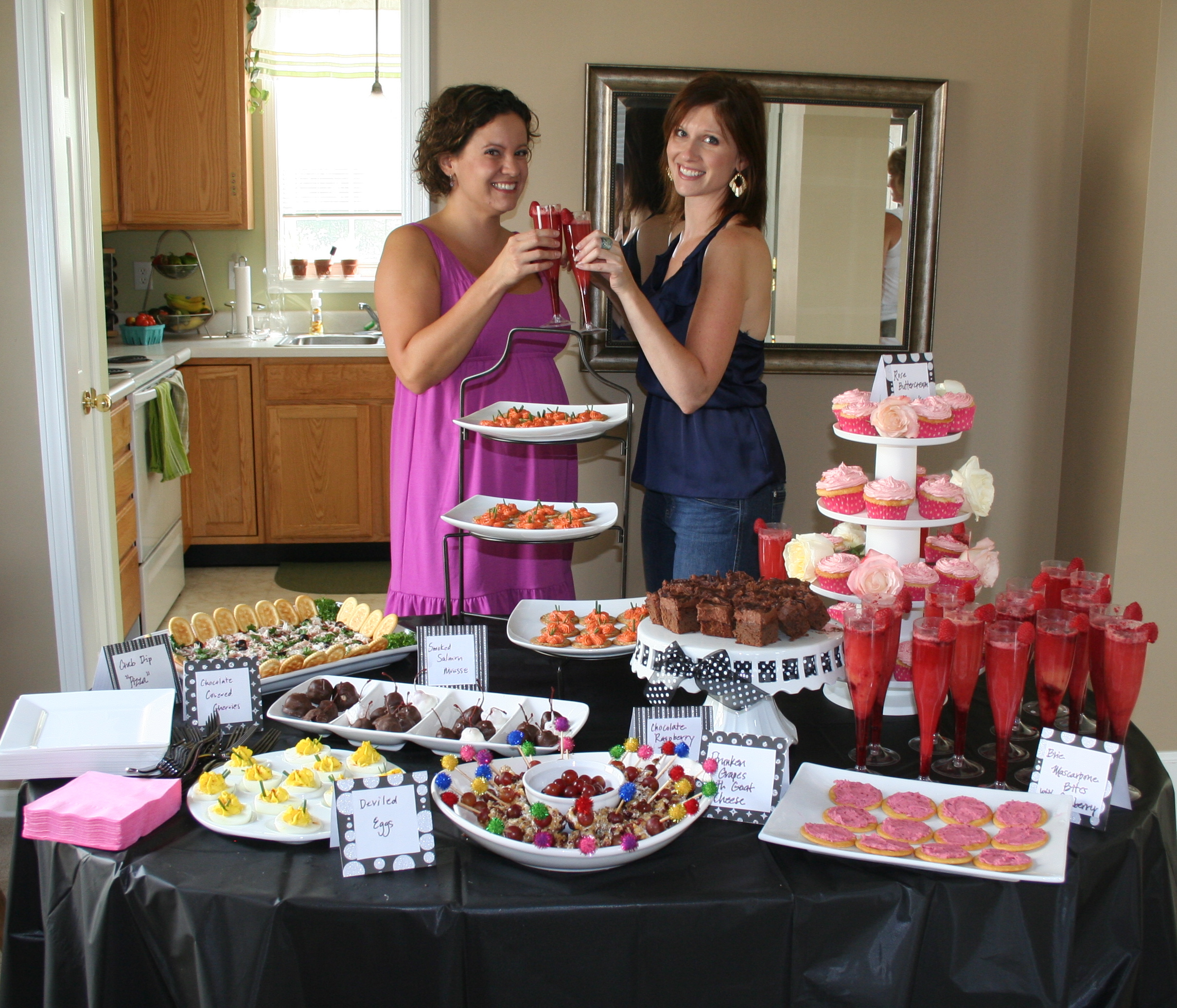 Here are links to the other featured recipes:
Ok.  Now on to the post-Caramel Corn.
**I would highly recommend the use of a very large stainless steel bowl to "bake" your popcorn in.  It's easy to stir the popcorn without spilling too much over the edges.  I use a 16″ diameter stainless steel bowl I purchased at a restaurant supply store.
Caramel Corn
Makes about 20 cups
Ingredients
20 cups popped popcorn (I do this the old-fashioned way, on the stove, with a little bit of oil.  I ended up using about 1 cup of unpopped popcorn kernels to begin with, and I made it in batches.)
1 cup (2 sticks) unsalted butter
1/2 cup corn syrup
2 cups packed light brown sugar
1 teaspoon salt
1/2 teaspoon baking soda
1 teaspoon vanilla
Instructions
1. Pre-heat oven to 250 degrees.
2.  Melt the butter in a medium saucepan over medium-high heat.
3. Add the corn syrup and brown sugar, mixing well.
4. Bring and maintain mixture to a boil without stirring for 5 minutes.
5. Add the salt, baking soda, and vanilla to the boiling mixture and immediately remove from heat, stirring rapidly.
6. Pour the hot liquid over the popcorn (be careful!!)
7. Place the covered popcorn in a deep large pan or stainless steel bowl.
8. Bake at 250 degrees for 1 hour, stirring every 15 minutes.
9. Let cool completely, and enjoy!!!
Recipe courtesy of Georgia.