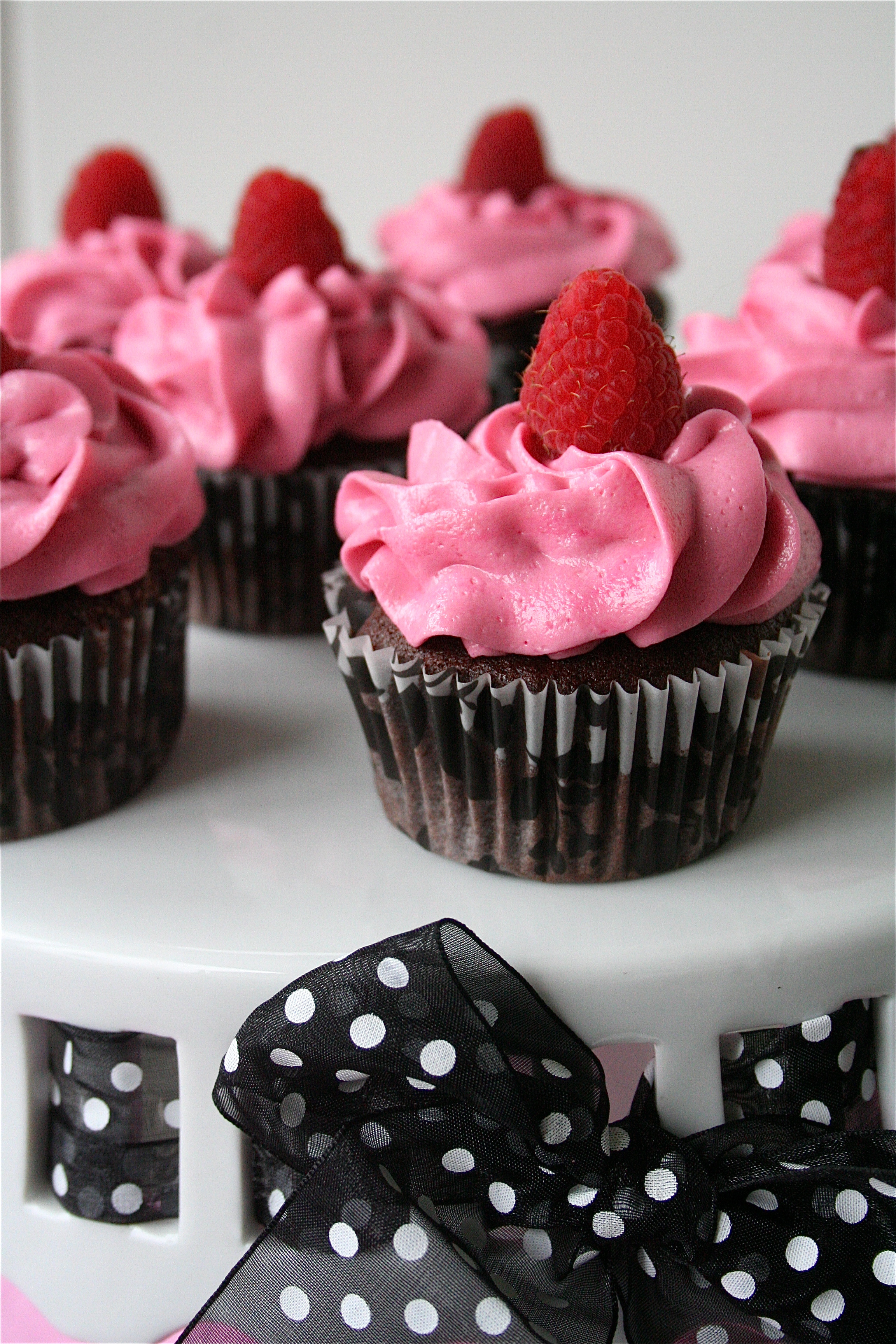 It's a Sunday.  I'm craving chocolate.  I was holding off on this post for a while, since I've been posting a lot of desserts lately.  But, here's the thing.  A girl (or guy) just needs some indulgence once in a while.  And these cupcakes?  The ultimate in self-indulgence. The chocolate is rich, the surprise filling is an added bonus, and the frosting?  My goodness. (And sometimes when a good thing comes along, well, you just have to grab it and not let it pass you by.) I would like to thank my friend Annie for introducing me to these cupcakes.
I took these to a friend's birthday party a few weeks ago.  She had requested a chocolate raspberry cupcake, and I knew that these would be a hit at the party.  They certainly were…..
Chocolate Raspberry Cupcakes with Raspberry Truffles
Servings: approximately 24 cupcakes
Ingredients
For the cupcakes:
9 tbsp. unsweetened cocoa powder
1 1/2 cups cake flour
1/2 tsp. salt
1 tsp. baking soda
1/4 tsp. baking powder
8 tbsp. unsalted butter, at room temperature
1 1/2 cups granulated sugar
2 large eggs, at room temperature
1/2 cup strong coffee (or water)
1/2 cup whole or low-fat milk***I used whole because I was on that self-indulgent roll….
For the filling:
Seedless raspberry jam (I also used blackberry jam as well and mixed the two)
For the raspberry truffles:
2 pints fresh raspberries
5 oz. semisweet or bittersweet chocolate, finely chopped***I used chocolate chips, which worked just fine.
1/4 cup seedless raspberry jam
1/3 cup heavy cream
For the frosting:
16 tbsp. unsalted butter, at room temperature
6 cups powdered sugar
1/2 cup seedless raspberry jam
Pink icing color (optional)
Instructions
1. For  the cupcakes: preheat the oven to 350° F.
2. Line two cupcake pans with paper liners.
3. In a small bowl sift together the cocoa powder, cake flour, salt, baking soda, and baking powder.
4. In the bowl of a stand mixer fitted with the paddle attachment, cream the butter and sugar on medium-high speed until light and fluffy, about 5 minutes.  Mix in the eggs one at a time, scraping down the sides of the bowl between additions.
5. In a liquid measuring cup, combine the coffee and milk.
6. Add half of the dry ingredients to the mixer and mix on low speed just until incorporated.  Stir in the coffee-milk mixture and mix until combined.  Add in the remaining dry ingredients, again mixing just until incorporated.
7. Divide the batter evenly between the cupcake liners, filling the cups about 3/4 full.  Bake for 20 minutes, or until a toothpick inserted in the center comes out clean.  Transfer to a wire rack to cool completely.
8. For the filling: once the cupcakes have cooled completely, heat some raspberry or blackberry jam just enough to allow for easy stirring and smooth texture in the microwave for about 20 seconds or so.  Transfer the jam to a pastry bag fitted with a large plain tip, poke into each cupcake and pipe a small amount inside.****Pipe into the top of the cupcake (that way you can cover the hole with frosting.) 🙂
9. For the raspberry truffles: rinse fresh raspberries and transfer to a baking sheet lined with paper towels.  Gently shake the berries around to remove excess water.
10. Place the chocolate and jam in a small heatproof bowl.
11. Bring the cream to a boil in a small saucepan over medium-low heat.  Remove from the heat and pour over the chocolate and jam.  Let stand for about 3 minutes.  Whisk together gently until smooth.
12. Let the ganache cool a bit until it has thickened slightly (enough to be piped through a pastry bag).  Once it has reached the right consistency, transfer the ganache to a pastry bag and pipe into the center of the clean raspberries.  Refrigerate at least 15 minutes to set.
13. For the frosting: place the butter and jam in the bowl of a stand mixer fitted with the paddle attachment.  Cream on medium-high speed until well incorporated, about 2 minutes.  Sift in the powdered sugar and mix until smooth.  Tint with icing color as desired.
To finish the cupcakes, frost with the raspberry jam buttercream and top with a few of the raspberry truffles.
Barely adapted from Annies Eats.  Thanks, Annie! 🙂