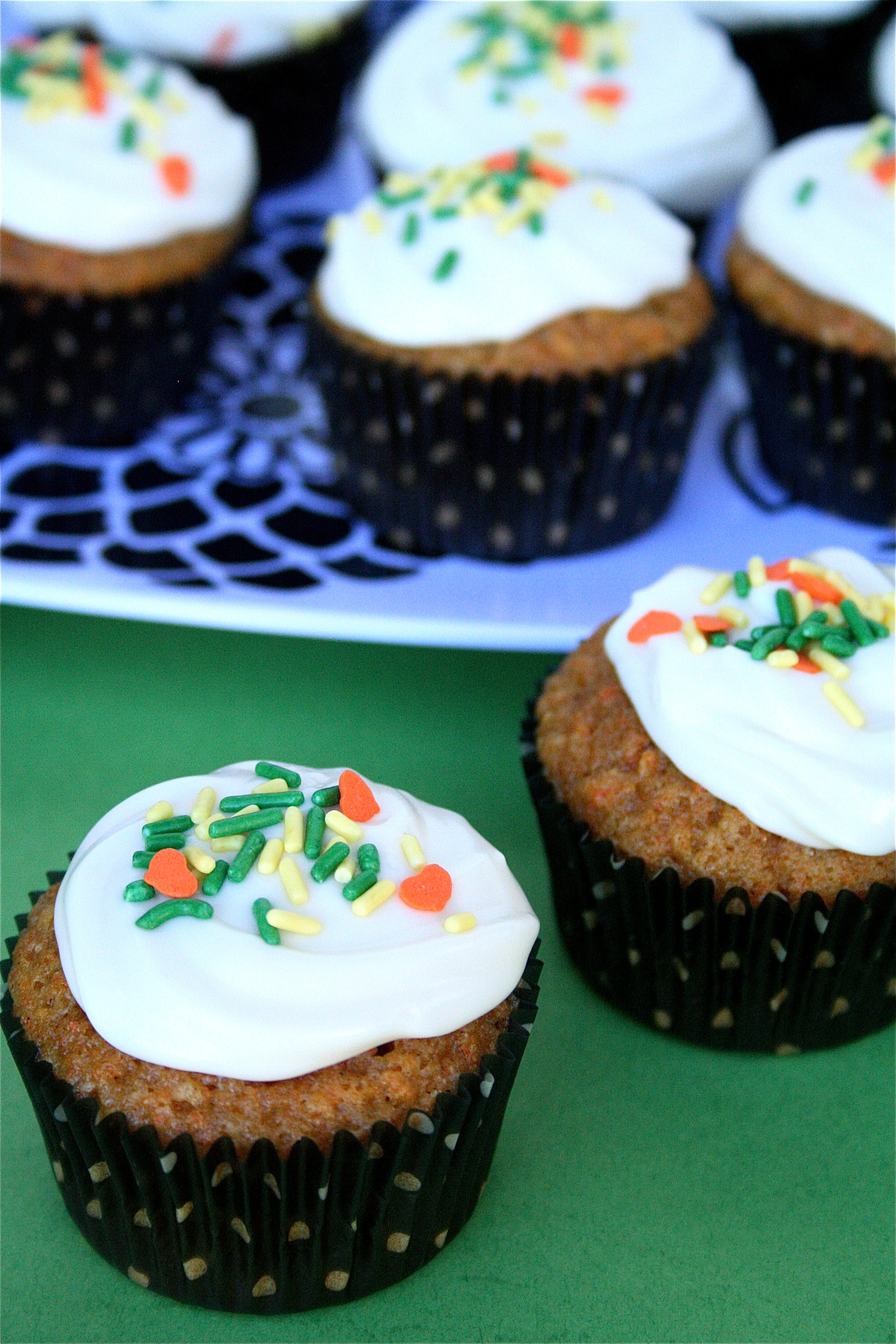 Carrot cake ranks right up there as one of my ultimate favorite foods.  I love the complexity of the flavors…I like all kinds.  I like the kinds with pieces of nuts, raisins, and everything else, but I also like the smooth, velvety kinds.  What I absolutely cannot live without is the cream cheese frosting.  It has to be thick, sweet, a little tangy, and ultra creamy.  Ah, yes.
I made a batch of these to bring to my nephew's 1st birthday party.  Since I knew that a lot of little children would be there, I opted for a more conservative-type cake, omitting any kind of larger add-in or nuts.  I didn't have too much time to prepare, so the initial designs that I had envisioned in my head fell a little short.  But they still tasted….well…pretty amazing.  I went for a standard cream cheese frosting; however, its texture was a little dense, so it was not a good piping type of frosting.  I ended up just spreading a little on the top of each cupcake, and, even though I don't think that they are my most beautiful masterpiece, no one at the party seemed to mind.  I would advise, however, to DOUBLE the amount of cream cheese frosting if you are planning on making cupcakes.  This originally was designed for a layer cake, and I adapted the recipe to a cupcake version.  One can never have too much cream cheese frosting, in my own humble opinion.
Carrot Cake Cupcakes
Servings: 24 cupcakes
Ingredients:
For the cupcakes:
2 1/2 cups unbleached all-purpose flour
1 1/4 teaspoons baking powder
1 teaspoon baking soda
1 1/4 teaspoons ground cinnamon
1/2 teaspoon freshly grated nutmeg
1/8 teaspoon ground cloves
1/2 teaspoon salt
1 pound (6 to 7 medium) carrots, peeled
1 1/2 cups granulated sugar
1/2 cup packed light brown sugar
4 large eggs
1 1/2 safflower, canola, or vegetable oil
For the cream cheese frosting (I highly recommend doubling this):
8 ounces cream cheese, softened but still cool
5 tablespoons unsalted butter, softened but still cool
1 tablespoon sour cream
1/2 teaspoon vanilla extract
1 1/4 cups confectioners' sugar
Instructions:
1. For the cupcakes:  Adjust the oven racks to the upper middle and lower middle positions and preheat the oven to 350 degrees.
2.  Line a cupcake pan with liners.
3.  Whisk together the flour, baking powder, baking soda, spices, and salt in a medium bowl; set aside.
4. In a food processor fitted with the large shredding disk, shred the carrots (you should have about 3 cups); add the carrots to the bowl with the dry ingredients and set aside.
5.  Wipe out the food processor and fit with the metal blade.
6. Process both sugars with the eggs until frothy and thoroughly combined, about 20 seconds.
7.  With the machine running, add the oil through the feed tube in a steady stream.  Process until the mixture is light in color and well emulsified, about 20 seconds longer.
8.  Scrape the mixture into a large bowl, and stir in the carrots and dry ingredients until incorporated and no streaks of flour remain.
9.  Divide the batter evenly among the cupcake liners and bake 20-24 minutes, until a toothpick inserted in the center of the cupcake comes out clean.  ***I rotate my pans   halfway through the baking process.
10.  Cool the cupcakes on a wire rack to room temperature, about 2 hours.
11. For the frosting:  Process the cream cheese, butter, sour cream, and vanilla in a clean food processor until combined, about 5 seconds, scraping down the bowl with a rubber spatula as needed.
12. Add the confectioners' sugar and process until smooth, about 10 seconds.
13.  Since this frosting will be difficult to pipe, I recommend just smoothing it onto each cupcake with an offset spatula. (If you don't eat it all first….:) )
Adapted from Baking Illustrated.  (aka the Baking Bible)
Related posts: