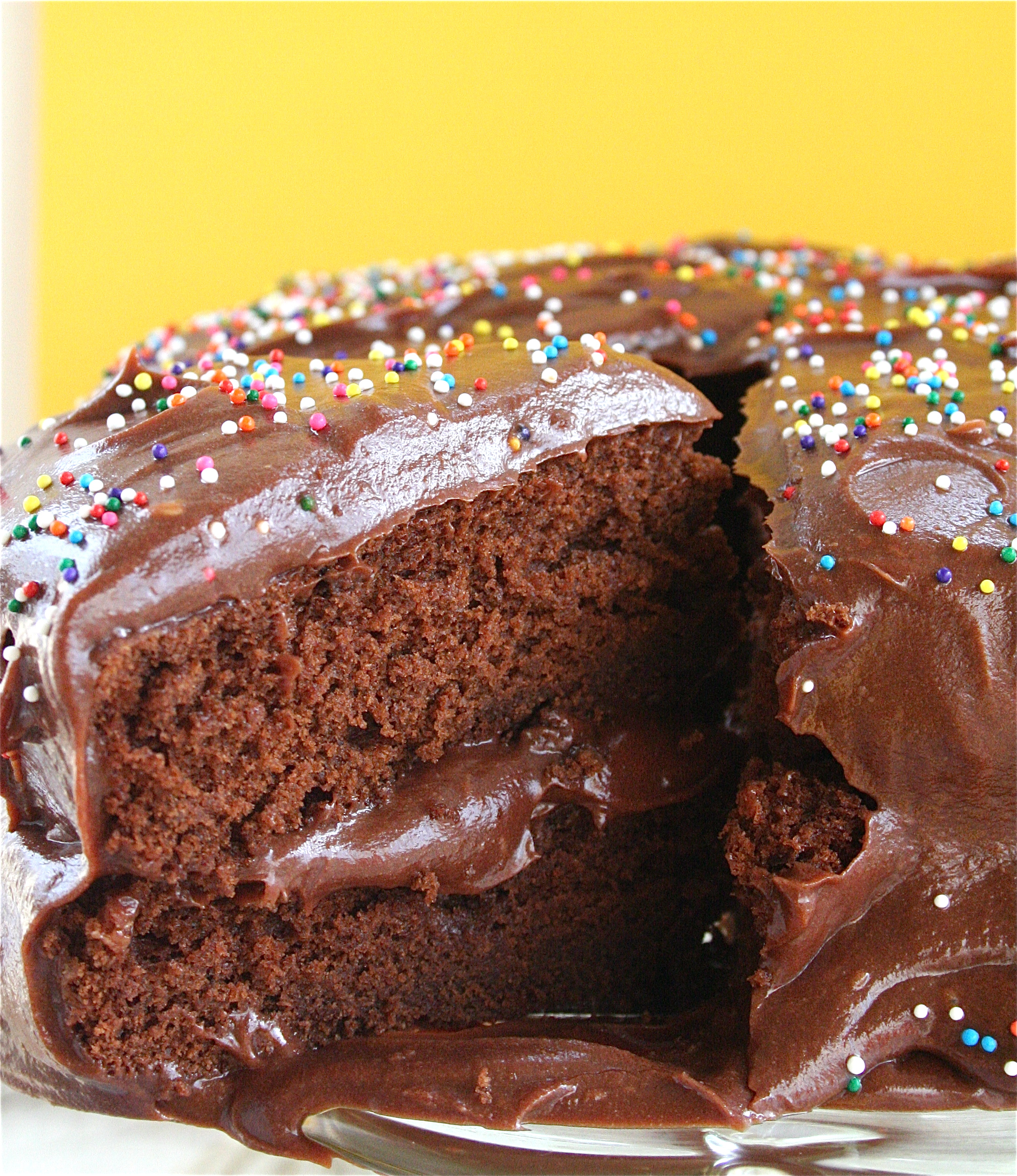 I didn't have a reason for making this.  Well, except for that thought that popped into my head, "Hmmmm….what sounds really good?  Chocolate cake!"  Usually, when things like that come creeping in, I try to hold off.  These thoughts start coming in, "How about some delicious leafy greens? What about tofu?  What about taking your vitamins, taking Scout for her daily long walk, and drinking a big glass of water instead?"  Sometimes, just that amount of distraction can get me going in a better direction.
But, for the past four days, I have been consistently dreaming of chocolate cake, warm from the oven, with a thick, fudge-like buttercream frosting.  I scoured some of my baking cookbooks.  I thought about doing something fancy, with add-ins or a flavor.  Nope.  My brain wanted just a straight-forward chocolate cake.  Dense.  Layered.  Something to have for dessert (or for a second dessert) with a nice, tall glass of cold milk.  Something that I could put sprinkles on.  And, so, here it is.
I went to my go-to baking guide for this one.  I would trust the editors of anything created by Cook's Illustrated.  And once again, they came through with flying colors.  The cake was moist, dense, and provided enough chocolate punch for me to feel satisfied.  And don't even get me started about the buttercream frosting.  It truly is a thing of beauty.  Thank you, again, Cook's Illustrated.  You have satisfied my sweet tooth.
Old-Fashioned Layer Cake
Servings: 12
Ingredients
For the cake:
1 and 1/4 cups unbleached all-purpose flour, plus more for dusting pans
12 tablespoons (1 and 1/2 sticks) unsalted butter, softened but still cool
1 and 1/4 cups sugar
2 large eggs, at room temperature
1/2 teaspoon baking soda
1/2 teaspoon salt
1/2 cup nonalkalized cocoa, such as Hershey's, sifted
2 teaspoons instant espresso or coffee powder
1 cup plus 2 tablespoons milk
2 teaspoons vanilla extract
For the frosting:
10 ounces chocolate (you can use bittersweet, semisweet, or milk chocolate….your choice!), chopped fine
1 cup heavy cream
1/4 cup light corn syrup
1/4 teaspoon salt
1 and 1/3 cups confectioners' sugar
2 teaspoons vanilla extract
2 and 1/4 sticks unsalted butter, cut into chunks and softened
Instructions:
1. For the cake: Adjust an oven rack to the middle position and heat the oven to 350 degrees.
2.  Generously grease two 8-inch round cake pans and cover the pan bottoms with rounds of parchment paper.  Grease the parchment rounds and dust the pans with flour, tapping out the excess.
3. Beat the butter on the bowl of a standing mixer at medium-high speed until smooth and shiny, about 30 seconds.
4. Gradually sprinkle in the sugar; beat until the mixture is fluffy and almost white, 3 to 5 minutes.
5. Add the eggs one at a time, beating 1 full minute after each addition.
6. Whisk the flour, baking soda, salt, cocoa, and instant espresso powder in a medium bowl.
7. Combine the milk and vanilla in a liquid measuring cup.
8. With the mixer at the lowest speed, add about a third of the dry ingredients to the batter, followed immediately by about a third of the milk mixture; mix until the ingredients are almost incorporated into the batter.
9. Repeat the process twice more.
10.  When the batter appears blended, stop the mixer and scrape the sides of the bowl with a rubber spatula.
11.  Return the mixer to low speed; beat until the butter looks satiny, about 15 seconds longer.
12. Divide the batter evenly between the prepared pans.
13.  With a rubber spatula, spread the batter to the pan sides and smooth the tops.
14.  Bake the cakes until they feel firm in the center when lightly pressed and a toothpick inserted in the center comes out clean, about 23 to 30 minutes.
15.  Run a knife around the perimenter of each pan, invert the cakes on a wire rack, and peel off the paper liners.
16.  Reinvert the cakes onto the racks and cool completely before frosting.
17. For the frosting:   Place the chocolate in a food processor,
18.  Bring the cream, corn syrup, and salt to a boil in a liquid measuring cup in the microwave.  Stir the mixture to combine.
19. Pour the hot cream mixture over the chocolate and process until the mixture is smooth, about 1 minute.
20.  If your food processor is big enough (mine is not), continue with the following instructions, combining everything in your food processor.  I actually switched everything over to my stand mixer at this point.  Be careful-the mixture is hot.
21. Add the sugar and vanilla and continue to process (or mix) until combined, about 30 seconds.
22. With the machine running, add the softened butter, one piece at a time.  Continue to process until the frosting is smooth and no butter chunks remain, about 2 minutes.
23.  Transfer the butter to a small bowl, cover with plastic wrap, and refrigerate until thick and spreadable, 1 to 1 and 1/2 hours.
Cake adapted from Baking Illustrated and Frosting from Family Baking Book.