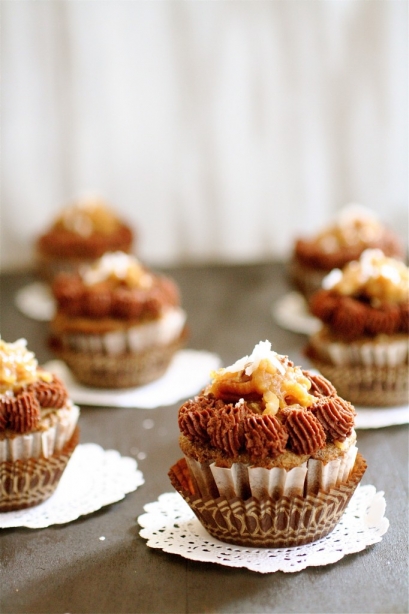 One of the first things I wanted to make in my new kitchen was, of course, cupcakes.  Go figure.
I've never been a really big fan of German chocolate.  I don't know why.  Maybe it was the uncertainty of what was actually in that golden brown filling, maybe it's because I usually go for cupcakes with a lot more frill (chocolate chips, chocolate shavings, fluffy mounds of buttercream), or maybe it's just because I've never had an urge to order it from a bakery so that I would have the opportunity to try it in all its glory.
Confession:  I stood in my kitchen, shamelessly (of course), eating spoonfuls of the leftover filling, in my pajamas, with a cup of hot coffee next to me.  It was, by my standards, a breakfast of champions.
I merged a few recipes here to create a combined final product, but I'm going to be completely honest with you.  I wasn't a super huge fan of the frosting that I made to go with these cupcakes this time.  I'm going to post the recipe to stay true to the pictures (because, in all honestly, it's a great standard chocolate buttercream for cookies, etc, but it wasn't exactly what I had envisioned for this recipe.) If you want some good alternatives, I recommend this one or this one.
Am I a convert now?  Yes.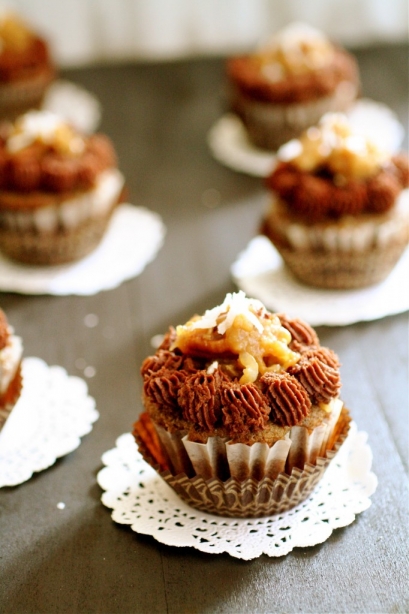 German Chocolate Cupcakes
Servings: 24 cupcakes
Ingredients
For the cupcakes:
3/4 cup (1 and 1/2 sticks) unsalted butter, room temperature
2 cups cake flour
1 teaspoon baking soda
3/4 teaspoon salt
1 and 1/3 cups sugar
3 large eggs, room temperature
1 and 1/2 teaspoons pure vanilla extract
1 cup buttermilk
5 ounces semisweet chocolate, melted and cooled
For the filling:
1 and 1/2 cups evaporated milk
5 egg yolks, slightly beaten
1 cup granulated sugar
1 cup brown sugar
2 teaspoons vanilla extract
1 cup (16 tablespoons) unsalted butter
2 and  1/2 cups flaked coconut
2 cups toasted pecans, chopped
For the frosting:
8 oz. unsweetened chocolate, chopped
6 cups confectioners' sugar
16 tablespoons (2 sticks) unsalted butter, at room temperature
6 tablespoons milk, plus more, if needed, at room temperature
2 teaspoons vanilla extract
1/4 teaspoon salt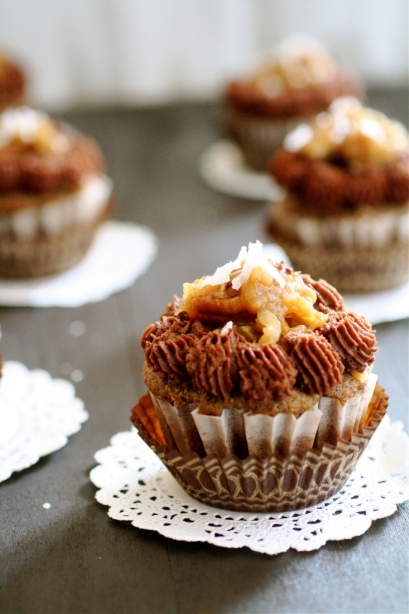 Instructions
1. For the cupcakes:Preheat oven to 350 degrees.
2. Line your cupcake pans with the liners of your choice.
3. In a medium bowl, whisk together the cake flour, baking soda, and salt.
4. Using your standing mixer fitted with the paddle attachment, on medium-high speed, cream butter and sugar until pale and fluffy, about 1-2 minutes.
5. Add eggs, one at a time, beating until each is incorporated, scraping down sides of bowl as needed.
6. Add the vanilla.
7. Reduce the mixer speed to low and add  the flour mixture in three batches, alternating with two additions of buttermilk, and beating until combined after each.
8. Add the chocolate  and mix until combined.
9. Divide the batter evenly in the prepared cupcake pans and bake, rotating tins halfway through, until a cake tester inserted in centers comes out clean, 20 minutes.  Let cool completely before frosting/filling.
10. For the filling: In a large saucepan over medium-low heat, combine the evaporated milk, slightly beaten egg yolks, granulated sugar, brown sugar, vanilla and butter.
11. When the butter melts, raise the heat to medium, stirring constantly, for about 10-12 minutes (it will begin to thicken up quite a bit.)
12. Remove from the heat. Add the coconut and pecans and mix well.  Let cool completely before filling the cupcakes.
13. For the frosting: Melt the chocolate in the top pan of a double boiler set over but not touching simmering water, stirring until the chocolate is melted.  Let cool to room temperature.
14. In the bowl of your standing mixer fitted with the paddle (or using an electric mixer), combine the confectioners' sugar, butter, the six tablespoons of milk, the vanilla and salt and beat on low speed until combined, about 1 minute, scraping down the sides of the bowl as necessary.
15. Increase the speed to medium and beat for 2 minutes, then reduce the speed to low.
16. Add the chocolate and beat until combined, then increase the speed to medium and beat for 1 minute more, adding more milk, if necessary, one teaspoon at a time, until the desired consistency is reached.
17. For the assembly:  I cut about a 1-inch in depth cone from the top of each cupcake and spooned in the frosting, as well as placed 1-2 heaping tablespoons of the filling on top of each cupcake.  I piped the chocolate buttercream frosting in a circle around the filling and garnished with leftover coconut flakes.
Sources:  Cupcakes from Martha Stewart, filling from Food Network, and frosting from Williams Sonoma.