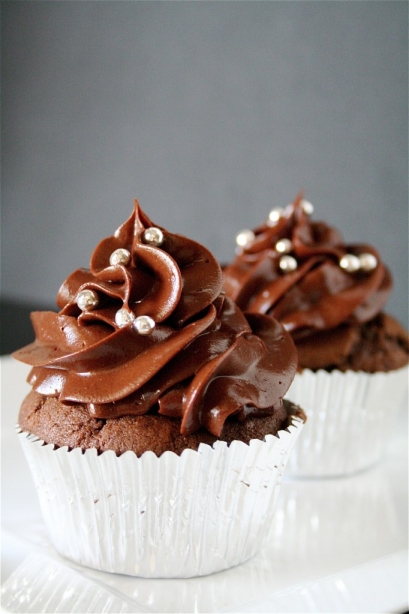 This post is in honor of Black Friday, because these cupcakes are so rich, so decadent, so dark.  Who needs retail therapy when cupcakes like these exist?
My little brother is in town right now for the holidays, so I whipped these up to share with him.  I've missed having him around, to laugh with, watch crazy old home videos with, and have him eat all the food that I eat.  I swear, he's like an endless eating machine. Anyways, with the new Harry Potter movie coming out, we decided to have a Harry Potter movie marathon night, and I made these to share with him-instead of venturing out into Black Friday shopping chaos.  I admire people who can shop on Black Friday.  I actually had to run to the grocery store, and I was dreading the lines.  Amazingly, if you need to get in some major grocery shopping, apparently Black Friday is the day to do it.  No lines, no packed aisles……heaven.
I used my brand new Martha Stewart cupcake cookbook (I love you Borders Rewards……) and decided that these cupcakes would be my first creation out of it.  They exceeded my expectations.  Rich, velvety, and buttery cake with a chocolate buttercream frosting…oh my!  Because I wanted to have a nice piped look, I opted against the suggested chocolate ganache frosting that originally goes with the recipe, but I instead went for a deep, shiny buttercream that easily piped and made for a really festive look.
Devil's Food Cupcakes
Servings:  32 cupcakes
Ingredients
For the cupcakes:
3/4 cup unsweetened Dutch-process cocoa powder
3/4 cup hot water
3 cups all-purpose flour
1 teaspoon baking soda
1 teaspoon baking powder
1 and 1/4 teaspoons coarse salt
1 and 1/2 cups (3 sticks) unsalted butter
2 and 1/4 cups sugar
4 large eggs, room temperature
1 tablespoon plus 1 teaspoon pure vanilla extract
1 cup sour cream, room temperature
For the frosting:
1/4 cup plus 2 tablespoons unsweetened Dutch-process cocoa powder
1/4 cup plus 2 tablespoons boiling water
1 and 1/2 cups (3 sticks) unsalted butter, room temperature
1/2 cup confectioners' sugar, sifted
Pinch of salt
1 pound semi-sweet chocolate, melted and cooled
Silver dragees, for garnish
Instructions
1. For the cupcakes: Preheat the oven to 350 degrees.
2.  Line standard muffin tins with paper liners.
3.  Whisk together the cocoa and hot water until smooth.
4. In another bowl, whisk together the flour, baking soda, baking powder, and salt.
5. Melt butter with sugar in a saucepan over medium-low heat, stirring to combine.
6. Remove from heat, and pour into a mixing bowl.
7. With an electric mixer on medium-low speed, beat until mixture is cooled, 4 to 5 minutes.
8. Add eggs, one at a time, beating until each is incorporated, scraping down the sides of the bowl as needed.
9. Add vanilla, then cocoa mixture, and beat until combined.
10.  Reduce mixer speed to low.
11. Add flour mixture in two batches, alternating with the sour cream, and beating until just combined after each.
12.  Divide batter evenly among lined cups, filling each three-quarters full.
13.  Bake, rotating tins halfway through, until a cake tester inserted in the centers comes out clean, about 20 minutes.
14.  Transfer tins to wire racks to cool 15 minutes; turn out cupcakes onto racks and let cool completely.
15. For the frosting: Combine cocoa and the boiling water, stirring until cocoa has dissolved.
16. With an electric mixer on medium-high speed, beat butter, confectioners' sugar, and salt until pale and fluffy.
17. Reduce speed to low.
18. Add melted and cooled chocolate, beating until combined and scraping down the sides of the bowl as needed.
19.  Beat in the cocoa mixture.
20. Let sit at room temperature while the cupcakes cool.
21.  Pipe as desired onto cupcakes.  (I used Wilton tip #1).
22. Decorate with silver dragees.
Source: Martha Stewart's Cupcakes.