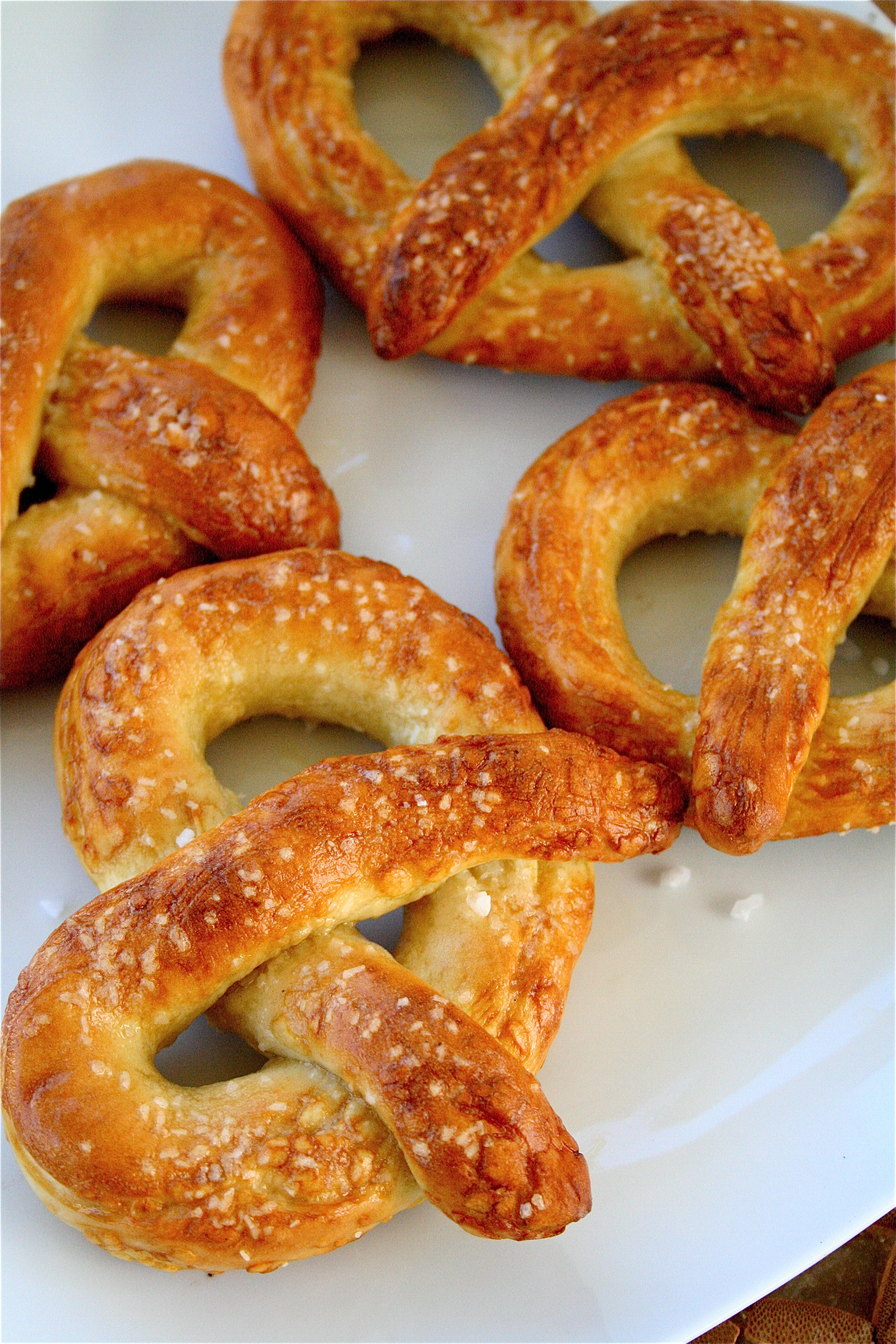 So, of all the things that I have made and blogged about since The Curvy Carrot began (in July!), these…by far….are my most favorite treats yet.
I'm a big sucker for pretzels-at football games, at the airport, from the freezer section of my local grocery store…..I'll eat them anytime.  I go back and forth over what my favorite topping is:  sweet (cinnamon sugar butter)….tangy (a creamy Dijon mustard, perhaps?)….or savory (a thick, flavorful cheddar cheese sauce…none of that nacho sauce from a can, thank you very much).  I'll admit, I've made some other homemade pretzel recipes to put on the blog.  I've boiled them, baked them, brushed them with different "glazes", but I never actually post them.  I refuse to post anything that I am not completely satisfied with (In terms of taste, that is.  My decorating skills can use some work…hahaha).  So, you can bet that if it's on here, I actually ate it and liked it.
So, let me tell you about these pretzels.  They are not hard to make.  They are not going to take up your entire day.  But they will make you salivate and be so glad that you made them. The most time consuming part of this recipe consisted of me trying to roll the dough into long cords….and that process took only about 2o minutes or so.  The dough is incredibly easy to put together (especially if you have a stand mixer to knead the dough for you), and then you let the dough go through a series of "rest" periods.  (You know, because you totally worked that dough so hard…:) ) which adds to the total time, but, really, it's enough time to throw in a load of laundry, catch up on some emails, or sit and read a good book.  Sounds nice, huh?
And I absolutely LOVED the way they turned out.  Nicely browned, not too salty (I have a tendency to go overboard sometimes….), and the melted butter…oh man.  You could probably omit the melted butter, but, I wouldn't recommend it.   I took the photo of these immediately after they came out of the oven, still warm.  Now, granted, I had four other pretzels (the less pretty ones, in my opinion) that I wasn't photographing, but, I was eating little pieces of them the whole time I was taking pictures.  I couldn't wait.  These are the real deal.  Finally.  I have found my go-to homemade pretzel recipe.
Hot Buttered Pretzels
Servings: 8
Ingredients
For the dough

2 1/2 cups unbleached all-purpose flour
1/2 teaspoon salt
1 teaspoon sugar
2 1/4 teaspoons regular instant yeast
7/8 to 1 cup warm water***I ended up using 1 cup because my dough was a little dry.  Add a little as you go.
For the topping

1/2 cup warm water
2 tablespoons baking soda
coarse, kosher or pretzel salt
3 tablespoons unsalted butter, melted
Instructions
1. Place all of the dough ingredients into your stand mixer bowl, and beat till well-combined.
2. Knead the dough for about 5 minutes, till it's soft, smooth, and quite slack.
3. Place the dough in a bowl, cover with plastic wrap,  and allow it to rest for 30 minutes.
4. Preheat oven to 500°F.
5. Prepare two baking sheets by spraying them with vegetable oil spray, or lining them with parchment paper.
6. After a half hour, transfer the dough to a lightly greased work surface, and divide it into eight equal pieces (about 70g, or 2 1/2 ounces, each).
7. Allow the pieces to rest, uncovered, for 5 minutes.
8. While the dough is resting, combine the 1/2 cup warm water and the baking soda, and place it in a shallow bowl.
9. Roll each piece of dough into a long, thin rope (about 28 to 30 inches long), and twist each rope into a pretzel.
10.Dip each pretzel in the baking soda wash and place them on the baking sheets.
11. Sprinkle them lightly with coarse, kosher, or pretzel salt.
12. Allow them to rest, uncovered, for 10 minutes.
13. Bake the pretzels for 8 to 9 minutes, or until they're golden brown, reversing the baking sheets halfway through.
14. Remove the pretzels from the oven, and brush them thoroughly with the melted butter. Use it all!!!
Source: King Arthur Flour Company.