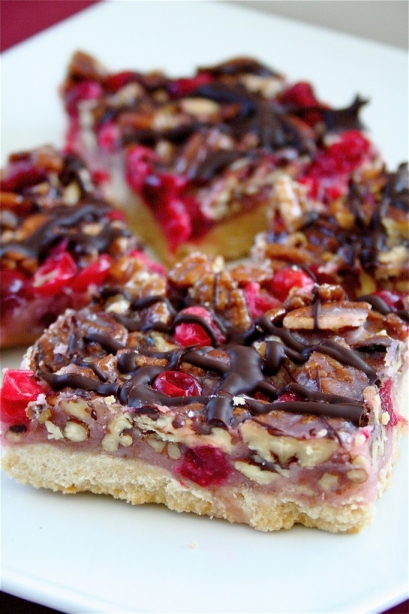 So I posted about the Hot Buttered Pretzels as being my favorite thing that I have ever made and blogged about a few weeks ago.
Now I'm in a conundrum because these are either a tie for first or a close second.  And neither one is very good for me, but, it's ok.  Everything in moderation, right?
This recipe combines some very wonderful things: a buttery shortbread type crust, golden caramel filling, sweet and tart cranberries, slightly salty pecans, and rich bittersweet chocolate.  Plus, they are gorgeous.  Completely festive and appropriate for any type of holiday get-together.  I plan on cutting these into bite-sized pieces and putting them on a big white platter as an after-dinner treat on the Big Day.  I lovingly refer to them as "crack bars" because I couldn't stop breaking off little pieces of them when I made them for this post. And again: another recipe that entails making homemade caramel?  Mission accomplished.  You DO need a candy thermometer for this recipe as a special tool, but it will keep you on track and make the whole process a lot more simple.
I hope you enjoy these as much as I do.  They are amazing.
Cranberry Turtle Bars
Servings: 36 bars
Ingredients
For crust:
2 cups all-purpose flour
1/2 cup packed light brown sugar
1/2 teaspoon salt
1 and 1/2 sticks (3/4 cup) cold unsalted butter, cut into 1/2-inch cubes
For the topping:
2 sticks (1 cup) unsalted butter
1 and 2/3 cups granulated sugar
1/4 cup light corn syrup
1/2 teaspoon salt
1 and 1/2 cups fresh cranberries, coarsely chopped
1 teaspoon vanilla
3 cups pecans, toasted and cooled, coarsely chopped
For garnish:
2 ounces fine-quality bittersweet chocolate, very finely chopped
Instructions
1.  For the crust:  Preheat the oven to 350 degrees.
2.  Line a 15- by 10-inch shallow baking pan with foil, leaving a 2-inch overhang on the 2 short sides.
3.  Butter all 4 sides, but not the bottom.
4. Blend flour, brown sugar, and salt in a food processor, then add butter and pulse until mixture begins to form small lumps.
5. Sprinkle into baking pan, then press down firmly all over with a metal spatula to form an even layer.
6.  Bake in the middle of the oven until golden and firm to the touch, about 15 to 17 minutes.  Cool in pan on a rack.
7.  For the topping:  Melt butter in a 3-quart heavy saucepan over medium heat and stir in sugar, corn syrup, and salt.
8. Boil over medium heat, stirring occasionally, until caramel registers 245 degrees on a candy thermometer, about 8 minutes.
9. Carefully stir in cranberries, then boil until caramel returns to 245 degrees.
10. Remove from heat and stir in vanilla, then stir in pecans until well coated.
11. Working quickly, spread caramel topping over base, using a form to distribute nuts and berries evenly. Cool completely.
12.  For the garnish:  Melt the chocolate in a double boiler or a metal bowl set over a saucepan of barely simmering water, stirring until smooth.
13.  Remove the bowl from the heat and continue stirring until completely cool.
14.  Using either a pastry bag or using a spoon, lightly drizzle the chocolate over the bars; let cool completely.
15. Once completely cooled, cut the bars into 36 equal pieces and serve.
Source:  Gourmet, November 2001.