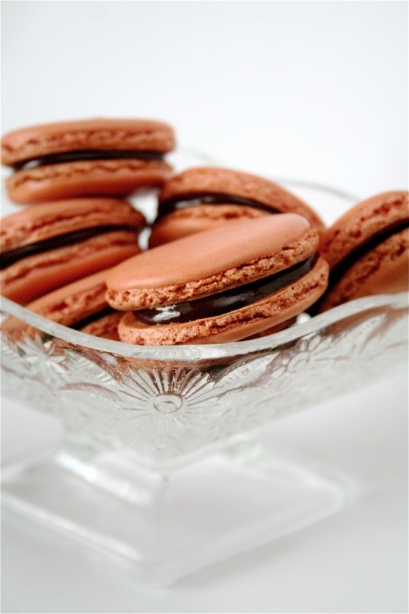 I got a crazy idea: I decided that I wanted to attempt macarons again.
And, this time, I planned far in advance.  Stocked up on my colored powders.  Scoured various recipes.  Attempted two different fillings to see which one I would like better (although so good, the almond buttercream was just too sweet with the macarons).  I decided on two different flavors: vanilla and chocolate macarons.  I had it all planned-I bought this really festive baking box to display the macarons in, and I was bound and determined to bring them as a thank-you for the hosts of a recent wine tasting that I attended.  I noticed that the snow was falling pretty intensely outside, and I knew that the moisture might affect my culinary obstacle course, but I shrugged  it off and decided to go full-speed ahead.
Now, the vanilla macarons were hit and miss.  I decided to go with a cheerful yellow and a light pastel pink.  As you can see, I overcolored my pinks.  But that's ok.  The prepping and baking parts of the macarons weren't too bad; I jumped for joy when I saw that my first batch, my yellow ones, were growing their cute little "feet" (aka pied).  But I came back over to the oven door less than 30 seconds later and was horrified to see that my cheerful yellow was now a melancholy cross between yellow and light brown.  Ew.  I promptly pulled them out of the oven and realized that, in my anal-retentive need for a beautiful presentation, these simply would not do.  I could not give these ugly ducklings away….as a gift especially.
Round #2.  Pink little "pieds" were sprouting up everywhere on my baking sheet, and I was standing eagle-eyed next to the oven door to make sure that the pink did not turn brown.  Victory.  One baking sheet successful.
Now, on to Round #3.  Chocolate macarons.  I followed everything to a tee-the drying process went smoothly (or so it seemed).  Perhaps I overdried my chocolate macarons.  Because they came out without feet and a slightly cracked top.  Definitely edible. They tasted insanely good, but they were definitely not presentable.  A culinary fail.
So, in the end, I ended up with a single baking sheet's worth of macarons-which looked and tasted great; however, now I didn't have anything to fit them in since it was very apparent that I had been over-optimistic when I bought the festive box.  At that point, and after making a large batch of almond buttercream and one hour before the party started, I threw my hands up in defeat and decided that it was time to get ready.  I arrived with two different types of cheeses instead to go with the wine, and all was good.
But, now that I have that box, I am sure I will be attempting these little light and airy French classics until I have enough presentable ones to actually fill the box.
Vanilla Macarons with Bittersweet Chocolate Ganache
Servings: about 2 dozen (or not……)
Ingredients
For the macarons:
2/3 cup ground almonds (aka almond meal/flour)
1 and 1/2 cups powdered sugar
3 large egg whites, at room temperature
5 tablespoons granulated sugar
1 teaspoon vanilla extract
Food coloring powders (optional)
Pastry bags and tips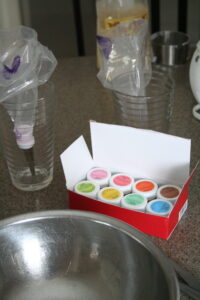 For the bittersweet ganache:
3/5 cup whipping cream, hot (just put it in a microwave-safe container and microwave for about 45 seconds, or until hot)
1 bar (3.5 ounces) of fine-quality bittersweet chocolate
Instructions
1. For the macarons: Line two baking sheets with parchment paper.
2.  In a food processor, process the almond flour and powdered sugar together to a fine powder.
3. Sift the mixture through a medium-mesh sieve twice.  Set aside.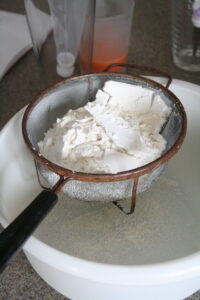 4. In a stainless steel mixing bowl, beat the egg whites on high speed until they are foamy.
5.  Gradually add the granulated sugar to the egg whites.
6.  Add the vanilla and stir lightly.
7.  Beat the egg white mixture on high speed until stiff, glossy peaks form (about 1 minute).
8. Add half of the sifted flour mixture.  Stir with a spatula while scooping it up from the bottom of the bowl.
9. Add the rest of the flour and mix it lightly in a circular motion.

10.  When the flour is incorporated, press and spread the batter out against the bowl's sides.  Scoop the batter from the bottom and turn it upside down.  Repeat this step about 15 times.  (This is what is called the Macaronnage.)

11.  When the batter becomes nicely firm and drips slowly from the spatula, the mixture is done. Pour the batter into your pastry bags and twist off the bags to prevent the batter from oozing back out onto your hand.

12.  Using a pastry bag fitted with a standard tip (I used Wilton #1A), pipe the batter into round circles, about 1.5-2 inches in diameter, each about two inches apart.

13.  Rap the baking sheet firmly against the counter or other flat surface.  (Apparently this helps the feet to form…..)
14.  Dry the batter at room temperature, uncovered, for 15 minutes or so.  At this point, place an oven rack in the middle position, and preheat the oven to 375 degrees. (*I had to wait longer due to the moisture outside-in the end, it took about 45 minutes to one hour for me.)  During this process, a slight crust should form on the macarons, and, when you touch this surface gently with your fingertip, the batter should not stick.  When the batter does not stick to your finger, the drying process is complete.
15.  Stack the baking sheet with the macarons on top of another baking sheet and slide both into the oven.
16.  Bake for 15 to 18 minutes, rotating the baking sheets halfway into the baking time.  They should be slightly crisp and crackled on top.
17.  Remove the baking sheet from the oven and cool on a wire rack.
18. For the bittersweet ganache:  Put the chocolate in a bowl and pour the hot cream over it.
19.  Mix slowly, with a whisk, until it becomes glossy.
20.  Cool the mixture to room temperature.  Spread the ganache over the macarons and assemble to form the sandwich shape.
Source: I ♡ Macarons.