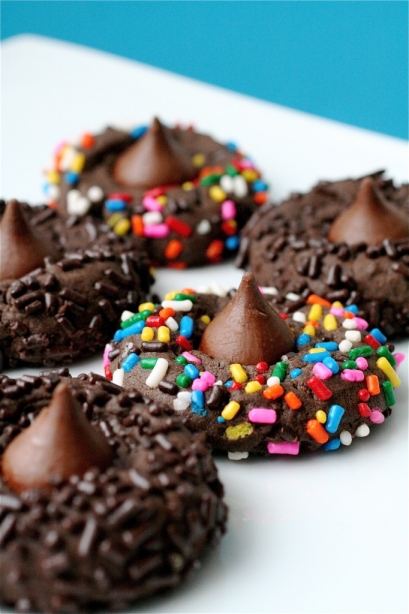 My little brother is a college hockey player in a neighboring state, who happened to break his arm pretty badly the other night during a game. I'll spare you the details, but let's just say it warranted a phone call to me at 1am from my extremely worried parents, who, thankfully happened to be at the game and were able to go with him to the hospital overnight.  They ended up bringing him back home for the weekend so he could rest and relax.  Since he'll be out for the rest of the season, he's pretty bummed.  So what's a big sister to do?
Knowing that he loves sprinkles, I made him a giant batch of cookies (with sprinkles) to cheer him up.  Just a basic thumbprint cookie with extra dark cocoa and extra sprinkles.  He was surprised and laughed when he saw them the next day.  I also told him I would break the arm of the guy who caused his arm to break in the first place, but he just rolled his eyes and laughed.  Welcome to hockey, I guess.
Here's to a speedy recovery, Ben (aka Fluff).  I love you and hope you feel better soon!
Chocolate Thumbprint Cookies
Servings: about 20 cookies
Ingredients
2/3 cup unsalted butter, softened
1/2 cup sugar
1/4 cup unsweetened dark cocoa powder
1/4 teaspoon baking soda
1/8 teaspoon salt
1 egg
1 teaspoon vanilla
1 and 1/4 cups all-purpose flour
3/4 cup chocolate or multicolor sprinkles (or both!!!)
20 (or however many cookies you end up with….) milk chocolate kisses, unwrapped
Instructions
1. Preheat oven to 375 degrees.  Line two cookie sheets with parchment paper.
2. In a large mixing bowl, beat butter on medium-high speed for 30 seconds.
3.  Add sugar, cocoa powder, baking soda, and salt.  Beat until combined, scraping the sides of the bowl occasionally.
4. Beat in egg and vanilla until combined.
5. Beat in the flour.
6.  Your dough should be at ball-rolling consistency at this point.  If it's not, let it chill in the refrigerator for a while to firm up a little.
7. Once easily handled, roll dough into 1-inch balls.
8.  Roll balls in sprinkles to coat.
9. Place balls 2 inches apart on your lined cookie sheets, and, using your thumb, make an indentation in the center of each cookie.  (hence, thumbprint cookies…..:) )
10. Bake for 7 to 8 minutes or until edges are firm.  Immediately press a chocolate kiss into each cookie's center.  Transfer to a wire rack and let cool.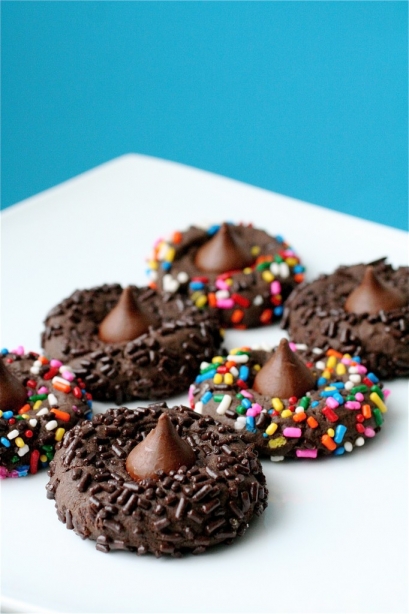 Source:  The Ultimate Cookie Book.