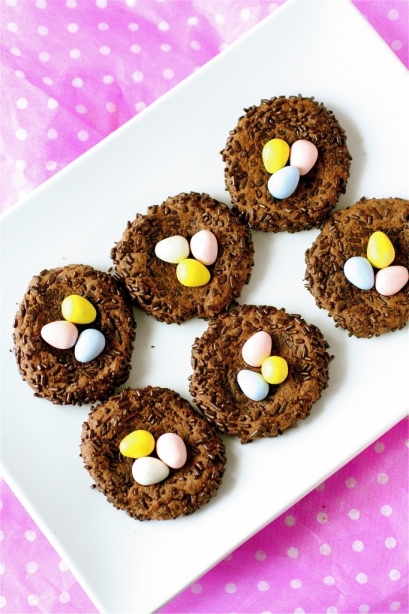 Consider this a merging of two fantastic cookie-ish recipes.  Take a solid chocolate cookie recipe (my favorite chocolate cookie recipe, in fact) which I have used before in THIS post and a combine it with a spring-time classic kiddo treat (which apparently adults love, too, judging by Pinterest… 😉 ) from THIS post.
And what do you get?  Good old fashioned chocolate cookies with chocolate mini eggs.  I know it's not super original, I know.  But this actually has a funny story behind it.
I was going to make chocolate thumbprint cookies and fill the center with the Cadbury creme egg filling, complete with a piped yellow center.  I had such great intentions, but not a lot of foresight when it came to my pantry inventory.  I've been doing such a great job of using up ingredients and making (a little) space on the shelves in there that I didn't realize that I, the one who perpetually has frosting on her face and dried in her hair on the weekends, was out of powdered sugar.  AKA the main ingredient in the Cadbury creme filling.  As it was already late in the day and I may or may not still have been in my pajamas and in between episodes of the Real Housewives of Orange County (guilty confession), the last thing I wanted to do was run to the store to pick up sugar.  Thankfully, when I went to the store the night before on an empty stomach, the little Cadbury mini eggs (my favorite spring treat) caught my eye and I picked up a bag.  A little last minute improvisation, but they still tasted great.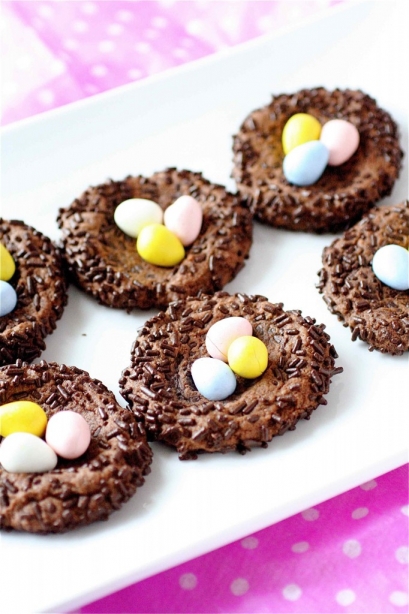 Chocolate Thumbprint Nests
Servings: about 20 cookies
Ingredients
2/3 cup unsalted butter, softened
1/2 cup sugar
1/4 cup unsweetened dark cocoa powder
1/4 teaspoon baking soda
1/8 teaspoon salt
1 egg
1 teaspoon vanilla
1 and 1/4 cups all-purpose flour
3/4 cup chocolate sprinkles
60 (or however many cookies you end up with….) mini Cadbury eggs
Instructions
1. Preheat oven to 375 degrees.  Line two cookie sheets with parchment paper.
2. In a large mixing bowl, beat butter on medium-high speed for 30 seconds.
3.  Add sugar, cocoa powder, baking soda, and salt.  Beat until combined, scraping the sides of the bowl occasionally.
4. Beat in egg and vanilla until combined.
5. Beat in the flour.
6.  Your dough should be at ball-rolling consistency at this point.  If it's not, let it chill in the refrigerator for a while to firm up a little.
7. Once easily handled, roll dough into 1-inch balls.
8.  Roll balls in sprinkles to coat.
9. Place balls 2 inches apart on your lined cookie sheets, and, using your thumb, make an indentation in the center of each cookie.
10. Bake for 7 to 8 minutes or until edges are firm.  Let cool slightly before lightly pressing three mini eggs into each cookie's center.  Transfer to a wire rack and let cool.
Source: Adapted from  The Ultimate Cookie Book.