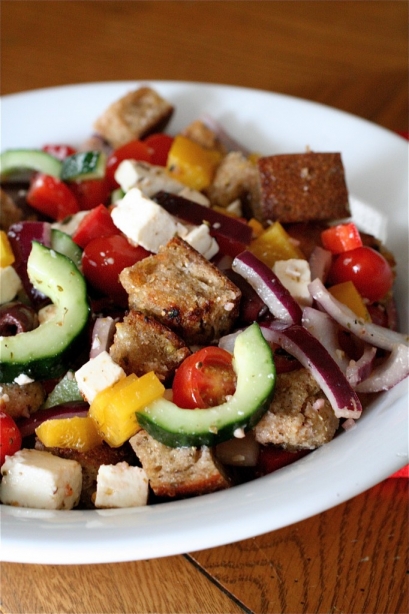 I'm beginning to get a crush on Ina Garten.  Well, not really, but, I'm really starting to be inspired by her.  When I used to watch her show, I would be the first one to get frustrated and think, "She makes it all look so easy.  How can she pull all that off?  I would fail miserably."  She has her stuff totally together, you know?
I was at TJ Maxx a few months ago (LOVE that store) and happened to pause in their book aisle.  Her new book, "How Easy Is That?", just happened to be on super sale (the only one in stock, too!).  I picked up the book, thinking, "hmmm….she says it's going to be easy….I'll be the judge of that…"
And, let me tell you a secret.  I have a rule about buying cookbooks.  If I pick one up, start flipping through it, and if the first few recipes I see are ones that I would definitely make, then I either buy it or go check it out at the library first.  This recipe just happened to be the first one I flipped to.  Obviously, I would make the dish.  As I started flipping through it some more, I realized that many of the recipes were vegetarian-friendly (or at least adaptable to someone who eats fish occasionally).  I was sold.  I bought the book, took it home, and added my favorites to my "must-do" list.  This was the first one to be completed.  Healthy, fresh, great flavor, a lot of crunch, and inexpensive.  I'll take it.
Greek Panzanella
Servings: 6
Ingredients
3/4 cup olive oil, divided
6 cups rustic bread (diced into 1-inch pieces)
1 hothouse cucumber, unpeeled, halved lengthwise, seeded and sliced 1/2-inch thick
1 red bell pepper, seeded and large-diced
1 yellow bell pepper, seeded and large-diced
1 pint cherry or grape tomatoes, halved
1/2 small red onion, thinly sliced in half rounds
1/4 cup good red wine vinegar
2 teaspoons minced garlic (2 cloves)
1 teaspoon dried oregano, crushed
1/2 teaspoon Dijon mustard
1/2 pound feta cheese, 3/4-inch diced
1/2 cup kalamata olives, pitted
1 teaspoon salt, plus more to taste/cooking bread
1/2 teaspoon pepper, plus more to taste/cooking bread
Instructions
1. Heat 1/4 cup of the olive oil in a large sauté pan until hot.
2.  Add the bread and sprinkle with salt and pepper; cook over low to medium heat, tossing frequently, for 5 to 10 minutes, until nicely browned.  Set aside.
3. Place cucumber, bell peppers, tomatoes, and red onion in a large bowl and toss together.
4. For the vinaigrette, place the vinegar, garlic, oregano, mustard, 1 teaspoon salt, and 1/2 teaspoon pepper in a small bowl and whisk together.
5. Whisking constantly, slowly add the remaining 1/2 cup of olive oil to make an emulsion.
6. Add the feta, olives, and bread to the vegetables in a the bowl, add the vinaigrette, and toss lightly.
7. Set aside for 30 minutes for the flavors to develop.
8. Season to taste and serve at room temperature.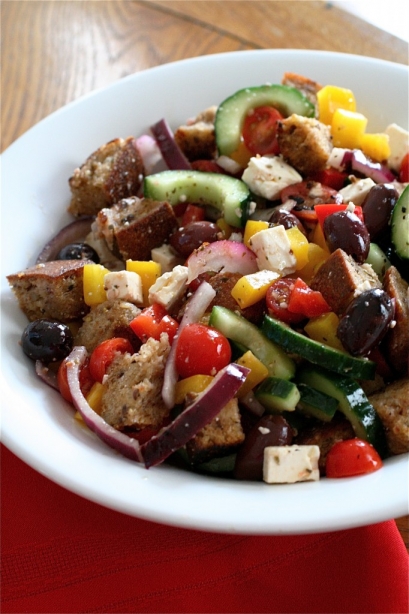 Source:  How Easy Is That? by Ina Garten