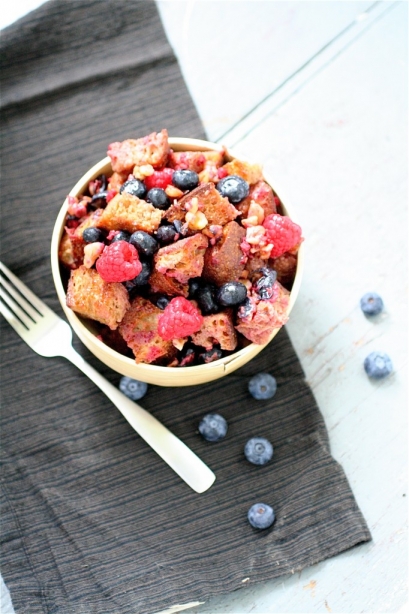 Have you ever heard of a sweet panzanella?  Yeah, me neither, before I came across my "most favorite" cookbook of the year so far: Super Natural Every Day by Heidi Swanson (thanks to Annie, who might be the best gift giver in the whole entire world).  As I flipped through this cookbook for the first time, this was the recipe that caught my attention the most.  I knew I had to make it immediately.  I actually made this a few months ago, but it got lost in the great depths of my blogging archives.  When I realized that I had overlooked it, I knew that it had to be the next post on my list.
If you've ever tried traditional panzanella (here's a good recipe!), then you know that it's basically a bread salad made with lots of fresh vegetables.  It's a great summer salad to bring to a cook-out.  But, after trying a sweet version of this salad, I am not sure which one I like better.  The fresh fruit and basically candied bread made this a virtual dessert.  Add some walnuts for your omega-3's and some protein, and you are set with a fantastic and healthy guilt-free salad which can be easily served as a dessert or main course. The best part?  It's ready in less than 20 minutes, and you can throw in whatever leftover fruit you have on hand: peaches, plums, berries…whatever.
Get creative. Get colorful. Get your sweet panzanella on.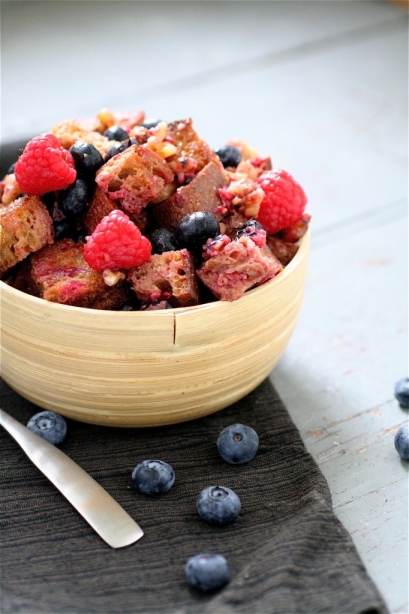 Sweet Panzanella
Servings: 6 to 8
Ingredients
1/4 cup (1/2 stick) of unsalted butter
6 tablespoons dark brown sugar, divided
1/4 teaspoon fine-grain sea salt
12 ounces (day-old) artisan whole wheat bread, cut into 1-inch cubes
1 cup fresh blueberries, divided
1 cup fresh raspberries, divided
1/2 cup walnuts, lightly toasted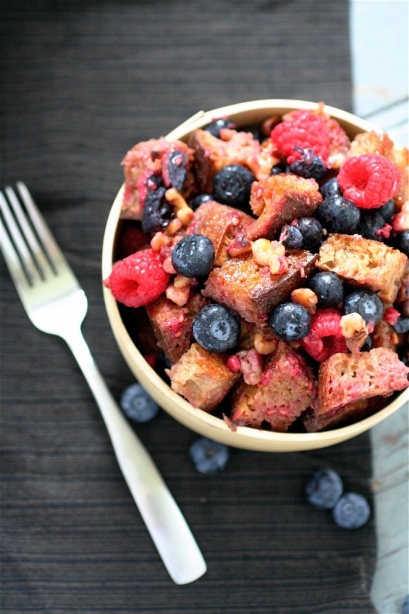 Instructions
1. Preheat the oven to 350 degrees.
2. In a large saucepot or Dutch oven, melt the butter over medium heat.
3.  Once the butter is melted, add four tablespoons of the brown sugar and salt, stirring until the sugar is dissolved.
4.  Remove the saucepot from the heat and stir in the bread cubes, tossing to coat them completely with the butter/brown sugar mixture.
5. Pour the bread cubes in a single layer on a rimmed baking sheet and bake until lightly golden/toasted, about 15 minutes or so, tossing every few minutes to ensure even toasting.
6. Remove the bread cubes from the oven and set aside to cool slightly.
7.  In a small bowl, combine half of the blueberries, half of the raspberries, and the remaining two tablespoons of brown sugar and mash with a fork until the berries release their juices and become chunky.
8. In a large bowl, combine the toasted bread cubes with the mashed berries, mixing to coat.
9. Add the remaining blueberries, raspberries, and toasted walnut, and toss until thoroughly mixed.
Source: Adapted from Super Natural Every Day by Heidi Swanson.