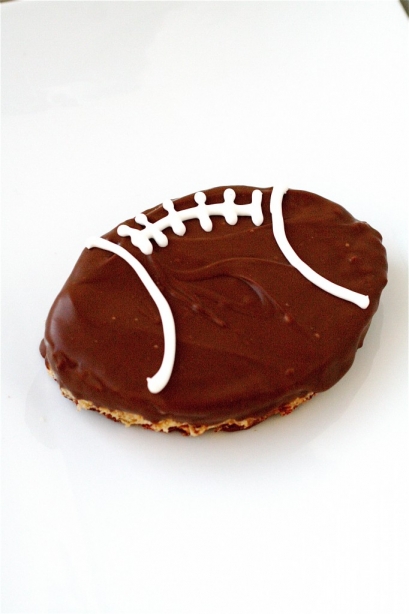 Here's something for the Super Bowl.
Actually, this recipe could be modified for any special occasion.  I just happened to see a football cookie cutter online one day and thought these might make a cute and sweet addition to a Super Bowl party line-up.  And who doesn't like Scotcheroos, right?  Ok, I'll be honest.  This is the very first time that I have ever made Scotcheroos.  I have seen so many recipes (I actually had about 3 different ones bookmarked, not realizing that I had already bookmarked them before-talk about short-term memory loss…), and each time I was tempted to make a batch right then and there.  So worth it.
So this is what I did.  It's actually so simple.  I made a batch of these treats, let them cool *just* slightly, and then I turned them out on a flat surface, and cut them into their individual football shapes using the cookie cutter.  If some were a little difficult to cut, I just traced the inside of the cookie cutter (the benefit of ordering the 5 and 1/2-inch large shape) with a paring knife.  I let them cool to room temperature, and then I melted some of that candy chocolate coating that you can find at various craft stores (I used Wilton brand).  Then I just dipped each one, face down, into the chocolate and placed it back down, right side up, on the baking sheet.  I let them harden (doesn't take too long), and then I used a little royal icing to pipe the lacing design on each one.
They were fantastic-a double-dipped chocolate football.  I sent these off in another care package to my little brother with the broken arm (he's in his permanent cast now, healing as best as he can and still traveling with the team).  He loved them.  Next time, for Ben, I will be making hockey pucks. 😉
Chocolate-Dipped Football Scotcheroos
Servings: about 5 large (5 and 1/2-inch footballs)
Ingredients
1 cup light corn syrup
1 cup sugar
1 cup peanut butter (I used creamy because that's what I had on-hand, but I bet crunchy would be great!)
6 cups crisp rice cereal
1 cup semi-sweet chocolate chips
1 cup butterscotch chips
1 14-ounce bag of chocolate candy melts
1/4 batch of royal icing, in white tint
Instructions
1. Butter a 13″ x 9″ pan and set aside.
2. In a large Dutch oven or saucepan, combine the corn syrup and sugar over medium heat, stirring constantly until the sugar is dissolved and the mixture begins to boil.
3.  Remove the saucepan from the heat and stir in the peanut butter, mixing well.
4.  Add the cereal and stir gently until coated thoroughly and evenly with the peanut butter mixture.
5.  Being careful (it will be hot), pour the mixture into the prepared pan and press evenly into the corners until level.  Set aside to cool slightly.  **I find that using the back of my spoon to press the mixture helps a lot and saves some burned fingers.
6.  In a small saucepan, melt the chocolate and butterscotch chips over low heat until combined, stirring frequently.
7.  Pour the chocolate/butterscotch mixture on the top of the Scotcheroos and spread evenly to coat.
8.  Once I let the bars harden a little, I then inverted the pan and flipped them out onto a flat counter space.
9.  Using your cookie cutter, gently cut out the desired shape **Use a small paring knife to help trace out the design if the Scotcheroos stiffen too much.
10.  In a heatproof bowl over gently simmering water, melt the chocolate candy pieces, stirring frequently over medium heat until smooth.
11.  One by one, dip the footballs (face down) into the chocolate mixture, and then place them back down on your flat work surface or a parchment-lined baking sheet.  You can spread the chocolate coating a little with a knife to even it out, if need be.
12.  Let the coating harden (about 1 hour or so).
13.  In the meantime, prepare your batch of royal icing and place in a pastry bag fitted with a small standard piping tip. (The one you would use to write a name on a birthday cake).
14.  Once the Scotcheroos are hard, pipe the lacing directly onto the footballs and let set for at least 1-2 hours.
Source:  All Homemade Cookies