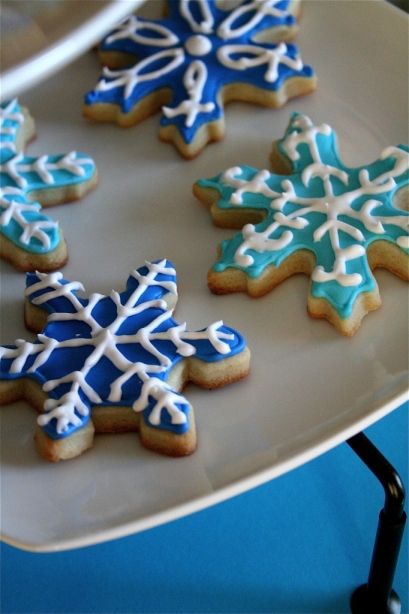 Ah, here it is.  The monster post.
I have to thank my friend, Annie, for introducing me to the world of royal icing.  I can't remember which cookie of hers I got to try first, but I DO remember her sweetly packing me a Christmas package last year which contained a variety of insanely awesome holiday treats: one of which was her famous royal icing cookies-at which point I squealed with glee and savored every single little bite and marveled at her meticulous piping skills.  Now, I have made lots of batches of royal icing cookies since then (I do it on the side for a little cash for baby showers, bridal showers, and even some bachelorette parties!), and each time, I feel like I get the hang of it just a little bit more.  It's intimidating, I know.
So, I have put together a post, inspired by lovely Annie (hope you don't mind, girl), for the rest of us who are slowly working up the courage and piping skills to create some incredibly delectable AND beautiful cookies for our holiday get-togethers.  Trust me, this is going to be a very detailed and step-by-step approach.  Here goes……
The Rules of Royal Icing Cookies
1.  You must be patient (and gentle) with yourself.  Make some extra cookies for any "oops" moments if you need a certain number.  It takes the pressure off.
2. You need three days.  Three days.  I repeat…it's ideal that you do this over a three day time period to ensure a) your cookies are completely cooled b) your flooding sets properly and c) you don't feel rushed to get the details in.
3. Be meticulous when it comes to mixing up your icing.  A little water goes a long way, so be extremely careful when adjusting for your piping/flooding consistencies.
4.  Plan ahead.  Seriously.  Draw your designs out on paper (one of my favorite memories of Annie was when she was drawing out her designs for her Halloween 2009 cookie post during lunch one day at work and we were discussing which color would look the best….) especially if you don't have a picture or example to look at.
5. Clean a large working space off for yourself and lay all your supplies out ahead of time.  It truly helps to be organized.
6.  Start simple.  If this is your first attempt at royal icing, pick one cookie cutter shape, one or two flooding colors, and a simple decorative design.  I made the mistake on my first attempts at setting my goals too high, and once I ended up with little houses with completely smeared shutters (I was not happy).
7.  I highly recommend the use of food coloring gels.  Some people have asked me about liquid food coloring.  That's reaching into a realm of potential dangerous runny icing with excess liquid.  I have not tried powders.
8.  Piping and flooding consistencies:  if you overshoot on the water, just add some powdered (confectioners') sugar and mix until you get it right.
Supplies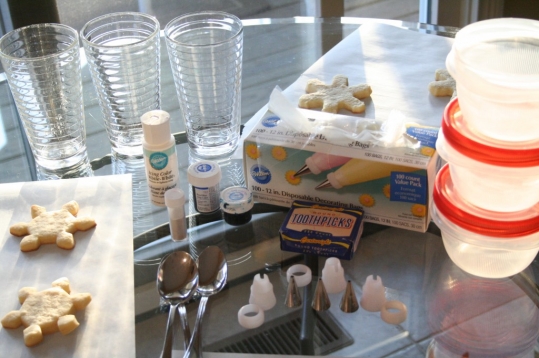 Pastry bags, tips, and couplers (# depends on how many colors you will be using)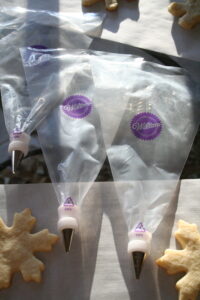 Tall glasses, each filled with about 1/4-inch water

Toothpicks, to help with flooding (optional)
Plastic containers with fitted lids (# depends on how many colors you will be using)
Spoons for mixing water/color gels
Food coloring gels
Drawings/templates/pictures to use as examples
Now, this is the recipe that I have found to be my personal favorite when it comes to the cookie part.  I've substituted almond cookies as well, which seem to work and people like them, but I'm just a fan of big fat butter cookies.  You just can't go wrong with these cookies.
Butter Cookies
Servings: 38 cookies
Ingredients
2 and 1/2 cups unbleached all-purpose flour
3/4 cup superfine sugar****Just put it in your food processor for about 10-15 seconds.
1/4 teaspoon salt
16 tablespoons (2 sticks) unsalted butter, softened, but still cool, cut into 16 1/2-inch pieces
2 teaspoons vanilla extract
2 tablespoons cream cheese, at room temperature
Instructions
1. In the bowl of a standing mixer, mix the flour, sugar, and salt at low speed until combined, about 5 seconds.
2. With the mixer running on low, add the butter 1 piece at a time; continue to mix until the mixture looks crumbly and slightly wet, about 1 minute longer.
3. Add the vanilla and cream cheese and mix on low until the dough just begins to form large clumps, about 30 seconds.
4. Knead the dough by hand in the bowl for 2 to 3 turns to form a large, cohesive mass.
5. Turn the dough out onto the countertop; divide it in half, pat each half into a 4-inch disk, wrap the disks in plastic, and refrigerate until they begin to firm up, 20 to 30 minutes.
6. Adjust an oven rack to the middle position; heat the oven to 375 degrees.
7. Roll out 1 dough disk to an even 1/4-inch thickness between two large sheets of parchment paper.
8. Slide the rolled dough, still on the parchment, onto a baking sheet and refrigerate until firm, about 10 minutes.
9. Meanwhile, repeat with the second disk.
10. Working with the first portion of rolled dough, cut into desired shapes using cookie cutters and place the shapes on a parchment-lined baking sheet, spacing them about 1 and 1/2 inches apart.
11. Bake until the cookies are light golden brown, about 10 minutes, rotating the baking sheet halfway through the baking time.
12.  Repeat with the second portion of rolled dough.
13.  Cool the cookies to room temperature on a wire rack.****I make my cookies the night before and let them cool completely overnight, under parchment paper so my sweet doggy Scout will not find them and eat them.
Royal Icing (make your Royal Icing on Day #2)
Ingredients
4 cups powdered sugar, sifted
2 tablespoons meringue powder
5 tablespoons water
Instructions
1. In the bowl of a standing mixer fitted with the paddle attachment, combine the ingredients and mix on low speed for about 10 minutes or so.  The icing should look thick, like paste.
2.  At this point, I divide the icing among my containers (make sure that you have lids for all of them!!).  If I am needing 4 different colors (including the colors for my decorative piping, which is the very last step), I use four different containers.

How to assemble your cookies:
Day #1: Make your sugar cookies.  Eat the scraps.
Day #2: Piping and flooding
Let the fun begin….piping.
1.  For piping color #1: First, I always add my color (gel) to get my desired icing tint.  A little goes a long way, but it may lighten a little as you add the water.  Don't worry, you can always add more.  And, it may be hard to stir into that thick icing.  You can combat this by adding a little water (not more than a 1/4 teaspoon, though!)

2. Next, I usually add about 1/4 teaspoon of water to my icing and then stir by hand, adding a little water as I go, until I reach the desired consistency.

**For piping, you want a consistency of really thick toothpaste; i.e. it's able to pass its way through your tip, but it won't spread out and become flat.
3.  Add the piping icing (in various colors) to your open and folded-over pastry bags in the glasses.  **Remember, that low level of water at the bottom of the glasses serves to keep your tip from drying out and becoming blocked.)

4.  Once each bag is filled, I go ahead and twist the bags tightly to prevent the icing from "back-washing" onto my hand as I pipe.  You can use twistie ties, rubber bands, or an extremely firm grip to prevent this as well.

5. Using a steady hand, exert a constant pressure on the pastry bag, and begin piping your icing around the edges of the cookies.  **Practice first on some parchment paper or a baking sheet to make sure that you get the hang of it first.


6.  Let those beautifully piped cookies dry and set for at least an hour or two.  But, make sure you keep your icing (I do this to ensure that I have an exact color match for the flooding process).  Simply squirt the extra icing back into the container you used previously, and make sure you fit the lid tightly to prevent it from drying out!  I try to re-use my pastry bags-I simply twist them tightly or rubber band them and set them back in the glasses so they don't dry out.  But you can always remove your tips, clean them, and get new bags to start fresh.


Now….for flooding.
Ok.  Your piping is set.  It looks great, by the way.  Don't worry about the little minor imperfections:  uneven corners, little air bubbles, or slight cracking.  These will be nearly unnoticeable once the flooding is set.
1.  You squirted all the leftover piping icing back into the containers…

now, again, add 1/4 teaspoon of water to your icing until it reaches flooding consistency.  In my view, flooding consistency equals this:
You stir, lift your spoon off the icing and let it drip back into the container.  When the icing takes about 10 seconds or so to completely absorb back into the icing, leaving a smooth surface, you're golden.


2.  Now, you can re-open and fold over your pastry bags and directly pour your icing into the bags (which are vertically anchored in your tall glass).
3.  Squirt a little icing out onto parchment paper or a baking sheet to make sure you get all the previous thicker icing out, and make sure you have your ideal consistency.
4.  Flood.  How I do it:  I try to follow just inside in the piped lines, using my tip to sort of smooth out the flooded icing to the edges.  I know people advocate the use of toothpicks for this (which I have used as well), but I seem to get better results if I squirt the icing out and gently spread it with the tip of the bag.  Fill in your entire cookie so you end up with a smooth, evenly distributed surface.



5.  Now, be patient.  Let those lovely cookies set overnight, or at least (bare minimum) 8 hours.  You DO NOT want to risk decorating/piping onto wet flooded icing.  It will make you very frustrated and sad.  And make sure that your icing that you have set aside in your airtight containers for the decorative piping is doing all right and hasn't dried out too much.  You will need it for day #3.

Day #3: The final touches
Almost done-here comes the decorative piping.
1.  So now you've got the hang of this whole piping consistency (from day #2), right?  Because basically, you are going to re-create your piping consistency from day #2.  Add your water, 1/4 teaspoon at a time, until you reach your desired consistency.

2.  Now, using your template/drawing/picture or creative mind, pipe your decorative designs on each little cookie, applying even pressure and a steady hand.

3.  Once piped and simply beautiful, let the cookies set again for at least 1-2 hours.
The possibilities from there are endless:  package in clear cellophane bags, treat boxes, arrange on a platter, and definitely eat!


Let it Snow!
Source:  Sugar cookies from Baking Illustrated, Royal Icing and decorating/tutorial inspiration from Annie's Eats.