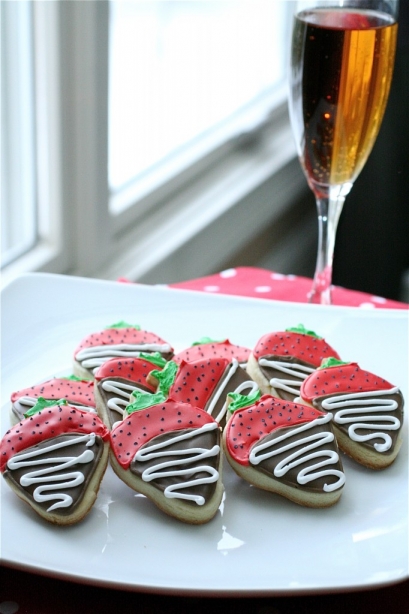 Happy Valentine's Day!
I hope you are all enjoying your day, enjoying the things that you love the most.
I thought that chocolate covered strawberry sugar cookies with royal icing might get you in the spirit.  🙂
I saw these little 3-inch or so cookie cutters at Sur la Table, and I had to have one.  With Valentine's Day coming up, I wanted to try out a new sugar cookie recipe and play around with royal icing again.  They certainly got me in the loving spirit.  I have to say, while I am glad that I tried this new sugar cookie recipe, I still love my old one more.  The flavor of these cookies is great-light and buttery, but they are definitely not as soft and chewy as my other cookie recipe.  It's a personal preference, I guess.  I always want my royal icing cookies to be soft-not crisp.  I was a little extra cautious with my baking time of these because of the small size.  I ended up baking them for only 10 minutes total, and that seemed to do the trick.
Enjoy!
Chocolate Covered Strawberry Sugar Cookies
Servings: approximately 36 3-inch small strawberry cookies
Ingredients
2 cups all-purpose flour, plus more for rolling
1/2 teaspoon baking powder
1/4 teaspoon salt
1/2 cup (1 stick) unsalted butter, room temperature
1 cup granulated sugar
1 egg
1 teaspoon vanilla extract
One batch Royal Icing, divided into desired colors****I added a little bit of dark cocoa powder to the "chocolate" royal icing-it added a little bit of color and a hint of chocolate flavor
Instructions
1. In your standing mixer fitted with the paddle attachment, beat the butter and sugar until light and fluffy, 2-3 minutes.
2. Meanwhile, in a separate medium bowl, combine the flour, baking powder, and salt.
3. Once the butter is light and fluffy, add the egg and vanilla, mixing well.
4. With the mixer on low speed, gradually add the flour mixture.
5. Mix until combined.
6.  Divide the dough into two halves, form into 4-5-inch flat disks, and wrap tightly with plastic wrap.
7. Freeze the dough until firm (about 20 minutes).
8. In the meantime, preheat the oven to 325 degrees.
9.  Line two baking sheets with parchment paper.
10.  Remove the dough disks from the freezer, one at a time.  You will need them to warm up a little bit before rolling.
11.  Once malleable, roll the dough out onto a lightly floured surface to an 1/8-inch thick rectangle, dusting with extra flour as needed.
12.  Cut out the strawberry shapes with your cookie cutter.
13.  Carefully transfer each cookie to the prepared baking sheets, rerolling and cutting out more shapes as needed, and repeating with the second dough disk.
14.  Bake each baking sheet, rotating halfway through, until the edges are lightly golden, 10 to 18 minutes.  Cool completely on wire racks.
15.  Once your royal icing is prepared and divided into the respective containers, pipe and flood the cookies as desire.
Please see my Royal Icing tutorial for some helpful hints and tips, as well as royal icing decorating instructions.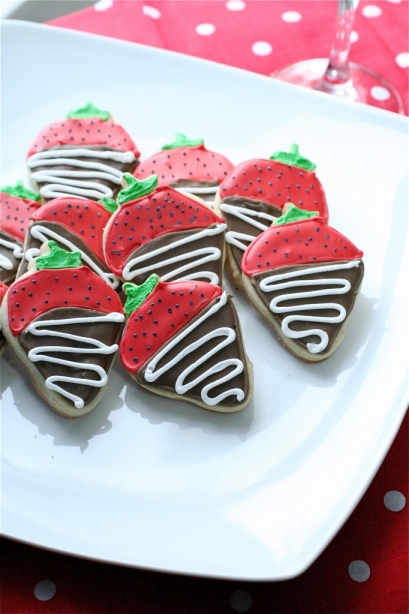 Source:  Martha Stewart's Basic Sugar Cookies, Royal Icing inspiration and recipe originally from Annie's Eats.