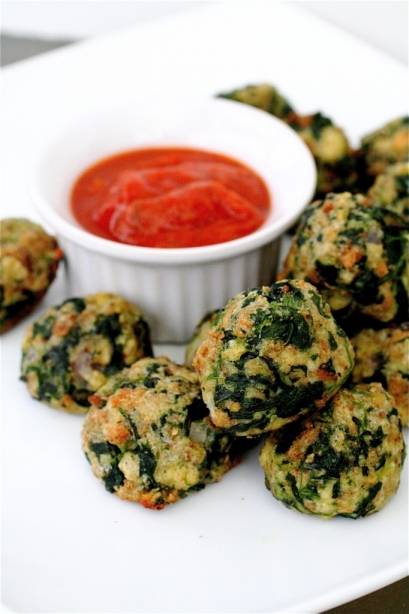 One of the best things about having a food blog is the conversations that come up about food.  People from all over have started conversations, whether directly, through email, or through family members back to me.  It's incredible.  I'm finding one thing that people always can have in common is food: what we like, what we don't like, what we are afraid to try, what we have accomplished, and so on.  It's truly great.  I'm inspired by so many talented people out there in the blogging world, but I am also inspired by people who choose to create a meal on their own-no matter how fancy or complicated it is-and have a great love in doing so.  I've been introduced to so many new, one-of-a-kind, and delicious recipes that have played big roles in so many families through generations.  It's a wonderful thing.
This recipe is one of those recipes.  Passed along to my mother at work, one reader made this for a holiday pitch-in that my mom attended.  She was raving about these so-called "spinach balls" that she had tried at the party.  Simple to make, great flavor, and an alternative to the more fattening (or maybe, a little less fattening) things that time of year.  With an intense love for all things spinach, I was excited to try them.
Now, I know what you are thinking.  Ewww.  Spinach.  Spinach Balls.  Balls of spinach?  Most people would rather not (or at least many of the people I know…).  But, trust me here.  Since the holidays, I have eaten these savory little spinach bites no less than three separate occasions, each time with a slightly modified recipe.  My mom has modified her own version, and I love the way hers have turned out.  They are so easy to prepare.  Yes, they are green and may not be that pretty to photograph, I know.  But they are worth letting you know about.  I hope you enjoy them as much as I do.
Savory Spinach Bites
Servings: 18-24 spinach bites, depending on how big you make them
Ingredients
1/2 cup (1 stick) unsalted butter
1 small onion, chopped (about 1/2 cup)
1 teaspoon minced garlic (about 1 clove)
2 10-ounces packages frozen chopped spinach, thawed and drained
1 8-ounce bag of herbed seasoned stuffing mix***I use Pepperidge Farm because it's the only vegetarian stuffing around.  Which is sad, because I used to love Stove Top brand but then discovered that their "Cornbread" stuffing actually contained chicken.  🙁   ******DO NOT PRE-COOK THE STUFFING.  USE IT RIGHT FROM THE PACKAGE, DRY.
6 large eggs
1 cup grated Parmesan cheese
Salt and pepper, to taste
Instructions
1. Preheat the oven to 350 degrees.
2. In a large sauté pan over medium heat, melt the butter.
3. Add onion and cook until the onions are translucent and soft, about 5 minutes or so.
4. Add the garlic and cook until fragrant, about 30 seconds.  Remove the pan from the heat and let cool.
5.  In the meantime, remove excess water from thawed spinach by pressing it between paper towels. **You do not need to cook the spinach.
6.  In a large bowl, combine the stuffing mix, spinach, eggs, Parmesan, salt and pepper, and onion/garlic mixture.  Combine well.
7. Line a rimmed baking sheet with parchment paper.
8.  One at a time, using your hands, roll the mixture into individual 1-inch balls.  Place each one on the parchment-lined baking sheet.
9.  Bake the balls for about 15-20 minutes, or until very slightly browned.  **Your kitchen will smell fantastic, I promise.
Dipping sauces:  I used marinara, but you could use Ranch dressing, sour cream, horseradish, etc.  Whatever you like!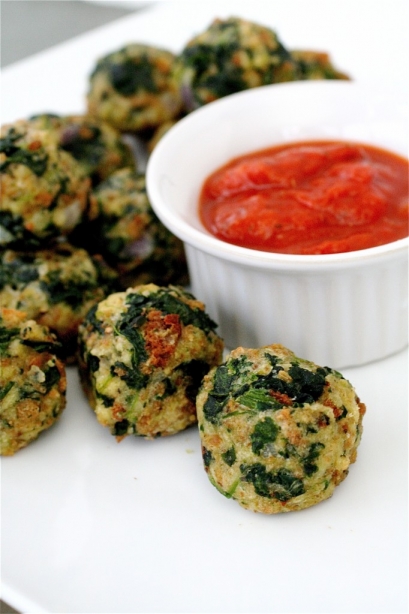 Source: Chris Erotas and Terry Biggs (friends of my mom!)  Thank you so much for sharing this with us-they are great!