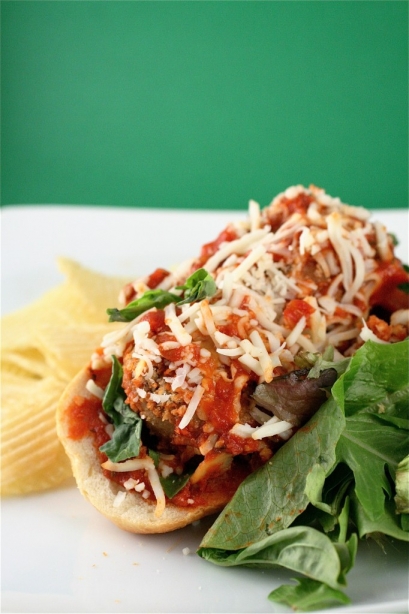 Can I relate to you just how hard it is to photograph something as messy as a meatball sub?  It's hard to get that balance between the meatballs, the cheese, the marinara, the basil, the bread….let's face it: meatball subs have a whole heck of a lot going on.  Especially when the cheese is melting quickly, you have sauce all over your hands, and the plate keeps getting "contaminated" with red sauce.  Ha!  This has been, by far, the most difficult thing I have tried to capture (not steamy soup, brown food, or texturally-challenged dips).  What can I say?  This dish lives up to its reputation: messy, hot, and completely to-die-for-exactly, in my opinion, as a (meatless) meatball sub should be.
But, you know what?  I have been searching for a meatless meatball recipe for some time.  I came across this one and thought it sounded fantastic.  Paired with a spicy mushroom marinara?  Yes, please!  I added in some walnuts and mushrooms and adjusted the spices, and I was blown away at how incredibly delicious they were.  I remember how meatballs should taste, and I have to say that these, by far, top the real deal.  The mushroom marinara had just enough spice to satisfy me, and the fresh bits of basil tied it all together.  I don't care what it looks like here-it's too good not to post because it's not as photogenic as a cupcake. 🙂
Now, I realize it's Super Bowl Sunday.  And, I realize you probably already have your menu ready to go, but these are easy to mix, savory, satisfying, and completely appropriate for the Big Game.  Or a Meatless Monday.  Whatever you do, you have to make these.  Never before have I been a fan of "meat wannabes", but these are definitely a must-make for carnivores and vegetarians alike.  If you want to make them, I would definitely advise making the sauce first, as it will be simmering while you prepare your meatballs.
So, please excuse the messy photograph.  These messy, spicy, ooey and gooey meatless meatball subs are incredible.
Meatless Meatball Subs
Servings: 20 meatballs (I made mine big, but if you made yours smaller, your yield would be much bigger)
Ingredients
For the meatballs:
1 cup walnuts
2 cups bread crumbs***I bought some Italian bread from the store, sliced it (7-8 slices), brushed on some olive oil and salt, and baked it for 10 minutes in a 250 degree oven to get it a little crispy.
1 tablespoon fresh basil
4 ounces button mushrooms
1 teaspoon dried oregano
1/2 cup cottage cheese *I used low-fat
1 cup shredded Parmesan
1 teaspoon salt
4 eggs
1 to 1 and 1/2 cups panko
For the mushroom marinara:
2 teaspoons olive oil
1 small yellow sweet onion, diced (I had about 3/4 cups)
8 ounces button mushrooms, cleaned and sliced
4 teaspoons garlic, minced (about 4 cloves)
1 28-ounce can crushed tomatoes
1 15-ounce can tomato sauce
1 teaspoon balsamic vinegar
2 tablespoons fresh parsley, chopped
2 tablespoons fresh basil, torn
1 teaspoon dried oregano
1 teaspoon granulated sugar
1 teaspoon red pepper flakes
Salt, to taste
For the subs:
Sub rolls
Shredded mozzarella (definitely not optional 🙂 )
Fresh basil, optional
Instructions
1. For the sauce: In a Dutch oven over medium heat, heat the oil.
2. Add the onions and mushrooms and cook until soft, stirring frequently.
3.  Add the garlic, and cook until fragrant, about 60 seconds.
4. Add the rest of the ingredients and let simmer for about 2 hours, stirring occasionally.
5. For the meatballs: Preheat the oven to 350 degrees.
6. Prepare a 9 x 13-inch baking pan by spraying lightly with cooking spray, set aside.
7.  In a food processor, process the walnuts until they are coarse crumbs.
8. Add the bread crumbs (or pieces of bread) and process until completely broken down.
9.  Add the remaining ingredients, except for the panko, and process until smooth.
10.  If the mixture is too sticky at this point, add a few more bread crumbs until you are able to roll 2-inch balls.  I found that having my cooking spray nearby was key.  I would put a little on my hands to keep the mixture from getting too sticky.
11.  Place the panko in a separate bowl.
12. As you roll each ball, lightly coat it in the panko, then place each one into your prepared baking pan.
13.  Bake the meatballs for 40 minutes.
14.  Once the meatballs are cool enough to handle, assemble the sub sandwiches as desired.  Enjoy!
Recipes adapted from:  Meatballs from Nummy Kitchen, Mushroom Marinara from For The Love of Cooking