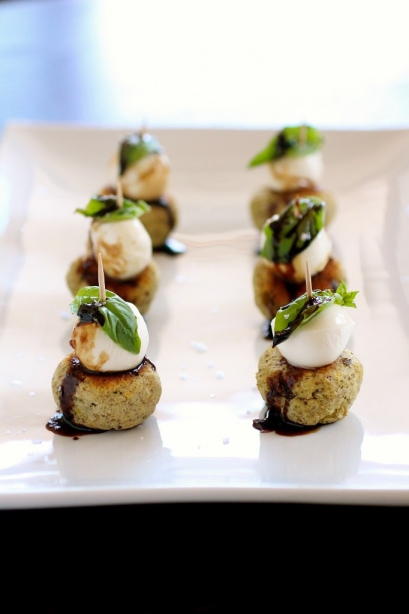 I dated this guy a few years ago who was part-Italian.  He was gregarious, energetic, completely silly, and shared my love for old Seinfeld reruns (we may have reenacted a few episodes, I'll admit).  We laughed nonstop, which was a nice diversion from the previous relationship I had been in.  I don't think he was 100% Italian, but he took every opportunity to capitalize on it.  And, this, in effect, was most apparent when "he-ah decided-ah to-ah talk-ah like-ah this-ah."
"I make-ah a nice-ah meatball-ah for you."
Things went well for about a month or so…well, until I found out he "had-ah a nice-ah girlfriend-ah, too."  Oh, and besides the fact that I was just ending my marriage and was in no position to date anyone for a very long time.  Sure, there were lots of red flags, but as a somewhat naive (ok, very naive) woman in my mid-twenties, I saw the red flags, I acknowledged them, and then promptly forged full steam ahead into self-destructive bliss.  Ah, hindsight is 20/20.  Now I just have to laugh.
And, now I have a nice meatball for you.  I've tried a nice walnut-based version before, which I loved, but here's another version with a nice lentil base.  I've made this recipe quite a few times now-in fact, I have about two large bags of these babies in my freezer right now (a fantastic option for a quick weeknight meal-just defrost and lightly sauté them in a frying pan).  I've served them with pasta, of course, and as a nice meatball sub.  But, I wanted to do something a smidge different and serve them appetizer-style, with little ciliegine mozzarella balls, fresh basil, and a nice balsamic reduction with flaky sea salt. (less carbs-it's all about decreasing the water weight to counterbalance the excessive amounts of salt I sprinkle on my food.)
They're-ah very nice-ah.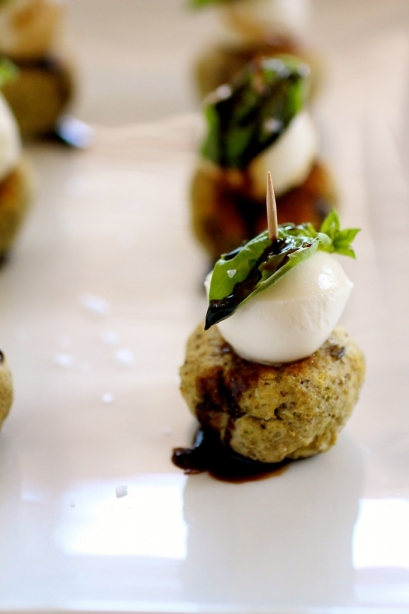 Lentil Meatball Bites
Servings: about 15-20 meatballs
Ingredients
For the meatballs:
2 cups cooked lentils (any variety-I used sprouted green)
2 eggs, lightly beaten
3/4 cup ricotta cheese (I used part-skim)
1/4 cup grated Parmesan cheese
2 garlic cloves, minced
1 teaspoon oregano
2 tablespoons fresh basil, chopped
2/3 cup whole wheat panko
Salt and pepper, to taste
Extra-virgin olive oil, for brushing the meatballs
For the bites:
Ciliegine mozzarella balls
Fresh basil leaves
For the balsamic reduction:
1/4 cup high-quality balsamic vinegar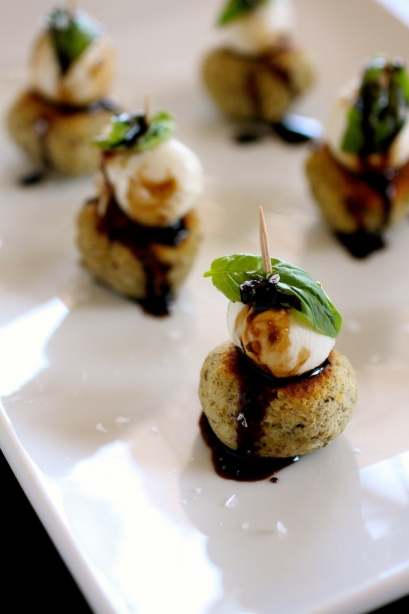 Instructions
1. For the meatballs:  In a food processor, mix the lentils until smooth.
2. Transfer the lentils to a large bowl, and add the eggs, ricotta, Parmesan, garlic, oregano, fresh basil, and panko, mixing until thoroughly combined.
3. Chill the mixture in the refrigerator for about 20 minutes.
4. Meanwhile, preheat the oven to 400 degrees and line a rimmed baking sheet with parchment paper. (You can start your balsamic reduction at this point, if you would like.  You can just set it aside until you are ready to use it.)
5. Once the lentil mixture has chilled, form individual 1″ balls by rolling them between your hands.  Transfer each meatball to the prepared baking sheet.
6. Lightly brush each meatball in its entirety with the olive oil.
7. Bake the meatballs, turning them about halfway through the baking time, until they are lightly golden and slightly crispy on the outside, about 15-20 minutes (watch them carefully.)
8. For the balsamic reduction:  Place the balsamic vinegar in a small saucepan over medium heat.  Bring the vinegar to a boil, letting boil for about a minute or so.  Reduce the heat to low and simmer the vinegar until thickened and syrupy, about 3- 5 minutes or so (watch it closely-the cooking time will depend on the quality of the vinegar you use).  Remove from the heat and let sit until you are ready to use it.
9. To assemble each bite: Using a toothpick, skewer a piece of fresh basil, a mozzarella ball, and one baked meatball.  Drizzle with your balsamic reduction and sprinkle with flaky sea salt, to taste.
Source:  Adapted from Sprouted Kitchen, who originally adapted it from In Jennie's Kitchen.