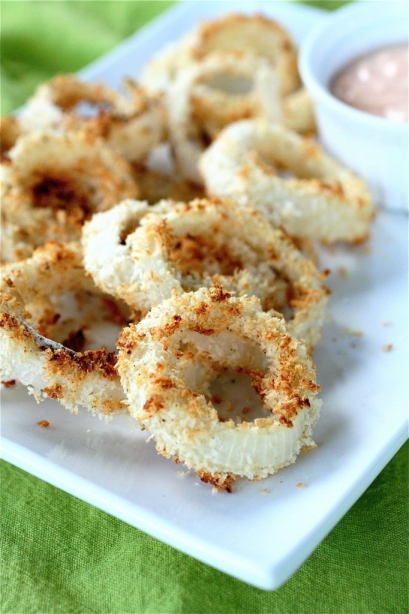 Here's a side dish that I made one evening, and I am going to sheepishly admit to you that I ate them for lunch the next day. Nothing else for lunch.  Just onion rings.
I absolutely love onion rings.  In all shapes and forms.  Baked, fried, breaded-you name it-I love them.  I have tried a few different baked onion ring recipes lately, looking for an onion ring with all of the flavor but without the guilt of oil-laden calories.  This recipe was the winner.  The original recipe calls for a potato chip breading, but since I normally don't keep those on-hand, I used panko instead.  I added a little seasoning in the form of Ranch powder.  Now, please don't judge.  I love Hidden Valley Ranch powder packets.  I find the powders to be a super flavorful mix-in to almost anything-cream cheese, breading for all sorts of things, and as a simple seasoning for main dishes. These onion rings were crunchy, tangy, a little spicy, and a total craving cure.  Feel free to play around with the cayenne powder. I thought about adding more, but, it seemed like a lot of spice, and I didn't want to go overboard. Next time I make these, I would add just a little bit more.
And as far as the dipping sauce?  It's just like the one found at a chain steak restaurant.  It takes less than 2 minutes to put together, and you probably already have all of the ingredients in your kitchen.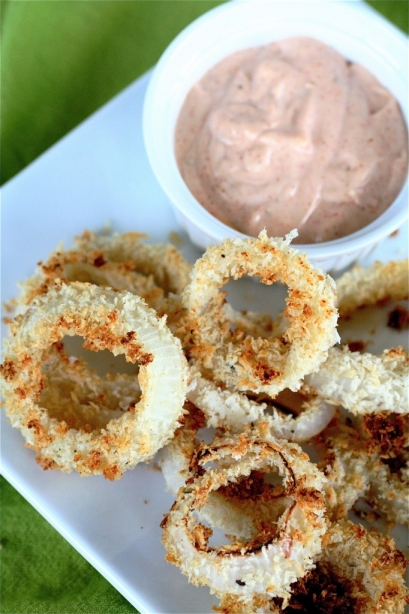 Crunchy Baked Onion Rings
Servings:  4
Ingredients
For the onion rings:
Cooking spray
4 cups panko
1/2 teaspoon cayenne
1 teaspoon buttermilk Ranch salad dressing powder
1 cup buttermilk
1/2 cup plus 2 tablespoons all-purpose flour
1/2 teaspoon salt, plus additional salt for seasoning
1/2 teaspoon ground pepper
1-2 Vidalia onions,peeled and sliced into 1/2-inch slices***I used two large onions, and ended up having too many.  I would recommend starting with one and then adding as you go.
For the dipping sauce:
1/2 cup mayonnaise
2 teaspoons ketchup
2 tablespoons cream-style horseradish
1/4 teaspoon paprika
1/4 teaspoon salt
1/8 teaspoon dried oregano
Ground black pepper, to taste
Cayenne pepper, to taste
For the onion rings: Preheat the oven to 450 degrees.
2. Spray a baking sheet liberally with cooking spray.
3. In a shallow bowl, combine the panko, cayenne, and Ranch powder.  Mix well and set aside.
4. In another bowl, combine the buttermilk, 2 tablespoons flour, and salt and pepper.
5.  In a large, plastic freezer-storage bag, add the remaining flour.  Add the onions to the bag, seal it, and toss lightly to thoroughly coat the onions with flour.
6.  Dip the onions, one at a time, (using a pair of tongs-it's much easier this way!) in the buttermilk mixture, and then transfer each one to the panko mixture to coat thoroughly.
7.  Place each breaded onion ring on the baking sheet.
8. Spray the onion rings again with the cooking spray to evenly coat.
9. Add salt and pepper generously to taste.
10. Bake for 20-25 minutes or so, or until the coating is crispy and lightly browned (while these are baking, make your dipping sauce).  Serve immediately.
11. For the dipping sauce: In a small bowl, combine all of the ingredients and mix well.  Refrigerate until serving.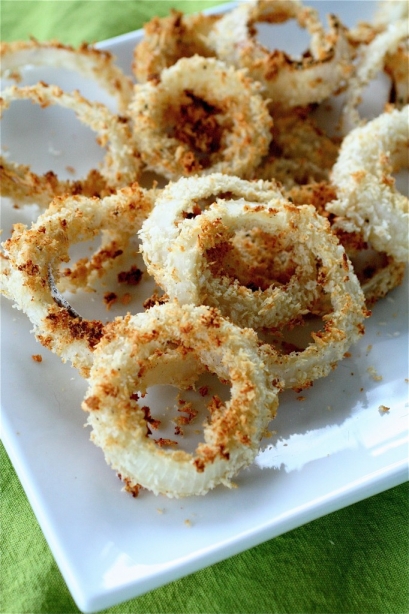 Sources:  Onion rings adapted from Healthy Appetite with Ellie Krieger and Dipping Sauce directly from Top Secret Restaurant Recipes