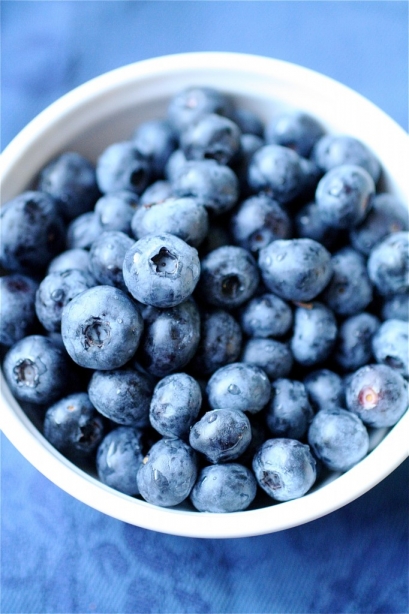 I love a victory in the kitchen.  Especially when it's trying a recipe that I hope I will like.
I'll be honest with you: I really hesitated with this one.  I had seen this seemingly rustic French fruit dish (Is it a breakfast dish?  Is it a dessert?  How the heck do I pronounce the name?), and I was intrigued.  A mix between a custard and a fruit pie?  No crust?  How does it work?  Will it be too texturally challenging for a girl who has a hard time eating pudding but yet can down yogurt like it's her job?  Weird, I know.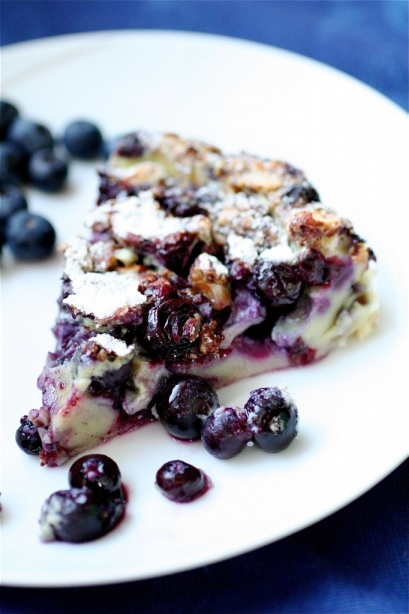 Here are the details.  It's considered a French dessert, originally served with tart, pitted cherries as the fruit.  Ooops.  I ate it for breakfast.  But, it has eggs and fruit in it, so I consider it at least a little bit appropriate for a breakfast or brunch.  You can use just about any fruit in it, as the name actually means "to fill".  (Thank you, Wikipedia.)  And how to pronounce it?  CLAH-FOO-TEA.  Apparently.  And, I obviously went a little overboard with the powdered sugar.  I mean, I actually inhaled a little as I took my first bite and broke out into a fit of coughs (which certainly means I adorned my dish with just a *smidge* too much).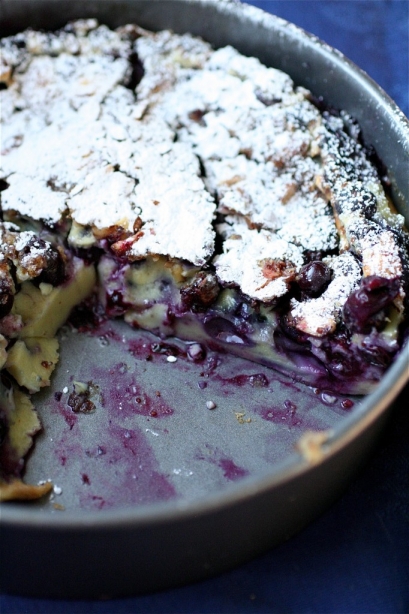 So, as I am on a Sur la Table recipe roll, I decided to go with their recipe.  I liked this recipe because it has the toasted almonds on the top of the dish which are, in my opinion, pretty amazing.  They give it a little crunch, and the mix of the nutty almonds with the sweet blueberries…Oh. My. Gosh.
Thank you, France.  I am adding clafouti to my list of things that I love about you.

Blueberry Clafouti
Servings: 6
Ingredients
1 teaspoon unsalted butter, softened, for greasing the pan
1/3 cup, plus 1 tablespoon granulated sugar
2 and 1/2 cups fresh blueberries
3 large eggs
1 cup whole milk
1/2 cup all-purpose flour
1/2 teaspoon vanilla extract
1/2 teaspoon almond extract
Pinch of sea salt
1/4 cup almonds, toasted, and coarsely chopped with a food processor
Confectioners' sugar, for dusting
Instructions
1. Preheat the oven to 325 degrees.
2. Grease the bottom and sides of an 8″ round baking pan (I always rub the butter on the pan with some paper towel.)
3.  Sprinkle the bottom and sides of the pan with the tablespoon of granulated sugar to coat evenly.
4. Place the blueberries in an even layer on the bottom of the pan.
5. In your food processor (or blender), blend the eggs, milk, flour, vanilla extract, almond extract, salt, and the remaining 1/3 cup of granulated sugar until smooth.
6.  Very slowly and very carefully, pour the liquid over the blueberries.  (Try not to dislodge them.)
7.  Sprinkle the almond pieces evenly over the top of the dish.
8. Bake the clafouti until puffed and cooked through, about 35 minutes.  ***Don't worry: it will deflate when you take it out of the oven and let it cool for 20 minutes or so.
9.  Sprinkle *lightly* (unlike me, ahem) with confectioner's sugar.
10.  Serve warm.

Source: Barely adapted from Sur la Table.