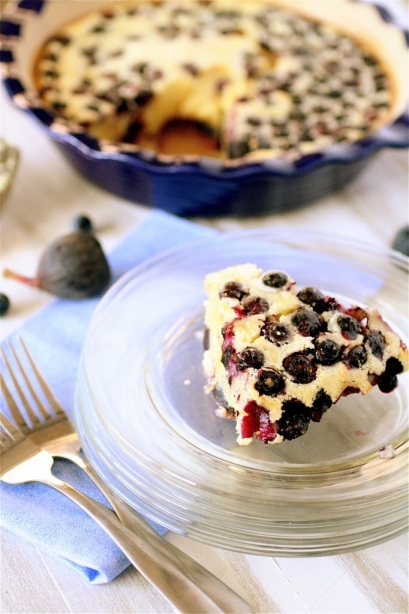 This is one of those random, spur-of-the-moment, recipes that I tried on the fly in my kitchen one morning.  I had all of the ingredients on hand, and I had visitors in town.  Instead of going to brunch and spending money on food, I decided to whip this up as we were slowly waking up, lounging in front of the TV, and laughing over the previous night's debaucheries.
I've posted a similar recipe here on the blog, but since I had the figs on hand, I wanted to try this variation.  The nice thing is that you could potentially try all sorts of different fruits here (I am partial to the baked figs, though-holy smokes, they were good).  Now, while this recipe won't win any awards for being super photogenic, it tastes pretty good, which is why I decided to share it with you.  It's a light, custard-y and sweet breakfast casserole-ish. (Does that make sense at all?)
I haven't tried converting this to a lighter version: egg whites, skim milk, etc; but I think it could be done.  I served this plain, as a mid-morning brunch main course with some poached eggs and coffee on the side.
Speaking of coffee, thanks to everyone who entered the Millstone Coffee: Experience The Bean to Cup Journey Giveaway.  I plugged in the number of entries and got #167 as the winner…..Paige:
"Cream & sugar, please. Thanks so much, Shannon!"
Congrats, Paige!  Now you can have your Millstone coffee with cream and sugar!  Paige-I emailed you with details-contact me if you didn't receive it.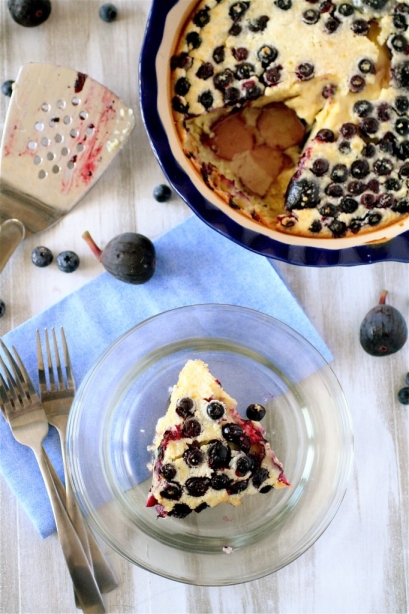 Fig-Blueberry Clafouti
Servings: about 4-6
Ingredients
8 medium figs, halved
1 cup fresh blueberries
1 cup flour
2 tablespoons cornmeal
1/2 teaspoon salt
Grated lemon zest, to taste
3 eggs
1/2 cup granulated sugar
1 and 1/2 cups whole milk
Sugar, for sprinkling over the top, optional
Instructions
1. Preheat the oven to 350 degrees.
2. Place the fig halves in a single layer on the bottom of your baking dish (I used a pie pan, but you can use whatever shape you have-the original recipe calls for a 7×13-inch oval gratin pan or a 9×11-inch baking pan), cut side down.
3. Place the blueberries around and over the figs.
4. In a medium bowl, whisk together the flour, cornmeal, salt, lemon zest, and eggs.
5. Add the sugar, and whisk until combined.
6. Slowly whisk in the milk, about a 1/2-cup at a time, mixing well after each addition.  Whisk until thoroughly incorporated.
7. Carefully pour the milk mixture over the fruit.
8. Bake for about 30 minutes or so.  After 30 minutes, sprinkle the additional sugar (if using) over the top and continue to bake for another 15 minutes, or until puffy and lightly golden.  Serve immediately.
Source:  Barely adapted from Vegetarian Times.