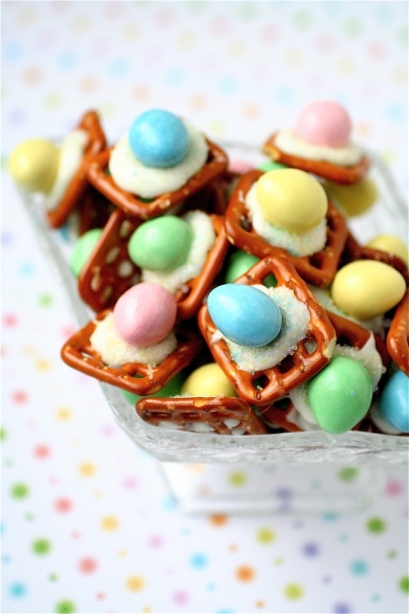 Would you like a no-bake, kid-friendly, and super simple treat to snack on?  Here they are.
Aren't these adorable?  I had seen these originally last year on Natalie's blog, and I instantly fell in love with them.  How simple!  How cute!  How versatile!  With Easter coming up, I thought these would be a great treat to post. The pastel eggs on white chocolate with pastel sprinkles? How festive!
Anyways, take 10 minutes out of your day to make these.  Warning: they are extremely addicting.  I originally wanted to use Peanut M&M's (my favorite), but my grocery store was completely out of pastel Peanut M&M's (can you imagine?).  After I stalked the Easter candy aisle for a good ten minutes or so, I settled on Reeses Pieces peanut butter eggs. Who doesn't love a peanut butter/chocolate/salty combo?  I tried a couple with Almond M&M's as well, but, I have to tell you: the peanut butter won for me, hands-down.  Feel free to play around with the type of candy, chocolate or other type of garnish.
And, don't say I didn't warn you.  🙂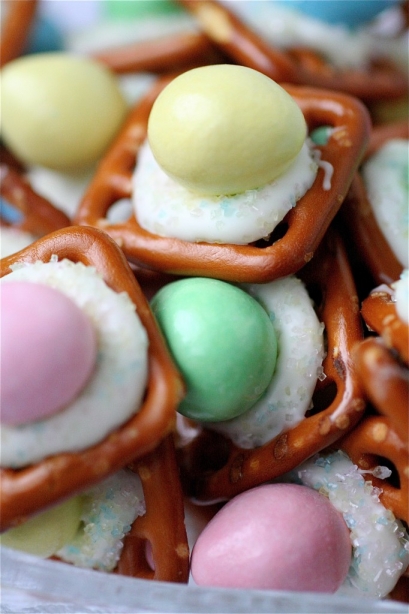 Easter Peanut Butter Buttons
Servings: 50 pieces
Ingredients
50 mini-pretzels **I used Hanover's Butter Snap…oh.my.gosh.
1 cup white candy melts, melted**Use your microwave and stir every 10 seconds or so after heating to make sure they melt completely
50 Reeses Pieces pastel eggs
Pastel sprinkles, for garnish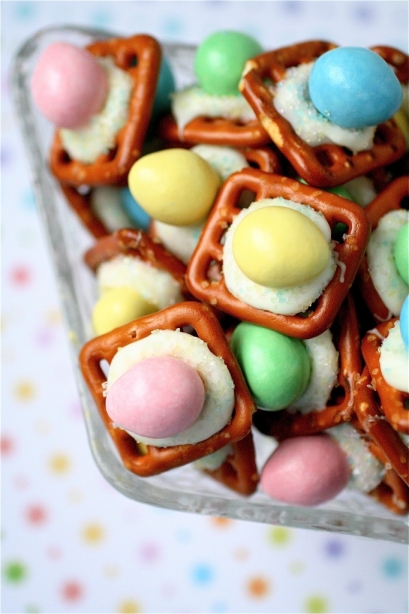 Instructions***For better results, make each piece one at a time.  Reheat the candy melts as necessary to prevent it from hardening.
1.  On wax paper, place about 1/2 teaspoon of the melted candy melts on one pretzel.
2.  Decorate the candy melt with pastel sprinkles.
3. Immediately top with a pastel chocolate peanut butter egg.  Let cool.

Source:  Barely adapted from Perry's Plate.