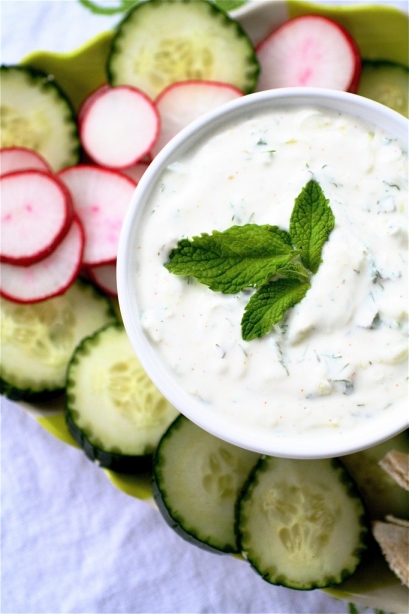 How in the world have I not posted tzatziki yet?  I not only have a continuous supply of Greek yogurt at all times in my fridge, but I am always looking for healthier "dip" alternatives to have with veggies (and pita!).
I made this dip as part of my Mother's Day spread for my mom this year.  I decided to run with a line-up of snacky, finger foods that we all could munch on throughout the day instead of a huge, time-consuming meal.  This tzatziki was great because it only took about 10 minutes to throw together, and it was packed with flavor.  I added some garlic and cayenne pepper to the mix because I wanted it to have a little "oomph", and I was happy with the results.  I even liked it so much that I passed on the usual side of potato chips with a sandwich later in the week and ate this with veggies instead (baby steps here…I know I should be eating veggies anyways…but you know how that goes sometimes…).  I usually just eat frozen blueberries on my Greek yogurt, or add honey.  I loved the new addition of a savory use of the yogurt to my repertoire.  Later in the week, I made some vegetarian gyros (which were awesome!!), and I used the rest of the tzatziki up for those.  You can bet that I will be finding new ways to use Greek yogurt out there in the future.  Anyone have any good ideas?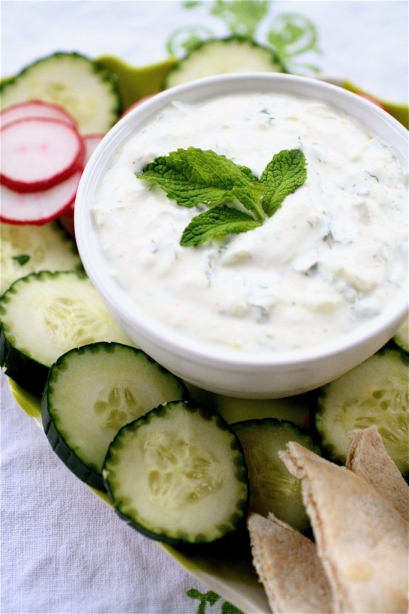 Tzatziki
Servings: makes 2 and 1/2 cups
Ingredients
1 cucumber, peeled, halved, and seeded
1 lemon
2 cups plain Greek yogurt (I used 2% because that's what I had on hand)
2 tablespoons fresh dill, minced
2 tablespoons fresh mint, minced
1 teaspoon minced garlic (1 clove)
Pinch cayenne pepper
Salt and black pepper, to taste
For serving: pita bread, carrots, cucumber, radishes, etc.
Instructions
1. Coarsely grate the cucumber by using the larger holes on your box grater.  (Alternatively, give it a quick whirl in the food processor).
2. Place the grated cucumber in a fine mesh sieve over a small bowl, and let it sit at room temperature for at least 10 minutes to drain.
3. Once drained, gently squeeze the cucumber to remove any remaining water and set aside.
4. In a separate bowl, grate the zest from the lemon.
5.  Halve the lemon and squeeze the juice into the bowl with the zest.
6. Add the cucumber, Greek yogurt, dill, mint, garlic, and cayenne pepper, mixing the ingredients well.  Season with salt and pepper, to taste.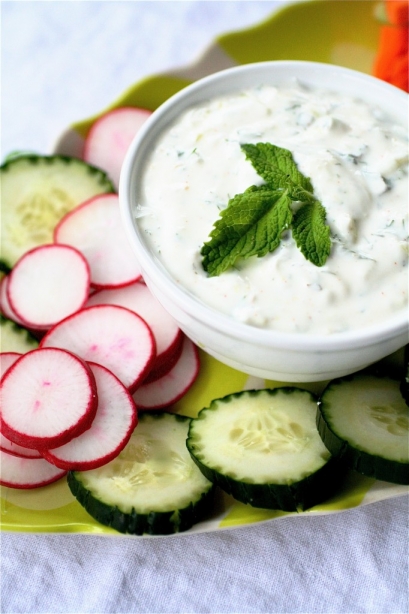 Source: Adapted from Williams-Sonoma: Cooking for Friends.