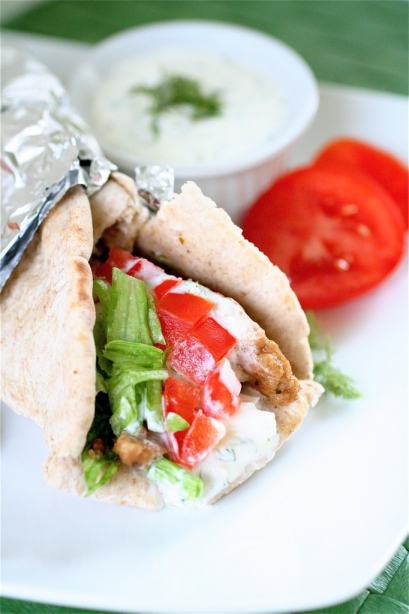 When I started this blog, I had a few goals.  One was to constantly push my boundaries as a novice cook/baker, but the other goal was to spread the word about meat-free dishes.  At age 15, I made the decision to become a strict vegetarian.  By the time I was 21, without hardly any knowledge of how to prepare food or a kitchen (dorm life didn't really allow it) and due to external pressures, I decided to return to meat.  Starting with fish, then chicken/turkey, then into the realm of pork/red meat, I reluctantly took on the lifestyle again more out of convenience than out of my personal beliefs.  (***And, as a sidenote, I'm supportive of whatever your diet may be.  I believe that everyone's dietary preferences are personal ones.)  The nice thing was that my love of food and curiosity of the chemistry behind it led to my B.S. in Nutrition Science.  I had a blast in my food chemistry labs-making peanut brittle, preparing broccoli umpteen ways, and figuring out what happens when you caramelize something.  It was a complete joy (and a secret way of learning a lot of biochemistry at the same time).
I have many friends who have adopted the growing Meatless Mondays trend.  I am of the mentality of "don't knock it til you try it".  And these friends are now saying that they have increased the meatless days to Mondays AND Wednesdays…and that they didn't realize how easy it would be.  Whether it is for their health, their lifestyle, the environment, their budgets, or their moral beliefs, I haven't met anyone who has tried going meatless for one day a week and didn't like it.
Back to the present day.  A year and a half ago, I made the decision to go meat-free again.  I eat fish/seafood rarely.  And, like I said, finding vegetarian options and having the knowledge and the means (no more dorm rooms!) to play around in the kitchen and experiment, in a way, is much easier than it was then.  So I've been messing around.  Playing with meat substitutes.  Having some epic kitchen fails.  But also finding some really good vegetarian alternatives in the process.  When I first went back to it, all I could think about was what I COULDN'T have anymore.  Forget that.  Now it's all about finding alternatives that are just as good (if not better!).  I even made vegetarian sausage biscuits and gravy during the holidays, and my father (a strict non-vegetarian) cleaned his plate thoroughly before I told him that he had just eaten a completely vegetarian breakfast (my mom and I were snickering the whole time he was eating it because he couldn't even tell.)
For this dish, I played with seitan.  It's made of wheat gluten (so, unfortunately, it's not gluten-free), but it's a great alternative to use in place of tofu (because here I was, thinking that tofu might be the only thing out there that I could use…silly me).  You can buy it in several forms, but I found mine (pre-made seitan strips) in the refrigerated section of Whole Foods near the veggie dogs/veggie alternative products.  The rest of the ingredients are relatively easy to find.  And, since the seitan is basically pre-cooked, the meal is literally ready in minutes: just enough time to heat it through and clean/chop your veggies.
So, whatever your dietary preferences may be, this recipe is another keeper.  It's messy, full of flavor, and savory-just like a gyro should be. I cannot wait to make it again soon.
Vegetarian Gyros
Servings: 2
Ingredients
1 8-ounce package of seitan (preferably already in strips-if not, roughly chop in strips)
1 tablespoon canola oil
3 cloves garlic, minced
1 teaspoon cumin
2 teaspoons oregano
Pinch cinnamon
Pinch cayenne pepper
Pinch nutmeg
1/2 teaspoon salt
Pepper, to taste
2 whole wheat pitas, warmed
For garnish:
1 cup lettuce, shredded
1/2 cup onion, diced
1 medium tomato, diced
Tzatziki (homemade or prepared), as desired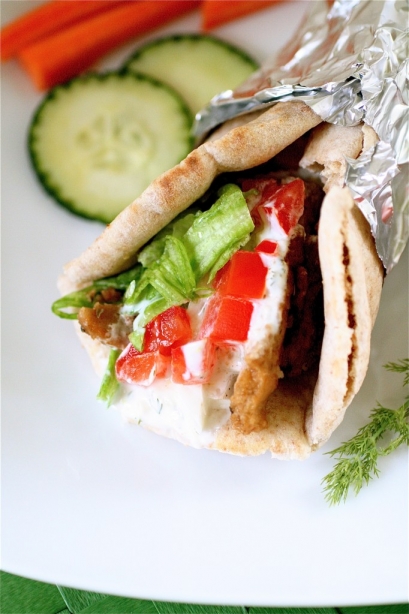 Instructions
1. In a sauté pan over medium heat, add the canola oil and heat until shimmering.
2. Add the seitan and garlic and cook, stirring occasionally, until the seitan is cooked through and lightly browned.
3.  Add the cumin, oregano, cinnamon, cayenne pepper, nutmeg, salt, and pepper, and stir to combine.
4. Cook for another 2-3 minutes or until fragrant, and set aside.
5. Meanwhile, assemble the pitas with the lettuce, onion and tomato.
6. Add the seitan and drizzle with tzatziki sauce. Serve immediately.
Source: Adapted from Food.com