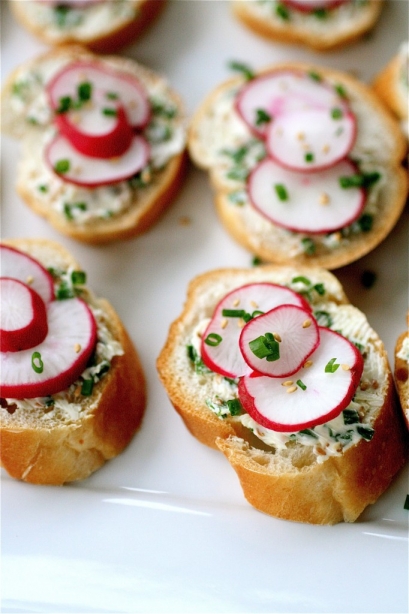 Don't tea sandwiches make you want to sit up straighter, politely curtsy, and say, "don't mind if I do…"?
OK, well, maybe not.  Maybe it's just me.  But tea sandwiches DO make me feel a little more lady-like.  I think I decided to make these because I was inspired by all of the Royal Wedding hoopla; I bet people like the Queen have tea sandwiches everyday.  These were appealing to me for several reasons.  I made these as part of my Mother's Day finger food line-up, and my mom loves radishes, especially the big ruby-red ones that I picked up at Whole Foods the day before.  I loved the idea of mixing the radishes with Asian flavors..a little crunch with a little ginger?  Interesting.  The nice thing was that I had all of the ingredients on hand after I got the radishes, so they were also very budget-friendly.  And the last reason why I decided to make these?  Because they took 10 minutes to prepare and assemble.  And look at them.  Radishes are so pretty.  If I was a little more creative with my knife skills, I would have tried to make those little radish roses that you see sometimes……but don't worry.  I'm working on that part.
Some readers have asked for more dinner party ideas.  I think this would be a great starter for a dinner party, but an even better addition for a bridal or baby shower menu (and it's that season again…). I'm in the process of revamping my archives to include an Entertaining section for things like this.  I'm always trying to make this blog better for my readers and friends.  If you have any ideas/suggestions, please send them my way.  I would love to hear from you.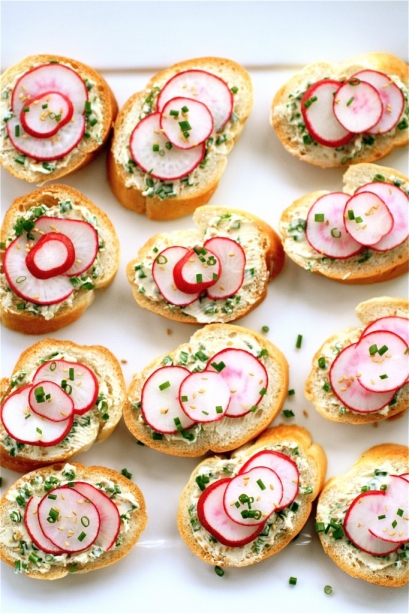 Radish-Chive Tea Sandwiches
Servings: approximately 16
Ingredients
4 tablespoons unsalted butter, room temperature
3 to 4 tablespoons chives, minced and divided
1 tablespoons sesame seeds, toasted, plus more for garnish
3/4 teaspoon fresh ginger, grated
1/4 teaspoon Asian sesame oil
10 radishes, thinly sliced
1 French baguette, sliced diagonally into 16 slices
Sea salt, to taste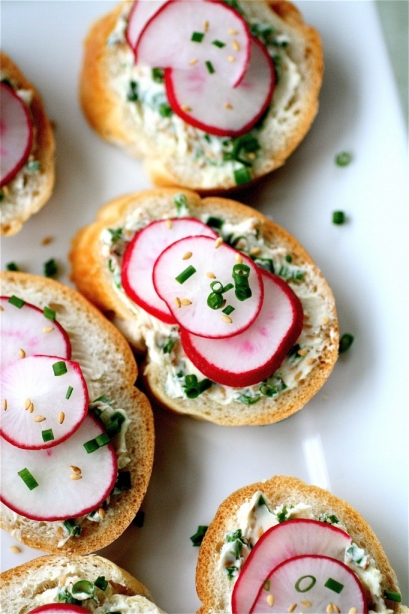 Instructions
1. In a small bowl, combine the butter, 2 tablespoons of the chives, 1 tablespoon of the toasted sesame seeds, grated ginger, and sesame oil.
2. Spread the butter mixture over each slice of bread (as much as you want!)
3. Top each slice of bread with 2-3 radish slices.
4. Garnish with remaining sesame seeds, chives, and sea salt.  ***Add the sea salt right before serving for best results.

Source:  barely adapted from Bon Appetit, April 2008 via Epicurious.