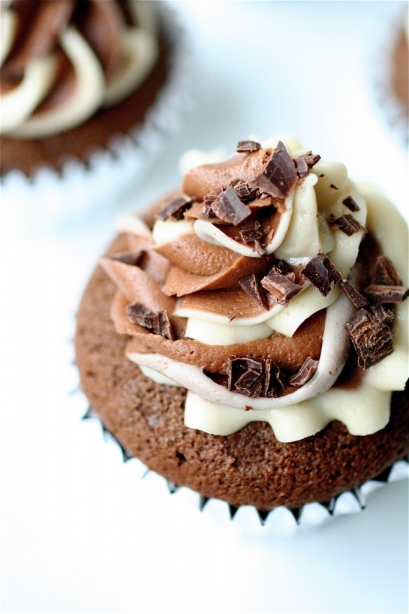 I couldn't wait to share this with you.  I have several other recipes to share, but you know what?  This gets first in line today.
I figured I've had this blog for almost a year now, and I really haven't done too many boozy cupcakes.  I think I have said before that sometimes I feel like the alcohol masks the flavors underneath instead of enhancing them.  I tend to stay away from the boozy desserts in general….and I also tend to stay away from coffee-flavored desserts.  Some people don't like cherries, some don't like mint, well, I don't care too much for coffee flavored desserts.  It's weird because I drink coffee about 5 days a week, and I can't seem to get my day going until I have my silver thermos in-hand on my long commutes into downtown.  I love coffee…in a mug..with some cream..and maybe with a doughnut.  But, here I am, swiftly changing my mind.  Maybe I am becoming more of a grown-up.  😉
I decided to make Mudslide Cupcakes as an opportunity to delve into a world unknown: a coffee-flavored boozy cupcake.  I don't know what compelled me to try them when I have so many other types of cupcake recipes bookmarked, but, boy, I am glad I did.
Now, let's talk about the piping swirl.  Here's what I did:  I cut the tips off  (like I normally do) of two disposable pastry bags.  I filled each one with the different frostings (without the couplers), and then placed both bags into another disposable pastry bag fitted with my desired tip.  It was a little tricky because the two frostings had slightly different consistencies, so when I piped, one came out a little better than the other.  The next time I make these (or try the double piping swirl), I will try to adjust the frostings to get more similar consistencies.
Back to the cupcakes: these are seriously some of the moistest cupcakes I have ever had.  Sometimes I feel like chocolate cakes/cupcakes dry out a little bit, but even after two days in the refrigerator, they were still moist, rich, and velvety.  And the frostings?  Oh dear.  Let's just say that I sampled the frostings generously while making them.  And I will warn you: these cupcakes definitely have a boozy taste. I have a very newly expecting friend, and I took an extra batch of non-boozy cupcakes to a party because I was little concerned that it might be a little too much for her, and I wanted her to be able to enjoy some cupcakes, too!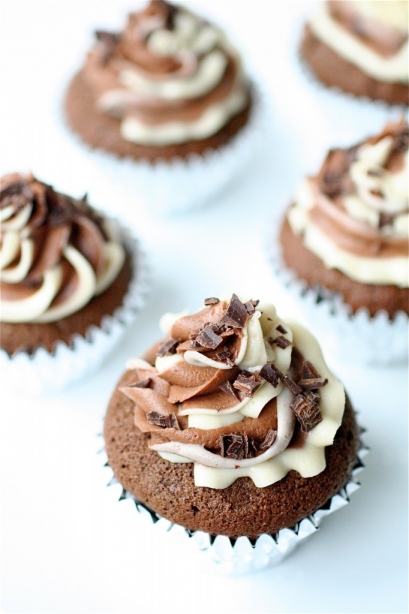 Mudslide Cupcakes
Servings: approximately 20 cupcakes
Ingredients
For the cupcakes:
3 eggs, separated and at room temperature
3/4 cup granulated sugar
1/2 cup (1 stick) unsalted butter, room temperature
1 cup light brown sugar, packed
2 and 1/4 cups all-purpose flour
1/2 cup unsweetened cocoa powder
1 and 1/2 teaspoons baking soda
3/4 cup strong cold coffee
3/4 cup Kahlua
For the Kahlua buttercream:
6 tablespoons unsalted butter, room temperature
3 cups (or more, if needed) powdered sugar
3 tablespoons unsweetened cocoa powder
4 tablespoons Kahlua
3 tablespoons hot coffee
For the Bailey's buttercream:
16 tablespoons (2 sticks) unsalted butter, room temperature
3 cups powdered sugar
2 teaspoons vanilla extract
4 tablespoons Bailey's Irish Cream
4 ounces bittersweet chocolate, shaved in curls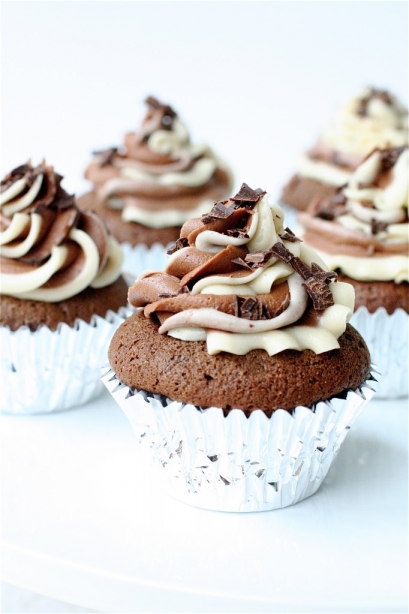 Instructions
1. For the cupcakes:  Preheat the oven to 350 degrees, and prepare your cupcake pan with your desired liners.
2. In the bowl of your standing mixer fitted with the whisk attachment, beat the egg whites until foamy.
3.  Add the granulated sugar to the eggs with the mixer running and continue to whisk, at medium-high speed, until the mixture is thick, stiff, and glossy.  Transfer the egg white mixture to another bowl, and clean out your standing mixer bowl thoroughly.
4. In your clean mixer bowl, combine the butter and brown sugar and mix on medium speed until light and fluffy, about 1 minute.
5. Add the egg yolks, one at a time, mixing well after each addition.
6. In a separate bowl, combine the flour, cocoa, and baking soda.
7. With the mixer speed on low, slowly add the flour mixture, coffee, and Kahlua alternately, ending with the flour mixture.
8. Stop the mixer, and gently fold in the egg whites into the batter using a rubber spatula, until well-combined.
9. Fill each prepared cupcake liner about two-thirds full.
10.  Bake the cupcakes for about 20-25 minutes, depending on your oven, or until a cake tester inserted into the center comes out clean. Let cool completely.
11. For the Kahlua buttercream:  In the bowl of your standing mixer fitted with the paddle attachment, combine the butter and powdered sugar on low speed until smooth.
12. Add the cocoa powder, Kahlua, and coffee, adding more powdered sugar if necessary.  Set aside.
13. For the Bailey's buttercream: In the bowl of your standing mixer fitted with the paddle attachment (or another bowl if you are getting tired of cleaning your mixer bowl out….), combine the butter and powdered sugar until smooth.
14. Add the vanilla extract and Bailey's Irish Cream, mixing well until combined.
15. Pipe the buttercream (description of how-to above) onto the cupcakes and garnish with chocolate curls.

Source:  Kahlua Cupcakes and Kahlua Buttercream directly from WorthTheWisk, Bailey's Buttercream from Food.com