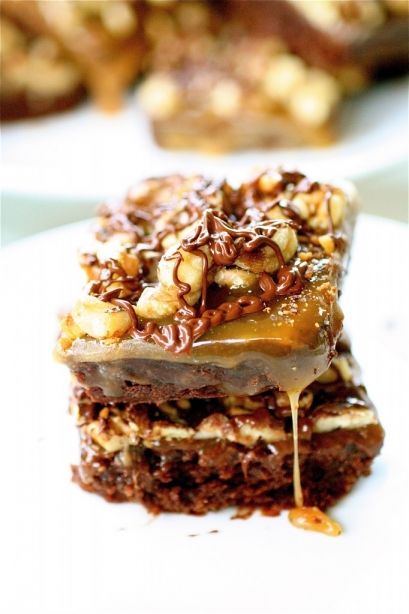 Warning:  This is a semi-sentimental post.
I'm sitting among half-packed boxes as I write this post.  My almost-4-year-old nephew has sweetly helped me by writing (as best as he can) "cookbooks" on a few boxes, and then he lovingly adds pictures of stick figures of his family on the box to remind me of who my family is, too.  In short, while I know this makes me smile now, I am pretty sure that in 8 days when I live 1000 miles away, it might make me cry a little.
The past couple of years have been a lot about goodbyes for me.  Goodbyes to an old and very naive me, goodbyes to former friends as we mature and realize life is carrying us in very different directions, and goodbyes to assuming the same patterns in life which appear to always land us in the same places.  I'm now attending graduation banquets, going away parties (I seriously have some of the best friends in the entire world), and I am planning out new adventures and opportunities for my next chapter in life.  I'm filling up every last minute before I leave with the people closest to me: going down slides at the park with my nephews, celebrating my little sister's 21st birthday, traveling to my dear friends' wedding halfway across the country, holding my friend's baby, and chatting way too much with the co-workers I will severely miss. I am not sleeping that much because there's too much fun yet to have.
And the funny thing is that I am not very good at goodbyes.  I kind of like to detach a little.  I kind of like to end it like it isn't really ending.  Like, "hey, see you tomorrow!" when I am really moving far away the next day.  It seems a little smoother that way.
I am incredibly thankful for all of it.
But, I'm not a Debbie Downer here.  I am so excited to be starting fresh.  New faces, new places, and new food!  And, if you are a regular reader, hopefully you will be joining me on this blog as I make my way to a different part of the country to experience a non-Midwestern palate.  There will be culinary/baking classes for me, field trips to farms, and a great-many farmers' markets and probably a lot of maple syrup and Ben & Jerry's.  Are you ready?  I am.
Sentimentality over.  Unless you want to get sentimental about these brownies, which would be perfectly acceptable.  These are worth a little bit of sentimentality.  My friend, Jason Jacobs, has been one of my faithful taste-testers of recipes over the past year, and he has declared these as "definitely Jason approved."  They are a little chewy, very rich, oozing with buttery homemade caramel (sidenote: yes, the caramel is surprisingly easy to make), and totally worth getting a little misty-eyed over. I used walnuts instead of pecans because that's what I had on hand, but any kind of nut would be great!
Here's to new hello's.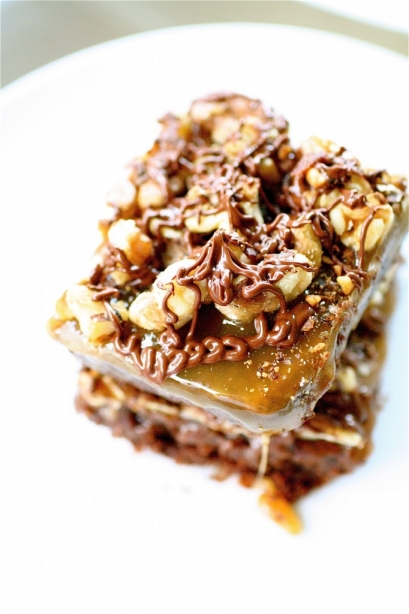 Turtle Brownies
Servings: about 12 brownies
Ingredients
For the brownie:
3/4 cup all-purpose flour, plus an additional 2 tablespoons
1/4 teaspoon baking powder
1/2 teaspoon salt
4 ounces semisweet chocolate chips
1 ounce (1/4 of a 4 ounce baking bar) unsweetened chocolate, broken into pieces
1/2 cup (1 stick) unsalted butter
1 cup packed light brown sugar
1 teaspoon vanilla
2 large eggs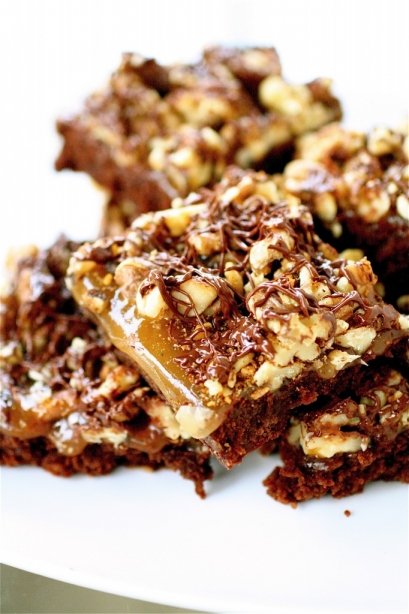 For the caramel topping:
3/4 cup granulated sugar
1/3 cup light corn syrup
3 tablespoons water
Pinch of salt
1/3 cup heavy whipping cream
1 teaspoon vanilla
1 and 1/2 cups walnuts, lightly toasted and coarsely chopped
For the garnish:
1/2 cup semisweet chocolate chips

Instructions
1. For the brownies: Preheat the oven to 350 degrees.
2. Prepare a 9×9-inch square pan by buttering it and lightly flouring the surfaces.
3. In a large, heavy saucepan over medium heat, melt the chocolate chips, unsweetened chocolate, and butter.
4. Stir the mixture until smooth, and then remove from the heat.
5.  While the chocolate mixture cools, combine the flour, baking powder, and salt in a separate bowl.
6. Add the brown sugar and vanilla to the chocolate mixture, mixing well.
7. Add the eggs, one at a time, mixing well after each addition.  ***The batter should look thick and smooth.
8. Add the flour mixture to the chocolate, and mix until just combined.
9. Pour the batter evenly into the prepared baking pan and bake until a cake tester inserted into the center comes out clean, about 30-35 minutes.  Let cool.
10. For the caramel topping:  In a heavy saucepan over medium-high heat, combine the sugar, corn syrup, water, and a pinch of salt and stir until the sugar is dissolved.
11. Bring the mixture to a boil and let boil without stirring until the color turns a light amber, about 10 minutes or so.
12. Remove the saucepan from the heat, and add the cream and vanilla, stirring until thick and smooth. **Be careful, it will bubble and splatter.
13. Pour the caramel evenly over the brownies.
14. Sprinkle the toasted walnuts on top of the caramel, and let the brownies cool completely. **I stuck mine in the fridge for about 20 minutes.
15. For the garnish: In a small bowl, microwave the chocolate chips at 10-second increments, stirring after each interval, until smooth.
16. Cut a very small piece off a corner of a plastic sandwich baggie, and spoon the chocolate into the bag. **Or use a pastry piping tip.
17. Use the open end to quickly drizzle the melted chocolate over the top of the brownies. Let cool.

Source: Barely adapted from Gourmet, via Epicurious.