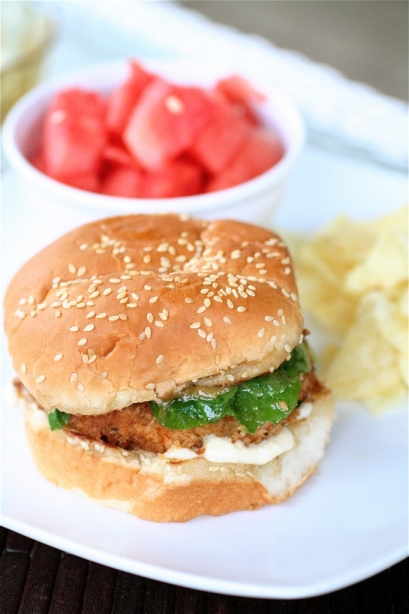 I am not a fan of leftovers.  I think we have discussed this ad nauseum before, but leftovers give me the creeps a little.  Especially leftovers having anything to do with seafood. I'm ok with soups and stews (those taste better the next day in my opinion), but straight up meals?  Yes, I'm picky about it.  So, even though I have dissected and worn the pages raw in the latest issue of Fine Cooking (June/July 2011-if you don't have it yet, please go get it), I was even more excited because there was a whole section about leftovers.  And what I liked the most was that they took something like the Cedar Planked Salmon (awesome) and then gave suggestions about what to do with the leftovers…probably for people specifically like me…who would probably have a lot of leftovers but were tired of obvious leftover options like a salmon salad or salmon patties.  I wanted something different this time.
And, believe me, this is an incredible leftover option. It's extremely easy and straightforward to prepare, and the time for preparation and cooking was less than 25 minutes total, so it's also great for a weeknight meal.  The Asian flavors are so fresh, tangy, and really give an extra oomph to "plain jane" salmon.  And, even if you don't make the Cedar Planked Salmon to use as your source of leftovers, any kind of pre-cooked leftover (or canned!) salmon would do.  I felt pretty good that week-I was feeling a little more brave in my adventures into eating an animal source of protein (which is rare), and with this meal, I was able to consume decent portions of proteins and my omega-three's in the span of a few days. I successfully finished off an entire "meal" by consuming all the leftovers…which amazingly tasted completely different from the original dish…and this meal was good for me.  YES!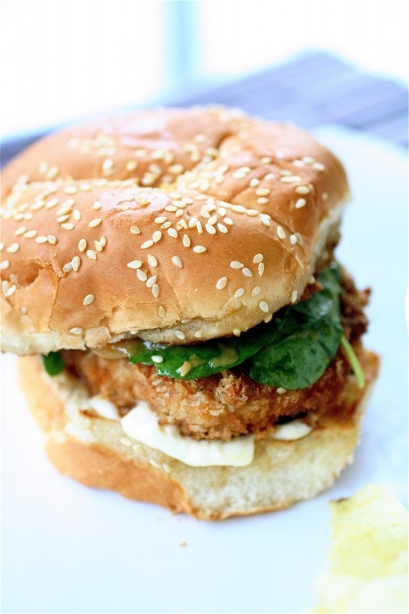 Asian Burgers with Miso Dressing
Servings: 4
Ingredients
For the dressing:
1 2-inch piece of fresh ginger
3 tablespoons awase miso (or whatever type of miso that you like)
2 tablespoons rice vinegar
1 and 1/2 tablespoons Asian sesame oil
1 and 1/2 tablespoons canola oil
1 tablespoon granulated sugar
For the salmon burgers:
3/4 pound (about 2-3 cups) cooked salmon, skin removed, cut into large chunks
3 tablespoons chives, chopped
1 and 1/3 cups panko
3 tablespoons mayonnaise
1 large egg, beaten
1 tablespoon soy sauce
Salt and pepper, to taste
1/3 cup canola oil
For garnish:
2 cups watercress (or other green of your choice), trimmed
4 sesame seed rolls or other type of bun, lightly toasted and buttered
Mayonnaise as desired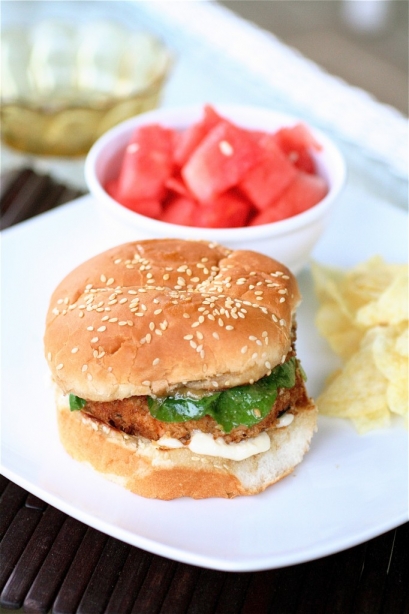 Instructions
1. For the miso dressing:  Peel the ginger, and using a cheese grater, grate the ginger finely.
2. Wrap the grated ginger with a piece of paper towel, and firmly press the ginger between your fingers so that the juices drip into a small bowl (you will want a yield of about 1 and 1/2 teaspoons of ginger juice, more to taste if desired), discarding the solids.
3. Add the miso, rice vinegar, sesame and canola oils and the granulated sugar to the bowl with the ginger juice, whisking until the mixture is smooth.  Set aside.
4. For the salmon burgers:  In a large bowl, combine the chopped salmon and the chives.
5. Using a large rubber spatula, add 2/3 cup of the panko, the mayonnaise, egg, soy sauce, and salt and pepper (to taste), mixing well until the salmon is evenly distributed.
6.  Using your hands, shape the salmon into large patties (you can double this to 8 smaller portions if you want), packing them tightly together, adding more panko or mayonnaise if necessary.
7. In a large skillet over medium-high heat, heat the canola oil until shimmering.
8. As the oil is heating, place the remaining panko in a shallow dish or pie plate and lightly coat both surfaces of each salmon burger with additional panko, pressing the panko into the burgers.
9.  Add the burgers to the skillet and cook each burger until lightly crisped and browned on each side, about 8 to 10 minutes total.  Once cooked, transfer the burgers to a paper-towel lined plate to drain off the extra oils.
10. In a separate bowl, toss the watercress with the miso dressing lightly to coat.
11. To assemble the burgers: Lightly spread the sesame rolls with the mayonnaise and place your desired amount of watercress on each bun.  Add your salmon burger patty (or two patties, if you made smaller ones), and serve immediately.

Source:  Slightly adapted from Fine Cooking, June/July 2011 issue.