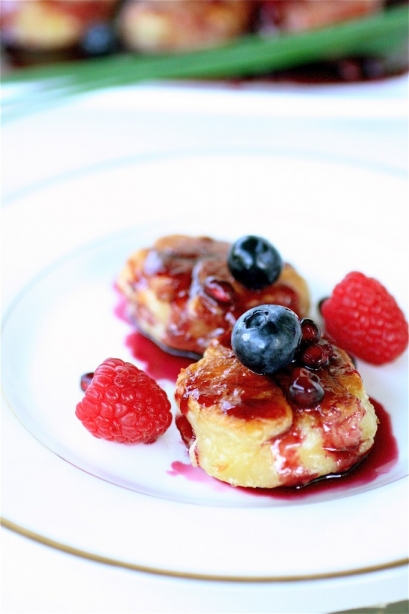 I love cheese (I think that's clear by now).  And I love Brie.  Ever since I had it in high school as a treat during one of my French club meetings, I was hooked.  And so is my family, I believe.  At most of our family functions, we always have melted baked cheese in one form or another.  I posted the standard Baked Brie around the holidays, so it was only going to be a matter of time until I posted another version.
I was thrilled when the good people over at POMWonderful offered to send me a case of their pomegranate juice, as well as a link to their website with tons of pomegranate recipes.  I will be honest-I am one of those people who doesn't like to drink my calories, and I will only drink juice on rare occasions.  But I do love POMWonderful when I can get it.  I have been tempted to use pomegranates in my cooking, due to the claims of large amounts of antioxidants, but pomegranates only are in season in Indiana in the late summer and fall.  I wanted to try several different recipes on the POMWonderful website, but I was unsure if I would be able (or want to) buy a pomegranate off-season that was probably shipped halfway across the country, so I held off for a while until I could decide on what recipe I wanted to try.
Then, I found this recipe, and I also happened to come across the rarely-sighted-in-June pomegranate in Indiana, so I bit the bullet and bought one for this recipe.  But, I will tell you: you don't need the pomegranate seeds.  They may add a little to the sauce in the way of thickening it, but I don't think you will need it.
Here's what this recipe is:  It's little bites of baked Brie wrapped in puff pastry and drizzled with a sweet sauce consisting of a blueberry-raspberry-pomegranate balsamic reduction.  It's actually pretty awesome.  I used the President Brie Log (6 ounces) that I found in the cheese section of my grocery store, but you could use a regular wheel and cut your desired shapes by hand (I just found the cylindrical form to be a lot more user-friendly).  The best part about this recipe is that you can prepare it all ahead of time (make the sauce and pre-wrap the Brie bites with the puff pastry and refrigerate), and then simply sauté them when you are ready (P.S. This is a GREAT party appetizer!) I ended up sharing mine and ate all the cheese with lots of sauce left over, so I re-heated the sauce the next morning and drizzled it over waffles. (= really good)
On a completely non-related food note, I know that many of you out there are huge animal lovers and will appreciate this (although, I am warning you: it's a sad story).  This post is for Gracie, my parents' boxer of 13 years (which, for a boxer, is an extremely long life span).  My sister and I chose Gracie out of the litter in 1998 when she was the first little puppy to strut our way.  From that point forward, Gracie was a leader, loving walks, secret bits of my parents' leftovers, and laying on any kind of blanket (or warm clothes just folded from the dryer) she could find.  She was extremely attached to my mom, waiting by the window when she would leave, standing in the corner of the room at night to let my mom know that it was time for bed, and waiting patiently (or not so patiently because she was a great talker) when she would see my mom and I get our tennis shoes on to take her for her beloved walks.  Since I lived with my parents for a while, my boxer, Scout, quickly became Gracie's trusty shadow, learning how to mellow out and beg at the dinner table (which I didn't love).  On our recent drive to move me out East, the boarding kennel called my mom to let her know that Gracie had collapsed outside and then quickly and peacefully passed away in the owner's arms.  My mom was so sad because she didn't get to say goodbye.  But I was there when we dropped her off at the kennel, and Gracie had the biggest smile on her face as she pranced back to the play room without a second look.  We celebrated Gracie's full and happy life a few days ago, knowing that it was her time and that she had the best life that she could have possibly had.  This picture pretty much sums up Gracie's personality: pulling Scout to get her ready for their daily walk together-it makes me smile.  I know a lot of you will understand.   Here's to happy dogs and loving animals….life is good.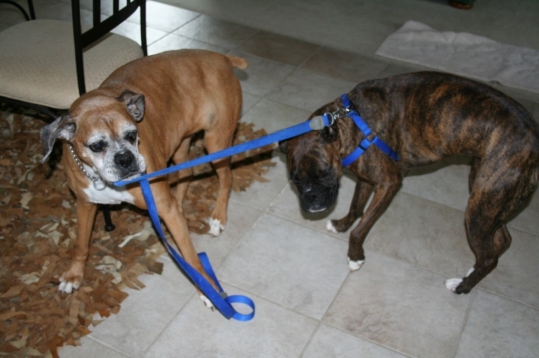 And, what about that Baked Brie?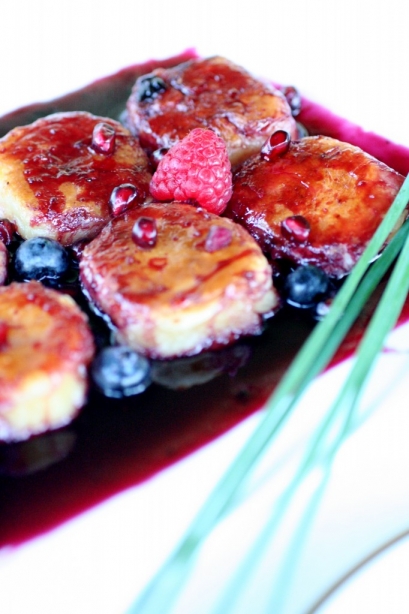 Baked Brie Bites with POM-Berry Sauce
Servings: Approximately 12 pieces
Ingredients
For the sauce:
1 and 1/2 cups POMWonderful pomegranate juice
6 ounces raspberries
1 pint fresh blueberries
1/2 cup pomegranate arils
1/2 cup balsamic vinegar
1 and 1/2 cups granulated sugar
For the Brie:
1 6-ounce Brie Log, sliced into 1/2-inch thick slices
1 roll of puff pastry dough, thawed (**I used Pepperidge Farm, which came in a pack of two.  I only used one.)
1 tablespoon unsalted butter

Instructions
1. For the POM-Berry Sauce:  In a medium saucepan over medium-high heat, combine the pomegranate juice, raspberries, blueberries, pomegranate arils, and balsamic vinegar.
2. Bring the mixture to a simmer, and then reduce the heat to medium-low.
3. Add the granulated sugar and continue to simmer, stirring occasionally, until thickened, about 45 minutes-1 hour or so.  **Increase the heat if you feel your reduction is not going as quickly as you would like.  My end-product had the thickness of a syrup.
4. Once thickened to your liking, strain the mixture through a fine-mesh sieve, pushing on the mixture to get as much liquid out as possible.
5. Return the mixture to the saucepan and continue to simmer for about another 10-15 minutes or so.
6.  For the Brie Bites: Meanwhile, prepare your Brie bites by cutting 2-inch x 2-inch squares of your puff pastry, and firmly wrapping and sealing each Brie bite tightly with the puff pastry.
7. In a sauté pan over medium heat, melt the butter.
8. Once melted, toast the Brie Bites, flipping every few minutes, until toasted and crisp on each side.
9.  Drizzle the Brie with the warm POM-Berry sauce and serve immediately.

Source: Adapted from POMWonderful.