It's very apparent that I am a huge fan of cheese.  I don't care what kind it is, how it aged, who made it, or if it's soft, hard, or semi-ripe.  It's all good to me.
Which is why, when I was asked to help with the appetizers and desserts at this year's Thanksgiving, I was excited to throw this little treat together.  It's one of my classic favorites, no matter what holiday it may be.  The nice thing is that it is incredibly simple to put together, the ingredients are straight-forward, and you can use a little liberty with your choice of preserves and finger foods to serve it with.  I made it when my family members were starting to gather before the big meal-we always circle the island in the kitchen and munch away at a fancy spread of various crudites and snacks, sharing funny stories and just being ourselves.  I had a few other things on the line-up (posts to follow soon), but this was the one everyone was waiting for.
And, it didn't disappoint.  Does Brie ever disappoint though?  The puff pastry (now, you could probably make the puff pastry yourself, but I was on a time crunch and just went for the store-bought stuff instead) was buttery and golden brown, the cheese underneath it was smooth and warm, and the raspberry preserves (one of my personal favorites) was sweet and so perfect with the cheese.  I served the cheese with grapes, sliced French baguette, and an assortment of crackers.  But, I'll let you in on a little secret: it's just simply good enough alone with a fork.  (My gluttony at its finest.)
Baked Brie en Croûte
Servings: 8 to 10
Ingredients
1 (9 by 9 and 1/2-inch) sheet of frozen puff pastry, thawed
1 large egg, lightly beaten
1 (8-ounce) wheel firm Brie cheese
1/4 cup raspberry preserves
Instructions
1. Roll the puff pastry into a 12-inch square on a lightly floured surface.
2.  Using a pie plate or other round guide, trim the pastry to a 9-inch circle with a paring knife.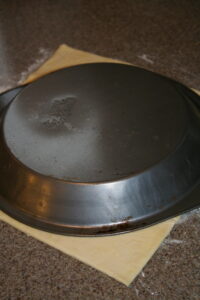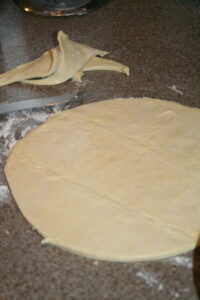 3. Brush the edges lightly with the beaten egg.

4. Place the Brie in the center of the pastry circle and, wrap it in the pastry, creating a fluted edge (see the picture).



5.  Brush the exterior of the pastry with beaten egg and transfer to a parchment-lined baking sheet.
6. Freeze for 20 minutes.
7. Adjust an oven rack to the middle position and heat the oven to 425 degrees.
8. Bake the cheese until the exterior is a deep golden brown, 20 to 25 minutes.
9. Transfer to a wire rack.
10. Spoon the jelly into the exposed center of the Brie.
11. Cool for about 30 minutes, then serve.
P.S. It's incredibly difficult to take pictures of yourself in a dark kitchen.  🙂  Thanks to my amateur helper.