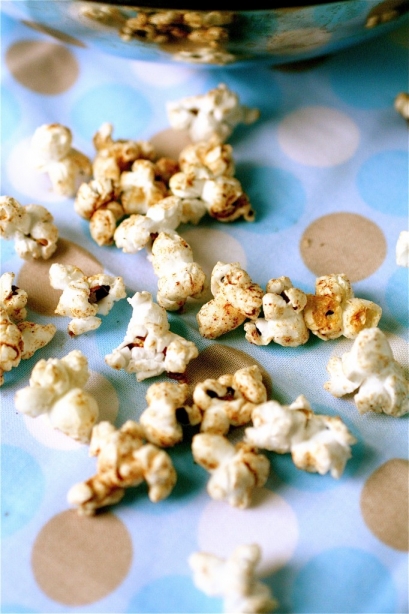 OK.  I know.  If you are new to coconut oil, then I know you might be a little weirded out by this particular post.  But, I promise you should give it a chance.
Popcorn has become one of those go-to snacks for me lately.  I think it all had to do with my intense studying for boards recently…I found myself with a raging addiction to snacking while studying.  It didn't matter if it was an audible lecture, a question book, or a review textbook.  I HAD to be doing something with my hands while studying.  In med school, I had this weird obsession with always listening to classical music while I studied.  The weirdest part was that, during my tests, I could hear the music playing in my head while taking the exam…for some reason, it helped me "see" my notes while taking the test.  Someone once told me that the more senses that you stimulate while focusing on material, the more likely that the material will be learned.  Call it synchronous stimulation of your synapses…whatever.  All I know is that when I find something that helps me cement material in my brain, I use it.
Tangent over.  I digressed.
Back to popcorn.  So, it was blatantly apparent to me that I needed something that would satisfy my salt (or sweet) cravings without adding a lot of extra calories or fat.  Enter popcorn (I love the red or black varieties for their antioxidants and pure white fluffiness…so pretty!).  And….I will also note that the good people over at Kelapo, the makers of fine coconut oil, contacted me to see if I would be interested in trying out their product.  While I don't try out many of the free offers/book reviews I receive, I thought this might be something I would actually use.  I have heard a lot lately about the health benefits of coconut oil-how it may help with digestion, skin/hair problems, and even immunity. And so it now is something I use.
I also happened to come across this recipe, and I immediately got up, turned on my stove, and popped myself a great big batch of homemade popcorn…flavored with so many new and intense spices.  Forget my usual salt or sugar combination.  These spices add a whole new dimension to a great snack food…full of fiber without the extra fat.  And what can I say?  The coconut oil does add a little of that "movie popcorn" texture, which is sometimes exactly what a hard-working girl needs.
By the way, have you ever noticed how cool popcorn looks up close?  Just wondering.  It's the simple things that keep me going. 🙂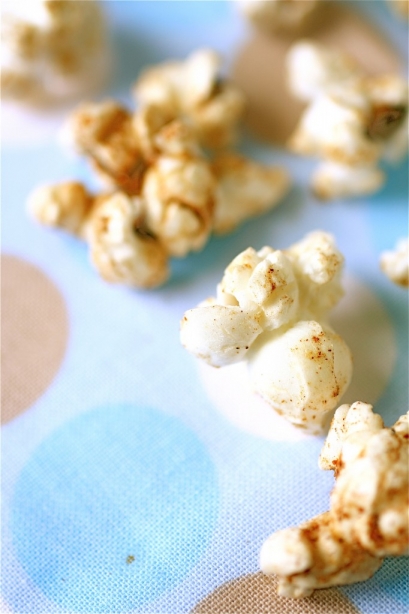 Coconut Oil Popcorn
Servings:  Approximately 8-10 cups of cooked popcorn
Ingredients
1/2 cup popping corn, variety of your choosing
5 tablespoons coconut oil**I know it seems like a lot, but I promise you will be ok.
1 teaspoon ground cinnamon
1/2 teaspoon ground ginger
Pinch nutmeg, freshly grated
1/2 teaspoon allspice
2 teaspoons finely flaked sea salt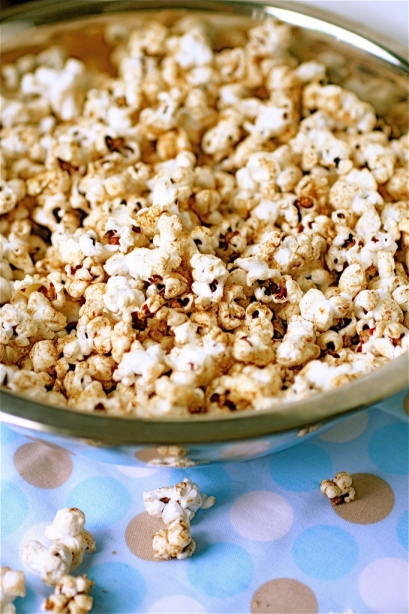 Instructions
1. In a deep saucepan with a lid, heat 2 tablespoons of the coconut oil over medium-high heat.
2. Add 3-4 popcorn kernels to the oil, and once one of them pops (meaning your oil is hot enough), pour the 1/2 cup of popcorn into the pan, covering it with the lid.
3. Gently shake the pan over the heat, still covered, to ensure that all of the kernels pop.  When the popcorn stops popping for about 3-5 seconds, remove it from the heat.  ***Be careful-there will be a lot of steam and random kamikaze popcorn kernels that could potentially hurt you.
4. Meanwhile, while the popcorn slightly cools, mix together the remaining 3 tablespoons of coconut oil and the spices (except for the salt) in a small bowl.
5. Pour the coconut oil mixture over the popcorn and toss gently to coat.
6. Sprinkle with sea salt and serve immediately.

Source:  Slightly adapted from Marcus Samuelson.  Check out his site and Kelapo's website for nutritional information about the health benefits of coconut oil.