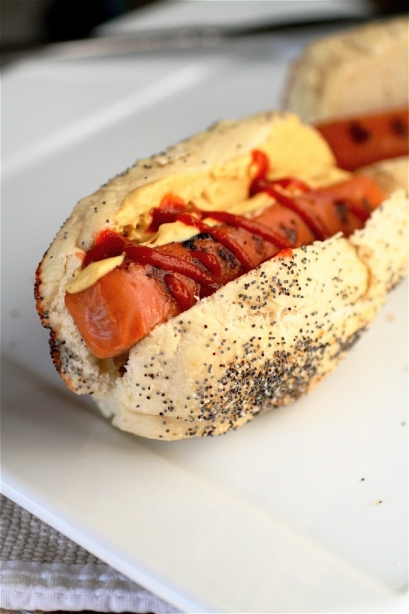 I suppose I should post a homemade hot dog bun recipe, right?  I mean, it's only the middle of the summer already, and hot dogs are one of the classic summer cookout foods, right?
Being a vegetarian doesn't stop me from participating in the summer festivities, contrary to my initial thoughts when I went back to being meat-free almost two years ago.  Nope.  It's awesome because my friends back home would just naturally have veggie burgers and soy dogs waiting for me at any backyard barbecue, and the best part is that sometimes they would opt for the veggie dishes along side me, often surprising themselves with how much they enjoyed a meat-free BBQ.  It can be done, my friends.
I have a post to share with you in the coming days that I think you will like.  But first things first.  You need a solid hot dog foundation before you build any kind of hot dog monstrosity, veggie or not.  I'm talking about a solid hot dog bun.  One with soft, sweet flavor…maybe a little garlic and poppy seeds to give it some oomph (also to remind me of Portillo's in Chicago)…and definitely lacking that white starchy stuff that the store-bought buns come with.
So, if you have a couple of hours (don't worry, these have a lot of hands-off time so you can get other things done) and some room in your freezer (you can just wrap them in plastic wrap and stick them in a freezer bag for future use), these are a solid investment for your summer cook-out success!
Homemade Hot Dog Buns
Servings:  12-15 hot dog buns (I made mine larger for jumbo dogs, so my yield was 12).
Ingredients
2 tablespoons granulated sugar
2 tablespoons active dry yeast
1/2 cup warm water
2 cups warm milk
2 tablespoons vegetable oil
2 teaspoons salt
6 cups (plus more if needed) all-purpose flour
1 egg
1 tablespoon of cold water
2 tablespoons poppy seeds
1 tablespoon garlic salt
Instructions
1. In the bowl of your standing mixer fitted with the paddle attachment, combine the sugar, yeast, and warm water.
2. Let this mixture sit for about 5 minutes, until it is bubbly/foamy.
3. Add the warm milk, vegetable oil, salt, and three cups of the flour.
4. With the mixer on medium-high speed, mix the dough for two minutes.
5. Switch to the dough hook and reduce the mixer speed to low.
6. Add the remaining flour, about 1/4 cup at a time, until the dough holds together and pulls away from the sides of the mixing bowl.
7. Using your mixer, knead the dough on low speed until the dough is elastic, about 8-10 minutes.
8. Shape the dough into a ball, and place the dough into a well-oiled bowl, turning once to completely cover the dough with oil.
9. Cover the bowl with a light cloth and let rise until doubled in size, about 1 hour.
10.  Once risen, punch the dough down on a lightly oiled flat surface and divide the dough into 12 (or however many rolls you want) portions.  KAF suggests dividing the dough into thirds, then halves, and then halves again.
11.  Using your hands, gently roll the dough into oblong rolls, about 4 and 1/2 inches in length, and flatten each one slightly using the palms of your hands.
12. In a small bowl, combine the poppy seeds and garlic salt together.  Lightly sprinkle a baking sheet with the poppy seed mixture.
13. Place the rolls on the seasoned baking sheet and coat the undersides of each roll lightly with the poppy seed mixture (I just lightly rolled mine back and forth on the baking sheet to pick up the seasonings.)
14. Cover the rolls with a light cloth and let rise again, for about 45 minutes or so.
15. Preheat the oven to 400 degrees.
16.  In a small bowl, whisk together the egg and the cold water to prepare an egg wash.
17. Lightly brush each roll with the egg wash.
18. Lightly sprinkle the rolls with the remaining poppy seed mixture (you may not use it all) to completely cover each roll.
19. Bake the rolls for 20 minutes or until lightly golden.
20.  Remove the rolls from the baking sheet and let cool completely on a wire rack.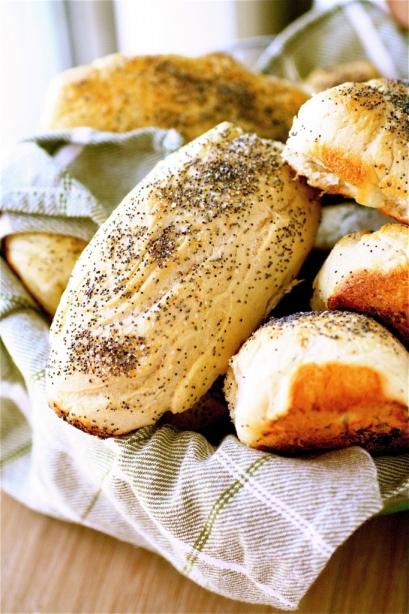 Source: Adapted from King Arthur Flour.