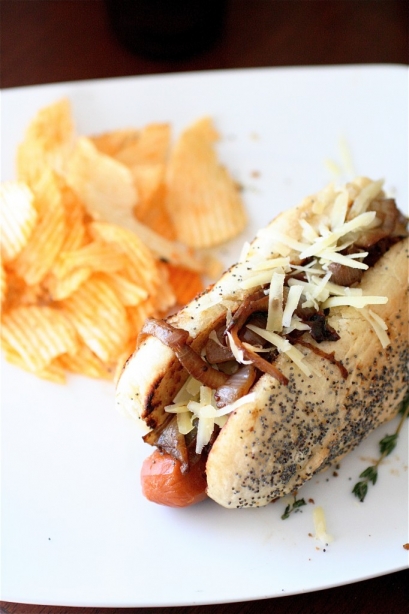 One of the best parts about the food blogging world is getting to know other food bloggers out there.  We all share a major love for food-we all love cookbooks-we all love taking pictures of our food-and we all love sharing our tips/ideas/tricks with one another.  We have a pretty awesome community out here in the blogosphere.
I was very excited to meet Karen, from Inspired Art of Cooking a few months ago.  She and I have a lot in common in our personal lives, but, even more so, she recently put together a cookbook and asked if I would review it on my blog.  After emailing back and forth about some of our similarities, I knew I would have a great time picking a recipe from her cookbook, Be Your Own Chef.  But I didn't realize that I would have such a hard time picking just one recipe.
Her cookbook is great-lots of down-to-earth and homemade comfort foods, but what I love the most about her cookbook is the endless alternative options she puts in her recipes.  Are you a vegetarian?  No problem-she'll tell you what to substitute for the meat.  Are you a vegan?  Even better-she tells you what to sub to make the recipes 100% vegan friendly.  On top of that, she gives little tricks of the trade along the way: how to store certain ingredients, how to remove the garlic smell from your hands, what cooking with alcohol actually does to the food-it's a wonderful resource to have alongside you in the kitchen.
I ended up choosing her French Onion Hot Dogs to make.  It's obvious that I love anything with the name "French Onion" in it, and the smell of caramelized onions alone in my kitchen is enough to make me get hungry.  Her recipe was straightforward, easy to follow, and totally delicious.  I loved the combination of the traditional French onion flavors with my veggie dog.  I ate two they were so good and then ate another one the following night for dinner (on top of my freshly baked hot dog buns!).  This is, in my opinion, a fancier way to enjoy your summer hot dog.
Thank you, Karen, for the opportunity to try out your cookbook and to meet you!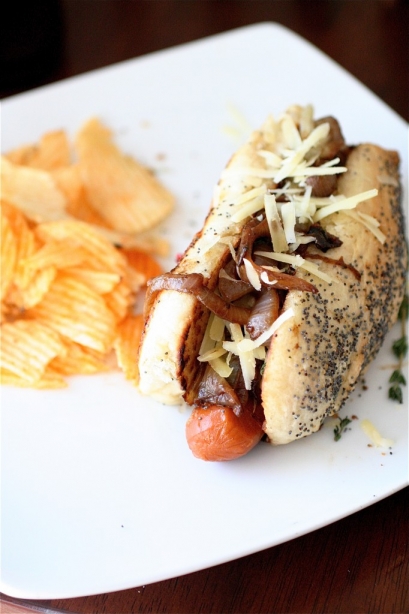 French Onion Hot Dogs
Servings: 4
Ingredients
1 tablespoon extra-virgin olive oil
3 small yellow onions, sliced thin
2 tablespoons balsamic vinegar
1 tablespoon fresh thyme, chopped, plus more for garnish if desired
2 tablespoons Dijon mustard
3 cloves garlic, minced (about 3 teaspoons)
Salt and pepper, to taste
4 veggie hot dogs **I used the jumbo size
2 cups Gruyere cheese, shredded
4 hot dog buns, buttered and toasted
Instructions
1. In a large sauté pan over medium heat, heat the olive oil until shimmering.
2. Add the onions and cook, stirring occasionally, for about 10 minutes, until the onions are lightly browned and softened.
3. Add the balsamic vinegar, the thyme, the mustard, garlic and salt and pepper, stirring until well-mixed.
4. Cook for another 10 minutes or so, until the onions are golden brown and completely soft.
5. Prepare your hot dogs as desired (I used a grill pan on the stove, but feel free to use a gas grill outside).
6. Place your cooked hot dog on the toasted bun and place a thick layer of Gruyere cheese over the hot dog.
7. Spoon the caramelized onion mixture over each hot dog, covering the cheese and hot dog completely.
8. Sprinkle with additional cheese and fresh thyme, if desired.  Enjoy!
Source: Adapted from Be Your Own Chef, by Karen Blake Peek from Inspired Art of Cooking.