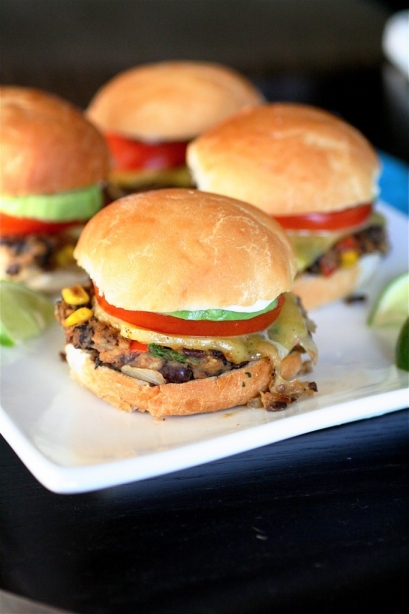 I had been dying to try another black bean burger recipe….and why not convert them into adorable, pint-size, and Labor Day weekend party-friendly form?  Don't mind if I do.
I've posted a couple of other burger-type recipes on the blog before, including another black bean burger recipe.  This one is super simple to put together, cooks relatively quickly, and is healthy, to boot.  I made a big batch of these and then promptly froze the extras for quick weeknight meals when I don't feel like cooking.  Double points there.
To give it a little kick, I added Sriracha, to taste.  Please omit if you don't like spicy, and add more if you like your food smoking hot.  I thought this version had a nice balance and kick to it.  And, in order to add a little something extra, I topped the burgers with tomato, fresh avocado slices, and some Monterey Jack cheese to make them a little bit more festive.  Top them as you like.  And, one more thing, I used my grill pan because I don't have an outdoor grill (yet), so I haven't tried making these on a gas or charcoal grill.  I imagine that they would be just fine.  And…feel free to make them in regular sizes, too.  Although I'm a bit partial to the itty bitty burgers myself.
Looking for more Labor Day weekend ideas?  Here are a few: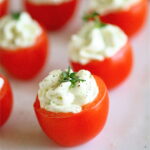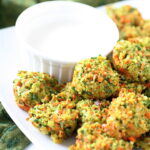 Cheese and Vegetable Quinoa Bites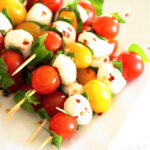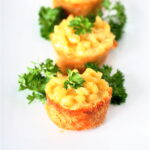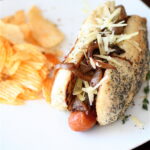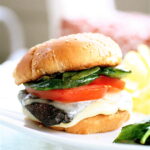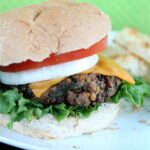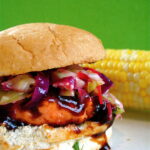 Salmon Burgers with Hoisin BBQ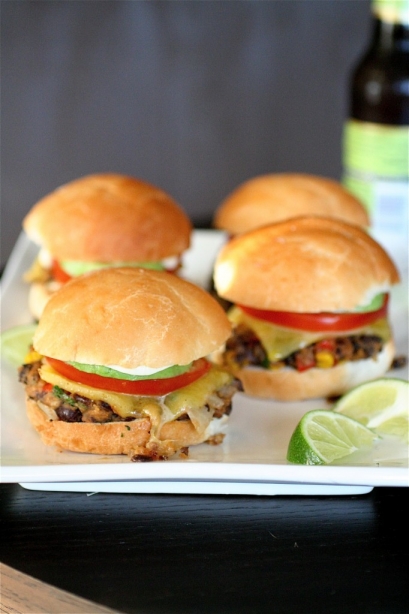 Black Bean Sliders
Servings: about 12 small patties
Ingredients
1-2 teaspoons olive oil
3 garlic cloves, minced
1 small yellow onion, chopped
Two 15-ounce cans black beans, drained and rinsed
1/2 cup frozen corn, thawed
1/2 cup red bell pepper, diced
1/4 cup fresh spinach leaves, chopped
1 tablespoon soy sauce
2 teaspoons ground cumin
Pinch cayenne pepper
1 tablespoon Sriracha
Fresh cilantro, chopped, to taste
Salt and pepper, to taste
2/3 cup Panko bread crumbs
1 tablespoon extra-virgin olive oil, for cooking the burgers
For assembly:  slider buns, avocado, cheese, tomato, onion, etc.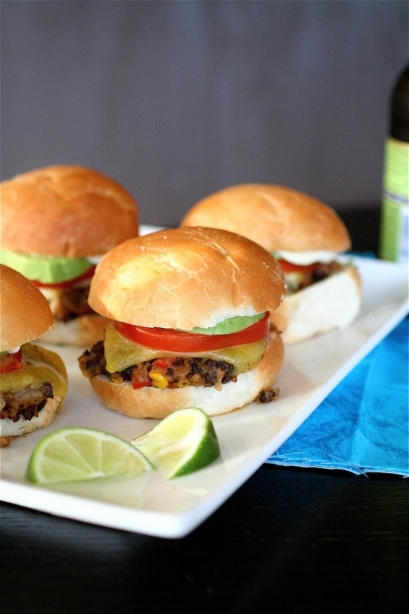 Instructions
1. In a nonstick skillet over medium heat, heat 1-2 teaspoons olive oil until shimmering.
2. Add the onions and garlic and cook until the onions are tender, about 3-5 minutes.  Remove from the heat and set aside.
3.  In a large bowl, mash the black beans using a potato masher until soft.
4. Add the corn, red bell pepper, spinach, soy sauce, cumin, cayenne pepper, Sriracha, cilantro, and salt and pepper, mixing until combined.
5. Add the Panko bread crumbs and mix until the mixture comes together to form a soft ball.
6. Using your hands, gently form small slider patties with the black bean mixture and place each onto a baking sheet.
7. Chill the patties for at least 10-15 minutes.
8. In a grill pan or skillet over medium heat, heat 1 tablespoon of olive oil until shimmering.
9. Add the black bean patties and cook until lightly crisped and cooked through, about 5 minutes per side.
10.  Serve with the toppings of your choice and enjoy.
Source:  Adapted from Mother Thyme.