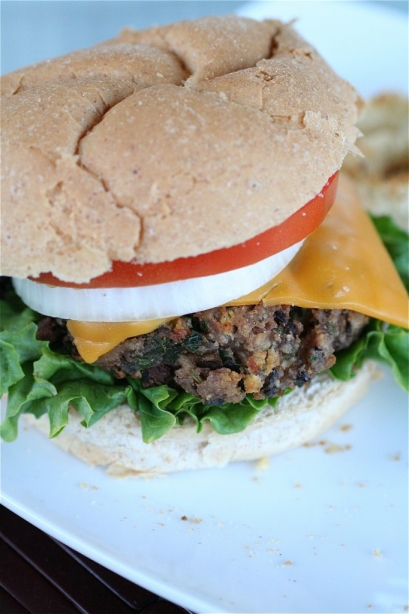 It's rare that I find a cookbook that I get truly excited about.  I was at Borders a while back, searching for a vegetarian cookbook that contained decent veggie burgers.  I saw Veggie Burgers Every Which Way by Lukas Volger, and I started flipping through it.  This was a winner.  It has everything in it from hamburger buns to sweet potato fries to pretty much any type of veggie burger on the planet.  There are vegetarian recipes, vegan recipes, and I love the bright and colorful pictures for each recipe.  I was sold.  I have now made at  least four recipes out of this book, including the Basic Sandwich Rolls, and I have not been disappointed yet.  (And, no, I do not have any connection whatsoever with the book-I just really like it, so I am recommending it to you! And, you should check out his website for awesome vegetarian recipes.)
My latest go-round with this cookbook was this recipe for Black Bean Burgers-mostly because I had all the ingredients on hand.  I love the versatility with the recipe.  You can use any kind of bean-chick peas, black beans, red beans, etc.  I chose to use canned beans, only because I was short on time and already had a can of black beans, but you could use dried beans and cook them yourself (I always seem to think that they end up having more flavor than the canned ones).  These were ready within a half hour-which was great because it was a week night, and I didn't have much time.  They are very filling, and you could modify the spices/flavorings to your liking.  I added a very sharp cheddar cheese slice on top of the burgers at the very end of the baking time-wow.  Even a meat lover could go for these.
Black Bean Burgers
Servings: 4 burgers
Ingredients
1 15-ounce can black beans (drained and rinsed), or 1 and 1/2 cups cooked black beans
2 eggs, beaten
1/2 cup parsley, chopped
1/4 cup grated Parmesan
2 teaspoon Dijon mustard
1/2 teaspoon salt
1/4 teaspoon ground black pepper
Squeeze of fresh lemon juice
3/4 cup panko
2 tablespoons olive oil
Whole wheat hamburger buns (or whatever you prefer), toasted
Toppings:  Sharp cheddar cheese, onion, lettuce, tomato, etc.
Instructions
1. Preheat the oven to 375 degrees.
2. In a large mixing bowl, mash the beans with a potato masher or fork.
3. Add the eggs, parsley, Parmesan, mustard, salt, pepper, and lemon juice. Mix well.
4. Add the panko to the mixture and stir to combine, set aside for at least 5 minutes. (This will allow the panko to soak up some of the additional moisture.)
5.  Shape the mixture into four, equally-sized patties.
6. In an ovenproof sauté pan over medium-high heat, heat the olive oil until shimmering.***If you don't have an ovenproof sauté pan, just use a rimmed baking sheet for step #8 (see below).
7. Add the patties and cook until browned on each side, about 10-15 minutes total.
8. Once lightly browned, transfer the pan (or rimmed baking sheet) to the oven and bake for 12-15 minutes, until the burgers are completely cooked through.
9. Garnish as desired on hamburger buns and serve immediately.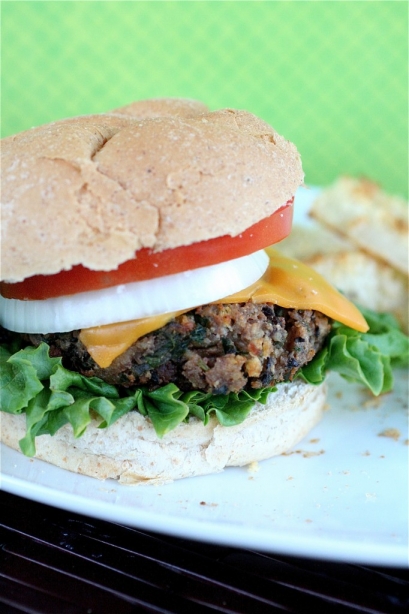 Source: Barely adapted from Veggie Burgers Every Which Way by Lukas Volger.