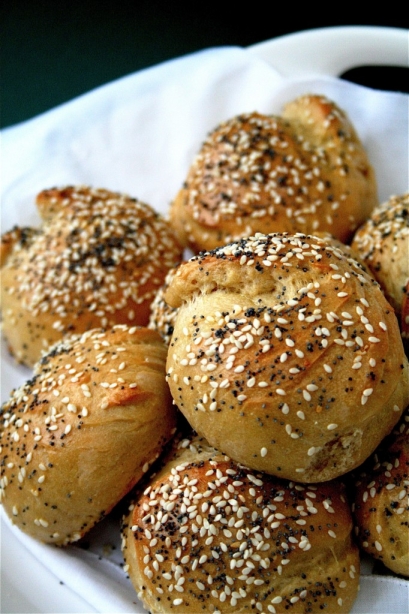 I almost did it.  I stood in the bread aisle at my local grocery store with a bag of store-bought buns in my hands, since I had plans to make these amazing veggie burgers for dinner that night (I will post them eventually…).  Deep down, I had told myself that I wanted a full-on challenge: I would make an entire meal from scratch, without help.  Now, I have nothing personal against store-bought hamburger/sandwich buns.  Well, ok.  I kind of do.   I don't like that powdery stuff on the bottoms of the buns (I think it's probably flour, but you never know….).  And, while I like them, the all-white ones are not very flavorful in my opinion.  And, I like to put a lot of condiments on my sandwiches sometimes….which means that they usually get kind of soggy.
Ok, ok.  My mini rant about generic store-brand hamburger buns is over.  They are also great when you are low on time, easy on your budget, and they make great croutons later on.  However, I figured since I had the time to actually try making some of these on my own, I would try to use some more natural ingredients and see where that took me.
I'm so glad I tried this recipe.  Now, I know not everyone has three hours of their day to devote to making hamburger or sandwich rolls, but, if you do, you can freeze the ones you don't eat up and save for later.  Which is, in fact, good for when you are low on time, on a budget, and in need for some hearty croutons.  And these have amazing flavor, too.  Oh, and if you want a vegan version, I've included some of the recommended substitutions as well.
Basic Sandwich Rolls
Servings: 10 rolls
Ingredients
For the rolls:
1 cup warm milk or rice milk
1/2 cup warm water
2 and 1/4 teaspoons (1 package) active dry yeast
1/4 cup olive oil, plus more for the dough bowl
1 tablespoon honey or 2 teaspoons agave nectar
2 and 1/2 teaspoons salt
1 and 1/2 to 2 and 1/2 cups all-purpose flour
1 cup whole wheat flour
1/2 cup oat flour
For the egg wash:
1 beaten egg plus 1 tablespoon whole milk
-or-
2 tablespoons soy milk plus 1/2 teaspoon cornstarch
For garnish:
Poppy seeds, sesame seeds, wheat bran, flax seeds, or any combination
Instructions
1.  In a small bowl, stir together the warm milk and water.
2. Whisk in the yeast and let stand for about 5 minutes, until the yeast begins to foam.
3. Whisk in the oil and honey.
4. In a large bowl (just use your removable bowl from your stand mixer for this), whisk together 1 cup of the all-purpose flour, the whole wheat flour, oat flour, and salt, and add the yeast mixture.
5. In a stand mixer fitted with the paddle attachment, stir the dough until combined, about 2 minutes.
6. Switch to the dough hook and knead until smooth and elastic, 8 to 10 minutes, cautiously adding more flour as needed.  Loosely shape the dough into a round.
7.  Pour 1 teaspoon or so of olive oil into the mixing bowl and coat the dough with it.
8.  Cover the bowl with a piece of plastic wrap or towel and let stand in a warm place until doubled in size, 1 to 2 hours.
9. Turn the dough onto a work surface and shape into 10 rolls.
10.  Space the rolls 3 to 4 inches apart on a parchment-lined baking sheet.
11.  Cover again with plastic wrap or a towel.  Let stand in a warm place until doubled in size, 1 to 2 hours.
12.  Preheat the oven to 400 degrees.  Meanwhile, prepare your egg wash in a separate bowl by mixing the egg and milk together.
13. Brush the rolls with the egg wash and sprinkle with your seed garnish, being sure to cover the rolls as much as possible.
14. Bake for 15 to 18 minutes, turning the pan halfway through.
15.  The rolls are done when the base is browned.  Cool completely.