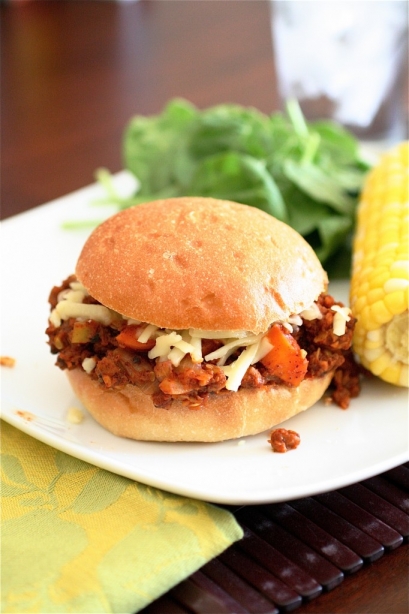 I'm often highly amused by people's reactions when I tell them I don't eat any meat.  Some are super supportive and open-minded, but then you get THOSE people, you know, the ones who immediately splurt out, "Oh my gosh, how can you NOT eat meat?  What do you even eat?"  I just find it funny.  Because if I am with people who order meat on the menu, I don't even give it a second thought.  I believe one of the most important choices you can make as a human being is what you put into your body…because I believe you are truly what you eat.  And there are tons of reasons why I don't eat it: ethical, spiritual, environmental, and, obviously, health reasons.  But I don't find it necessary to go on a 30-minute explanation every time I am asked this (which happens a lot with a food blog).
I think one of the best parts about cooking in general is the creative liberty that allows one to have.  You can create something with your brains and bare hands…to your liking.  True, sometimes there are major kitchen fails (we all have them), and sometimes there are surprise culinary victories that not only can make you feel full physically but full mentally, as well.  If you are willing to think outside of the box (especially for me, coming from a delicious corn-fed Midwestern diet), then I believe that you will open yourself up to incredible new tastes and experiences.
Take this recipe.  A vegetarian Sloppy Joe?  Actually, a VEGAN Sloppy Joe without the cheese?  Really?  With lots of fresh veggies added in, too.  None of that greasy goopy taste that I still remember from my childhood (this will not channel Adam Sandler's Lunch Lady song for you, I promise).  Amazingly enough, though, it still has that ooey gooey Sloppy Joe texture that I believe is part of the attraction to the sandwich in the first place.  Made with fresh summer squash, carrots, celery, and onions, you can virtually add any other kind of fresh veggie into the mix.  Red or green bell peppers.  Maybe some spinach or kale. How about other kinds of squash?  Yep.  Top this with basically whatever cheese you have on hand, and enjoy.
Sloppy Joe, Sloppy, Sloppy Joe.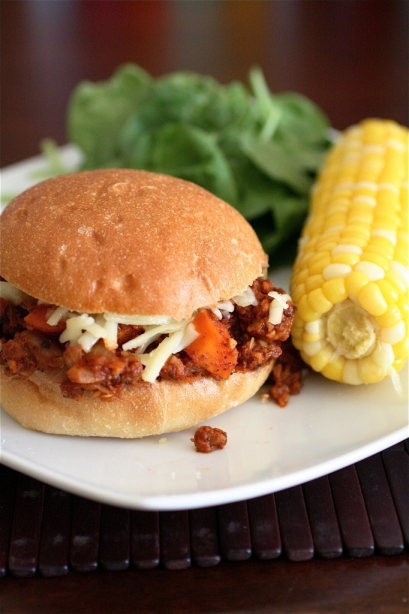 Summer Squash Veggie Sloppy Joes
Servings: approximately 6
Ingredients
3/4 pound (One 12-ounce package) soy crumbles**I used Lightlife's Smart Ground Original
1 tablespoon extra virgin olive oil
1 small yellow onion, chopped
1 carrot, chopped
1 celery stalk, chopped
1 and 1/2 cups summer squash, grated**I peeled it, de-seeded it, and grated it on the large holes of a box grater
One 6-ounce can of tomato paste
1 and 1/2 cups water
3 garlic cloves, minced
1 tablespoon chili powder
1 teaspoon paprika
1 teaspoon dried oregano
Salt and pepper, to taste
1 cup cheese, grated, optional**I used sharp cheddar (so good!), but you can use whatever you like
6 hamburger buns or focaccia rolls, toasted
Instructions
1. In a large sauté pan over medium heat, heat the olive oil until shimmering.
2. Add the soy crumbles and cook, breaking them up with a spatula, stirring occasionally (as the package directs), about 4-5 minutes.
3. Add the chopped onion and cook, stirring occasionally, about two minutes.
4. Add the carrot and celery and cook, stirring occasionally, for another two minutes or so.
5. Add the summer squash to the mixture, mixing well and cooking for another minute or so.
6. Add the tomato paste and water, stirring to dissolve completely.
7. Add the garlic, chili powder, paprika, dried oregano, and salt and pepper, and mix until thoroughly combined.
8. Reduce the heat to medium-low and continue to cook until the mixture is thickened, stirring occasionally, about 8-10 minutes.
9. Once thickened, place your desired amount of the mixture on each hamburger bun, top with cheese, and serve immediately.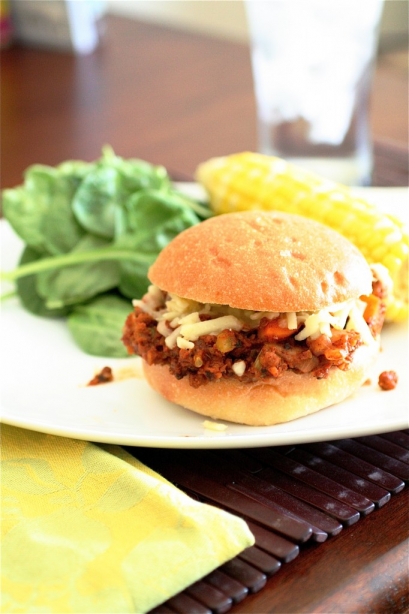 Source: Adapted from Cookie, via Epicurious.