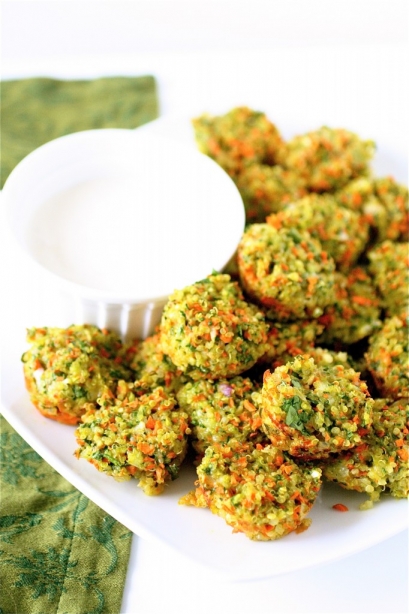 If you are familiar with the food blogging world, then you have had to have seen these little bites making their way around the blogosphere.  Genius, I have to say.  A genius appetizer for the health-conscious.  Super Bowl, anyone?  Anyways, the first time I saw these was on Pinterest, then the food photography websites, and I knew I would be adding them to my ever-growing list of "must-dos".
I've already talked about the health benefits of quinoa from one of my favorite blog posts of all time (check it out!), so I don't need to repeat myself there.  But if you've got a box or bag of quinoa on hand, some leftover veggies to get rid of, and maybe a little bit of cheese on hand, then you've got an easy, savory, and bite-sized appetizer ready in less than 20 minutes.
I had ironically made quinoa for a little veggie dish the night before and was wondering what to do with the leftovers.  I had cooked way too much of the stuff in order to get rid of the box and make room in my pantry, so I had exactly 2 cups of cooked quinoa ready to go.  I had a few random carrots, some fresh spinach, and some shallot on hand, too.  The beauty of this recipe is its versatility in what you can add into it.  Peas?  Maybe.  Corn?  Probably.  Kale? Hopefully.  I just tossed the veggies in my food processor and was good to go.  And, as far as cheese goes, I added in some sharp cheddar in because I was out of Parmesan.  As long as you can bind it all together with those eggs, I say add as many veggies in as possible.
For serving, I dipped them in Ranch dressing.  Probably not the healthiest, but, since Ranch is my kryptonite, I couldn't resist.  You can forgo the dipping sauce by adding in some additional spices to add to the flavor content.
In my opinion, these are best straight from the oven.  When I reheated them in the microwave, they were a bit soggy for my taste (I was too impatient to try re-heating them in the oven.), but they were still flavorful and satisfying.
Here's to our health.  And the Super Bowl.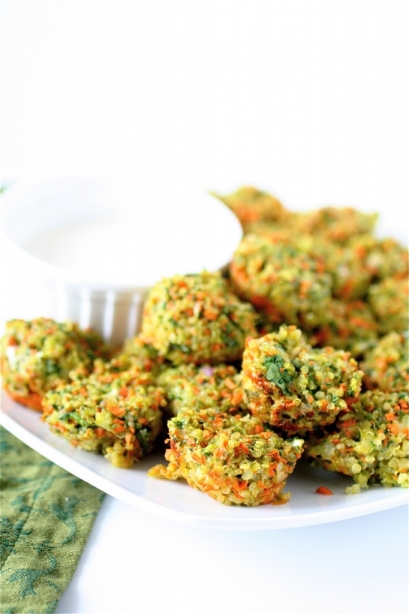 Cheese and Vegetable Quinoa Bites
Servings: 24 bites
Ingredients
2 cups cooked quinoa
2 large eggs
3 carrots, shredded
1 and 1/2 cups fresh spinach, chopped
1 medium shallot, chopped
2 teaspoons garlic
4 ounces sharp cheddar cheese, grated **Or, to your liking
2 tablespoons flour
Sea salt and pepper, to taste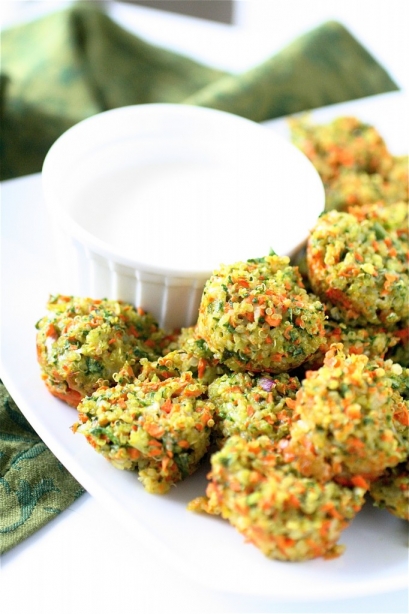 Instructions
1. Preheat the oven to 350 degrees.
2. Lightly spray a mini muffin pan with cooking spray.
3. In a large bowl, combine all of the ingredients together, mixing until thoroughly combined.
4. Using a melon baller or a tablespoon, place rounded drops of the mixture into each cup of the muffin pan, pressing each one down lightly with your fingers to make sure that each one is firmly packed.
5. Bake until lightly golden, about 15-20 minutes.
6. Serve immediately.
Source:  Adapted from So Very Blessed.