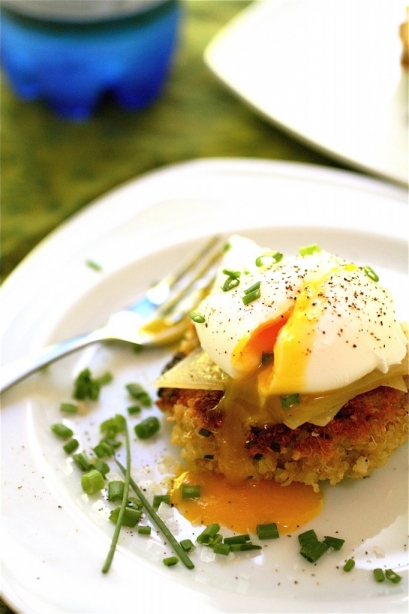 Superfoods.  Do they really exist?  I mean, honestly, is there ever NOT a new trendy product out there that is recently discovered as the new "It Girl" of the food industry?  There is always something out there that is deemed the "latest, the greatest, the best for…..(insert medical issue, environmental issue, weight loss, etc).
Enter quinoa.  I'm sure you have heard of it.  And, if you haven't yet, then you will.  It's an almost-grain cereal-like seed (have I confused you yet?) that has been around for ages-even the ancient Incas considered it "like gold".  And it's a superfood. Why?  Because of it's incredible bounty of nutrients and minerals:  manganese, magnesium, iron (yay! for the strict vegetarians and vegans…), and copper-just to name a few.  It's also incredibly high in protein; it's actually a complete protein, meaning that all nine essential amino acids are present in these tiny, nutty little bits of tastiness. So, if you ARE a vegan or vegetarian, a little bit of quinoa can do a whole lot of proteinaceous good for you.
In my opinion, the best part of quinoa is its versatility in preparation.  True, on its own, it's (to me) like brown rice…add a little soy sauce, butter or seasonings, and you have a great side dish on your hands. Or, you could also mix it with some black beans, corn, and tomatoes for a Southwestern themed cold salad.  Better yet, why not make it into little patties to put some poached eggs on for breakfast?
I haven't had meat now in a very long time, but, for whatever reason, when I ate these quinoa patties with poached eggs, my taste buds suddenly remembered what bacon tasted like.  Sounds weird, I know, but these earthy, savory patties had a little bit of that bacon-y taste to me.  They were like hash browns without the grease, with more flavor and nutrients, and less of a carb crash afterwards.  They also keep really well in the fridge (or even frozen!) if you want to make a large batch to store for later use.  I made a batch of six and ate them for dinner the following week alone or with eggs.
Seriously.  Quinoa patties? I never would have thought I might like them.  I love being proved wrong…by myself. 🙂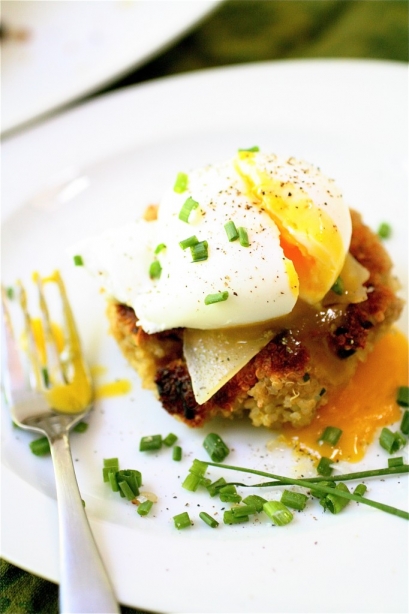 Quinoa Patties with Poached Eggs
Servings: 6 patties
Ingredients
2 cups cooked quinoa. at room temperature
2 large eggs, beaten
1/2 teaspoon sea salt
1/3 cup fresh chives, chopped finely, plus more for garnish
2 large shallots, finely chopped
1/3 cup grated Parmesan cheese
3 cloves garlic, minced
1/2 cup whole wheat or whole grain bread crumbs, plus more if needed
Olive oil, for frying the patties (I used about 1-2 tablespoons total)
6 eggs, poached (one for each patty)
Parmesan cheese, thinly sliced, if desired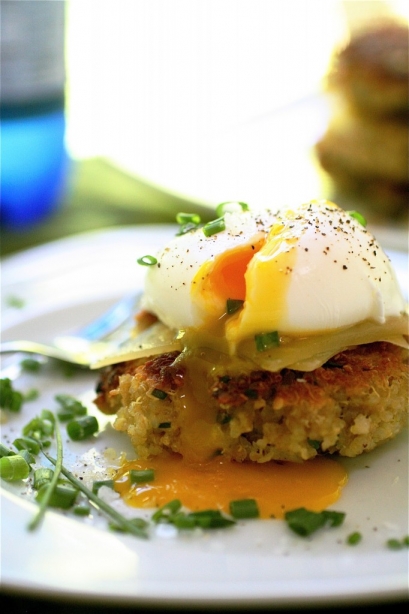 Instructions
1.  In a medium bowl, combine the cooked quinoa, beaten eggs, salt, chives, shallot, Parmesan, and garlic, mixing well with a spatula.
2. Add the bread crumbs to the mixture and stir to mix completely.
3.  Gently form six individual patties with the quinoa mixture, adding more bread crumbs if necessary.  I made mine about 3-inches in diameter-feel free to make yours any size you want.
4. Heat the olive oil in a large sauté pan over medium heat until shimmering.
5.  Add the patties (I cooked them 3 at a time due to the size of my pan), cover, and cook, about 5 minutes or so, until lightly browned on one side.
6. Uncover the patties, and flip (VERY gently) with a spatula, cooking uncovered on the opposite side for another 5 minutes or so, or until each side is browned.
7.  Top each patty with some sliced Parmesan cheese and a poached egg.  Garnish with sea salt, pepper, and chives.  Serve immediately.
Source:  Adapted from Super Natural Every Day by Heidi Swanson.