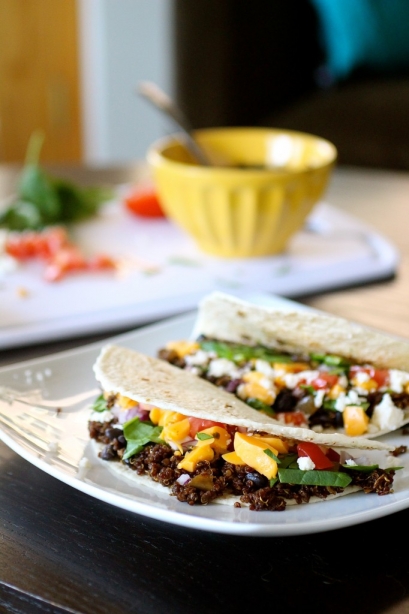 I'm going to ramble on and on about how tasty these little tacos are.  So bear with me, ok?  Ok.
So, yeah, there's this thing called quinoa.  We all know it's nutritional capacity: the little powerhouse of protein that it is.  You can make cute little patties, cute little bites, breakfast, muffins, or even just a salad.  I get it.  It's versatile.  It's also a commonly used name on one of my new favorite Pinterest boards.  But I didn't know you could make tacos with it.  Until I saw a recipe for quinoa nachos from one of my favorite magazines, VegNews (vegan-friendly, FYI, with lots of useful information on the environment/ethical/economical impact of going vegan…it's brilliant, in my opinion.  Check it out.)
Not having tortilla chips on hand, I DID have some about-to-go-bad sad and lonely tortillas in the fridge.  So, I opted for some soft tacos instead….and I did put a little cheese on top, so it wasn't 100% vegan, but just use whatever substitute you like.  Now, if you don't want additional carbs, skip the tortillas all together and make a little quinoa bowl out of it.  One night, I just threw the leftover quinoa in a bowl, heated it up, and mixed in a mashed avocado and some tomatoes and onions and had a nice little dinner while catching up on the Bachelorette. (Any thoughts on this season? My opinion?  All the seasons are starting to get pretty predictable.  And I bet Drew will be the next Bachelor.  I could be wrong.)
The amazing thing about this quinoa dish is the amount of flavor that's there.  I couldn't believe that it wasn't meat…and I am being honest with you here.  It was great.  So, if you are looking for a Meatless Monday easy conversion meal, here it is.  I don't think you will miss it.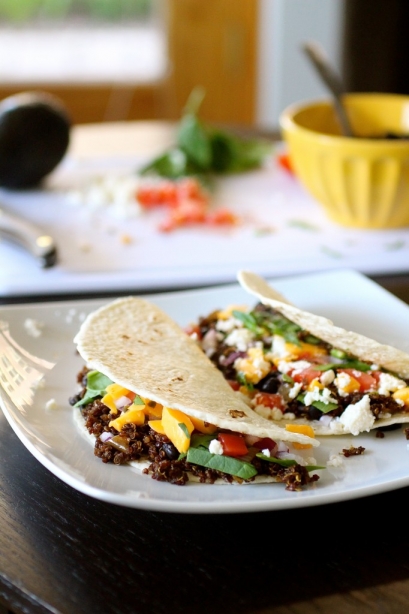 Black Bean and Quinoa Soft Tacos
Servings: 4-6
Ingredients
1/4 cup safflower oil (or vegetable oil)
1/2 cup diced yellow onion
3 cloves garlic, minced
2 tablespoons dried sage
1 teaspoon oregano
1 teaspoon red pepper flakes
1 tablespoon chili powder
1 tablespoon ground cumin
2 cups cooked quinoa (I used a mixture of pearl and red quinoa)
1 cup (or just use one 15-ounce can) of black beans, rinsed and drained
2 tablespoons soy sauce
2 tablespoons Worcestershire sauce (If you are a strict vegan, make sure you use a vegan-friendly brand)
Pinch sea salt
For the tacos:
Tortillas (I used 6-inch four because that's what I had on hand; warming them slightly in the microwave will help with assembly)
Spinach, tomato, onion, cheese, etc.
Instructions
1. Heat the oil in a saute pan over medium heat until shimmering.
2. Add the onion, garlic, sage, oregano, red pepper flakes, chili powder, and ground cumin, and cook for about 3-5 minutes, stirring frequently.
3. Add the cooked quinoa, black beans, soy sauce, and Worcestershire sauce, mixing to thoroughly combine.
4. Reduce the heat to medium-low and cook, stirring occasionally, for about 5-7 minutes.
5. Assemble each taco as desired.
Source:  Adapted from VegNews.