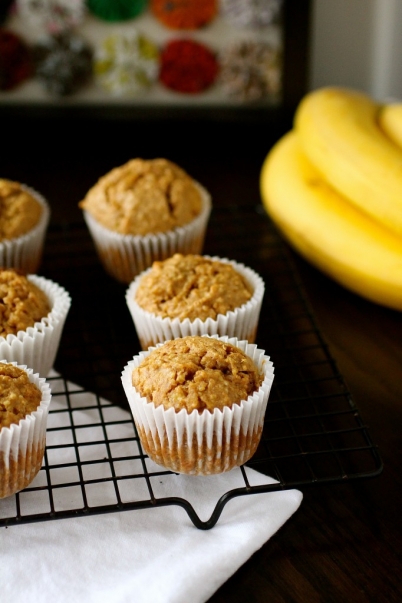 Here's a new protein-packed semi-sweet snack that I am absolutely nuts about.  Seriously.  I made these and have consumed no less than two of these per day since.  They are great as an on-the-go breakfast, a mid morning side with some coffee, or even as a pre-work-out carb boost.  And, I may or may not have eaten one with a little bit of Nutella on top (which might be my favorite version.)
So, here's the deal with this recipe.  I only had one small, overripe banana on hand when I made these.  If I could have, I would have added another banana to the mix.  These are dense, nutrient-packed muffins with a little bit of crunch from the quinoa, so please don't expect a light and fluffy muffin here.   I also used a freshly ground peanut butter here, so there were no extra oils/fats. If you use a jarred brand of peanut butter, you might experience a little bit more moisture in the muffins. I would have made these entirely with the spelt flour, but I ran out.  You can substitute all-purpose flour here if you would like.  And, for a quick vegan version, just substitute the egg with your favorite egg replacement. These are protein-packed powerhouses with one of my favorite flavor combinations.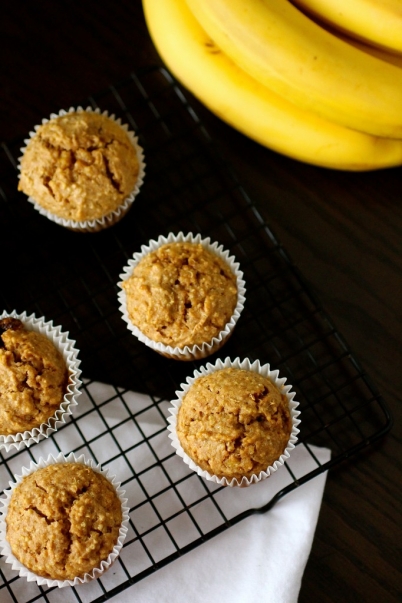 Peanut Butter Banana Quinoa Muffins
Servings: 12
Ingredients
1 cup quinoa, rinsed
1 cup water
1 and 1/2 cups spelt (whole grain) flour
1/2 cup all-purpose flour
3/4 cup packed dark-brown sugar
1 and 1/2 teaspoons baking powder
1 teaspoon salt
1/4 cup coconut oil *See step #5 below.  Or you can use vegetable oil here instead.
3/4 cup peanut butter
1 cup skim milk
1 large egg
1 overripe banana (see my intro above.  If I would have had two overripe bananas, I would have used them instead of one for more banana flavor.)
1 teaspoon pure vanilla extract
Instructions
1. Preheat the oven to 350 degrees and line a muffin pan with paper liners. (Alternatively, just brush each muffin cup lightly with oil if you want to skip liners.)
2. In a medium saucepan, bring the quinoa and the water to a boil.
3. Reduce the heat to low and simmer; covered, and cook until the water has been absorbed and quinoa is tender, about 10 minutes or so.
4. In a medium bowl, whisk together the flours, sugar, baking powder, salt, and 2 cups cooked quinoa (If you have a little quinoa leftover, like I did, simply save it for another use.)
5. In the bowl of your standing mixer fitted with the paddle attachment, combine the coconut oil (it's ok if your coconut oil is still solid.  I warmed mine slightly in the microwave for about 10 seconds, and this helped melt it slightly),peanut butter,  milk, egg, banana(s) and vanilla.  Mix on medium speed until thoroughly combined.
6. Reduce the mixer speed to low and slowly add the flour mixture, mixing until combined.
7. Divide the batter among the prepared muffin cups.
8. Bake until a toothpick inserted into the center of a muffin comes out clean, about 25 minutes.
Source: Adapted from Martha Stewart online.