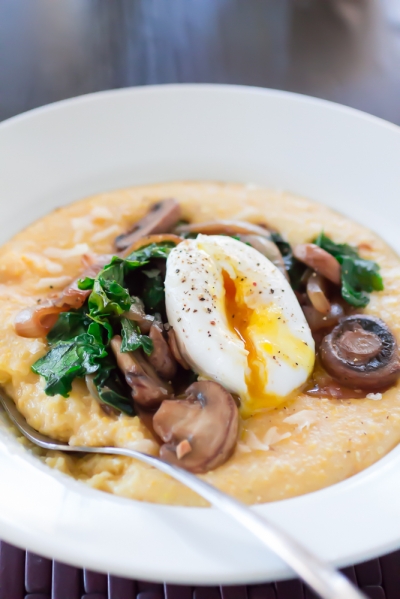 There's this amazing brunch place in Milwaukee that is thankfully within walking distance from my apartment.  So I've taken everyone and their brother (literally) to this place on Sunday mornings when they are in town for a weekend visit. Before I started sampling their sweet breakfast dishes (ummm, yes, I'll take some fresh beignets with kahlua chocolate sauce), I fell in love with this great, savory dish on their menu.   I got it very single time I went (which was a lot).  It was polenta with mixed sautéed vegetables, creamy hollandaise sauce, and a poached egg on top.   They stopped serving it about a year ago which is the reason why I ventured over to the sweet side, but I still miss it.
Let's be honest here:  I put poached eggs on pretty much anything (like this or this or this).  I'm not going to lie.  They are quick, relatively simple to make and filling. I also have this strange theory that if I eat eggs in the evening, I sleep better. (Yes, I know; it's weird.)
And since I don't usually have the time to make a nice hollandaise sauce from scratch every weekend (for a great recipe, click here), I thought I would come up with my own twist on this heavily inspired dish.  I've made it a few times, sometimes using instant polenta or trying different combinations of vegetables.  Use whatever you have on hand.  Of course, to cut down on the calories, you can make the polenta sans cheese (but, why? oh why?).  And if you like an especially creamy polenta, add in some butter or milk to make it the consistency you desire. You don't have to eat this as breakfast either-I think it makes a great weeknight meal.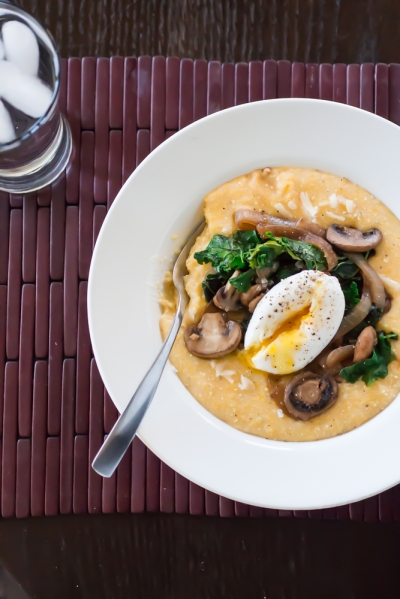 Cheesy Polenta with Caramelized Onion, Mushroom, Kale and Egg
Servings: about 4
Ingredients
For the polenta:
4 and 1/2 cups water
1/2 tablespoon salt
1 and 1/4 cups coarse grind cornmeal (I used Bob's Red Mill brand)
1-2 ounces of Gruyere, grated (or whatever kind of cheese you like)
For the vegetables:
1 tablespoon extra-virgin olive oil
1 medium yellow onion, sliced
Pinch salt
8 ounces mushrooms (I used baby bella, sliced)
1 clove garlic, minced
1 head kale (whatever variety you like), stems removed and coarsely torn
4 eggs, poached
Parmesan-Reggiano cheese, grated (optional)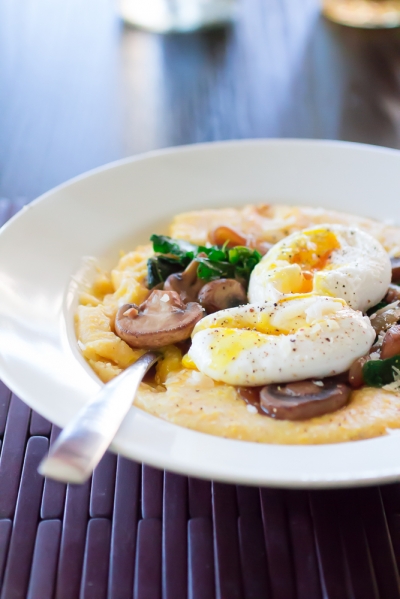 Instructions
1. For the polenta:  In a large saucepan, bring the water to a boil over high heat.  Meanwhile, start caramelizing your onions (see below).
2.  Add in the salt.
3. Slowly whisk in the polenta until smooth.  Reduce the heat to low and cook until the polenta is thickened and creamy, about 15 minutes.
4. Remove the pan from the heat and add in the Gruyere cheese, stirring until completely melted.  Set aside (but keep the polenta warm.)
5. For the vegetables:  In a sauté pan over medium heat, heat the olive oil until shimmering.
6. Add the onion slices and a pinch of salt.  Cook, stirring the onions frequently, until they are golden and caramelized, about 10-15 minutes.
7. Add in the mushrooms, stirring frequently, until the mushrooms have let off some of their moisture and have softened, about 5 minutes.
8. Add in the garlic and cook until fragrant, about 30 seconds.
9. In batches, add the kale and stir until it wilts.
10. Divide the polenta between your servings bowls and sprinkle with the Parmesan Reggiano (if using).  Top the polenta with the mushroom mixture.  Place a poached egg (or two) on top, and season to taste with salt and pepper.  Enjoy.
Source:  A Curvy Carrot original.